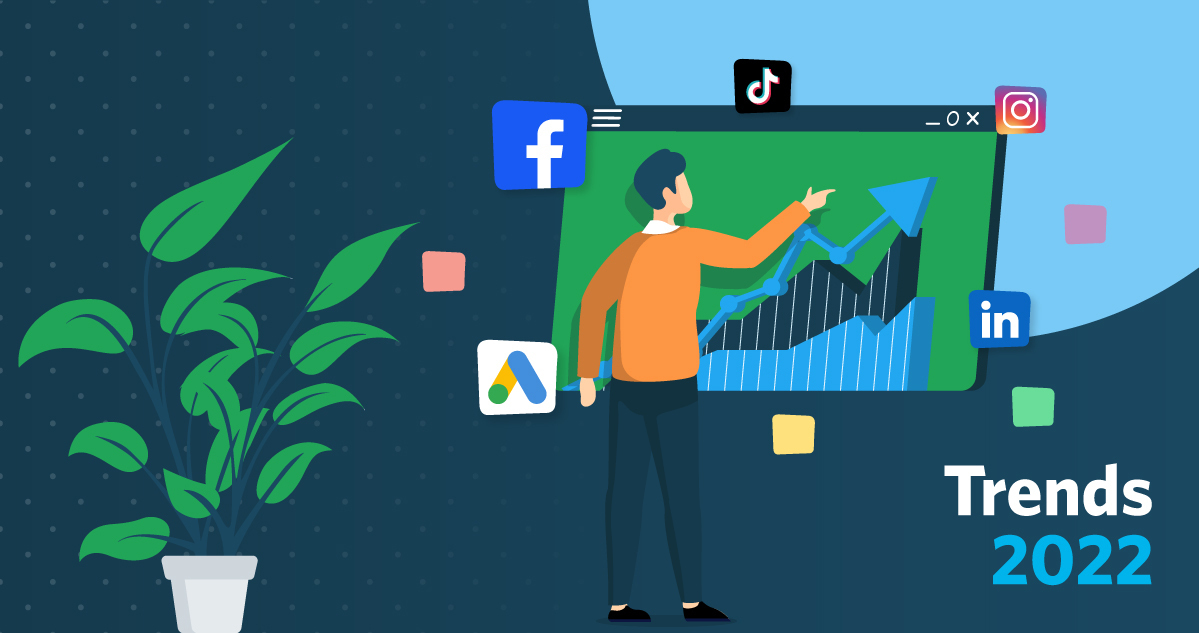 The COVID-19 pandemic changed the digital advertising landscape in 2020. It gave marketers the possibility to reach out to people in their homes. This transformation increased the use of marketing channels like mobile, video content, and voice search in 2021.
As the year 2022 unfolds, digital advertising is expected to dominate the most important marketing channels. Because of this, marketers plan to shift more of their budgets from traditional offline marketing to digital advertising. Not that digital advertising is an easy practice, but with the latest advertising trends, marketing experts are optimistic that 2022 will be a dramatically different year.
In this article, you will learn about online advertising spending trends and the latest advertising trends in 2022.
Online advertising spending trends
Statista revealed that digital advertising spending throughout the world reached a new all-time high of $325 billion in 2019. In 2020, the ad spend amounted to $332.84 billion. Chasing the same trend, the figures grew to $389.29 billion in 2021. It is estimated that the ad spend is set to break the all-time record across all digital channels, exceeding $441 billion.
Source: Statista
The biggest digital marketing trend is going to be online video advertising with a projected 76 percent growth, followed by influencers' branded content and social media marketing.
Digital advertising on desktop browsers will decline in 2022, but mobile advertising spending will account for over $440 billion.
Also, according to eMarketer's Worldwide Digital Ad Spending Year-End Update, digital ad spending will reach the $441.12 billion mark in 2022.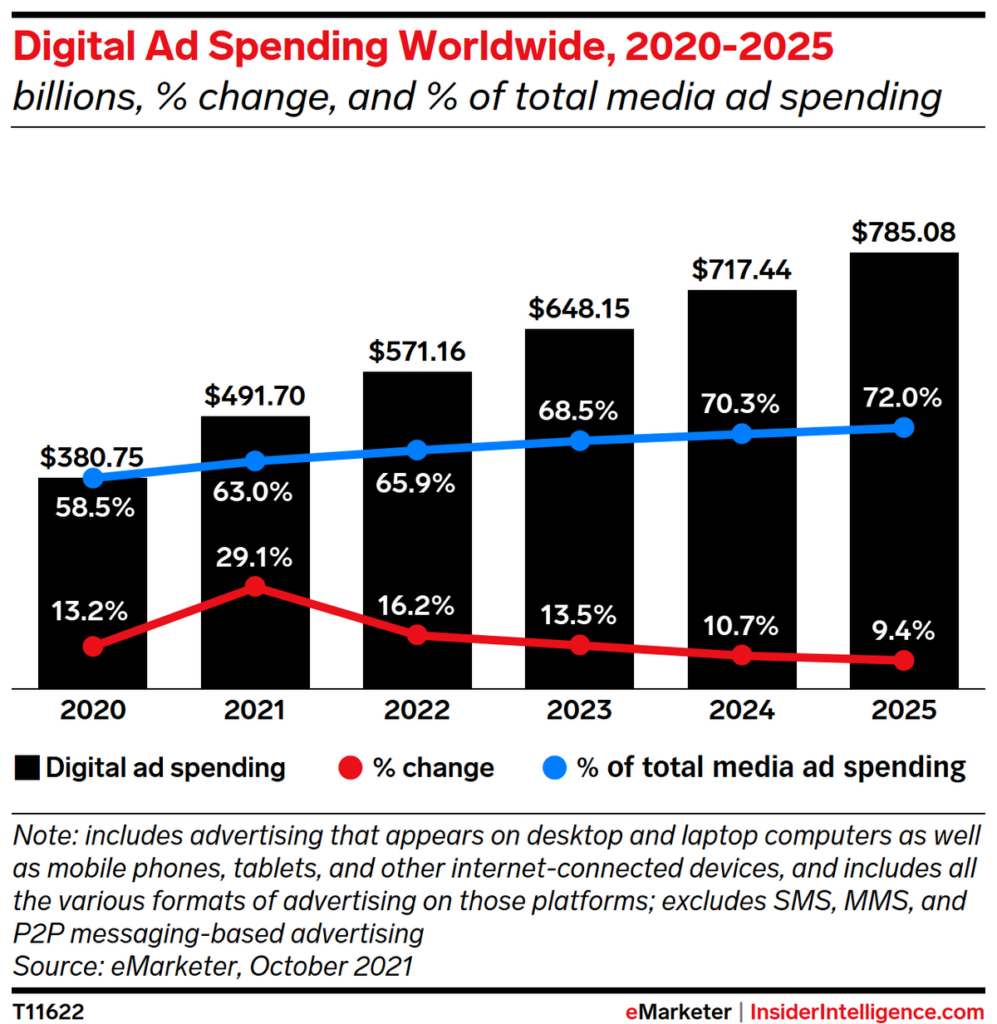 Source: eMarketer
Because of the statistics above, marketers are making the most of the opportunity to increase their advertising budget in 2022.
A survey of marketers by the Postclick 2021 digital advertising report found that marketing professionals are optimistic about positive growth in digital advertising. More than 2 in 3 marketers surveyed said that they expect their advertising budget to increase next year.
Below, you can find the latest ad trends for 2022 according to different categories.
1. Display advertising trends
Display advertising is graphic or visual advertising that includes banners, images, flash, video, audio, and text on websites, video channels, apps, and social media. Back when digital marketing was new, display advertising was not really effective and most brands struggled to make good use of it. However, with different innovations in display advertising recently, it has become a very useful channel for marketers. In the last few years, several worthwhile trends have revolutionized display marketing for a better output.
First, dynamic and personalized mobile display ads and in-banner video ads will trend more in 2022. Second, marketers can now target keywords used by consumers in search engine queries. At the same time, they can identify the interests of users and use search data to optimize their ad campaigns.
Remarketing is also an advertising trend that will go a long way in 2022. It is the act of targeting users who have been to your website but did not take any specific action, such as clicking on links, signing up, or making purchases.
With the aid of cookies (consent driven), you can collect their information, such as demographic data, interests, product preferences, and other browsing histories. Then, you may use this data to re-target your passive audience with display ads that will entice them to buy. Learn more about remarketing by reading this blog post—Everything you should know about remarketing to make more sales.
As a matter of course, advertising campaigns have always depended on third-party cookies to target and re-target their customers. However, the new privacy laws for collecting cookies have changed the entire game. Without user consent, cookieless tracking is the next best resource; it guarantees that all online journeys are tracked. This method of tracking can present a complete, definitive, and dependable set of data of all customer journeys up to a final sale. To comply with the General Data Protection Regulation (GDPR) and the California Consumer Privacy Act (CCPA), and automate cookieless marketing, you can learn more about cookieless tracking here, and even request a free demo.
In-banner video is another strong ad trend for 2022. According to Bannerflow, display ads that have a video embedded in them get a 68% higher click-through rate. This means that customers interact more with display ads with a video as a part of their campaign creatives.
A fundamental fact of Google Ads trends in 2022 is that video ads will increase. Already, Google Ads has five types of video ads for marketers, including: skippable in-stream, bumper, non-skippable in-stream, outstream, and ad sequence. Marketers expect that these video formats will become more popular in 2022.
2. Personalized advertising trends
Advertising personalization is the practice of creating ad content that is personalized to each of your target audiences. Did you know that 80% of shoppers buy just to experience the personalized experience? And 60% of consumers become repeat buyers if provided with a great shopping experience. These are the reasons you need to pay attention to personalization in 2022. Consumers are 40% more likely to view personalized items based on information they have shared with a brand.
91% of consumers say they are more likely to shop with brands that provide offers and recommendations that are relevant to them.
An excellent case study of a company that leverages personalization is Netflix. They are great at providing viewing recommendations using their algorithm.
They collect critical user data such as click behavior, watch time, and search history to personalize the content they see on their homepage as they browse the product catalog. By analyzing the viewer's behavior on their platform, the algorithm can recommend engaging content that they will like.
In 2022, creating personalized experiences based on your user's preferences and interests is a behavioral marketing tactic. As a marketer, you can personalize your content, products, emails, and many other things to enhance your users' experience. One way to do this is by using machine learning to better understand your audience.
3. Programmatic advertising trends
Programmatic advertising is the use of Artificial Intelligence to automatically purchase ads for targeting the right audience. Here is a chart showing how programmatic advertising works.
Source: Singlegrain
As seen above, an advertiser buys an ad space through an ad exchange platform, such as Google Ad Exchange and AdSense. They bid against competitors, either through real-time bidding or demand-side provider, then the winning bidder's ad is shown to the end-user. The advertiser with the winning ad pays each time the ad is shown.
Real-time bidding is a great choice when it comes to programmatic ads. It is swiftly changing the way digital advertising platforms work. According to Statista, programmatic sold advertising was worth $106 billion in 2019; it reached $129 billion in 2020 and grew to $155 billion by the end of 2021.
eMarketer mentions that digital display ad spending through programmatic will cover 90 percent of overall ads in 2022. The statistics show a 29% increase in using programmatic ads since 2020, that too only in the US market.
Additionally, eMarketer predicts that most of this budget will be used on mobile advertising; Facebook makes up around 60% of the programmatic mobile display ads in the US.
The advertising trends in programmatic advertising in 2021 showed an increase in over-the-top (OTT) services, such as Netflix and Hulu. The ad trends in 2022 are expected to continue to increase, followed by a rise in TV (CTV) ad revenues. TV Tech predicts that Connected TV will hit $20.3 billion in 2022.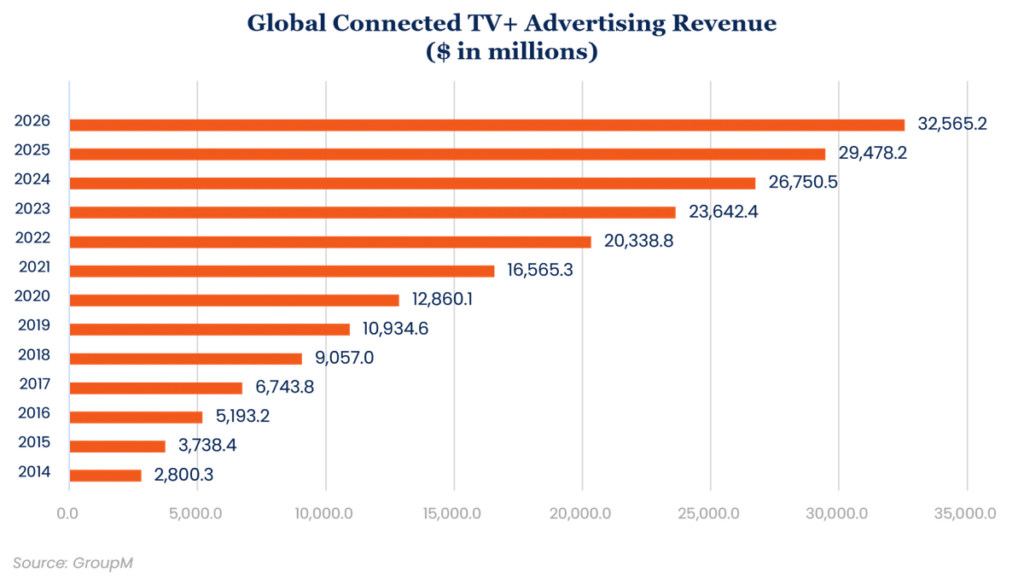 Source: TV Tech
The programmatic ad placement for audio-based platforms such as podcasts is also booming, as podcasts continue to grow in popularity. Similarly, we should see a steady rise in digital out-of-home (DOOH) advertising. This includes billboard ads, that are now displayed on 100 percent digital screens, in locations such as airports or major commercial intersections.
Programmatic advertising thrives on the availability of user data. However, the establishment of the supervisory authority through GDPR laws in Europe and the California privacy law tend to make user data collection more challenging. For example, Google has limited the availability of search terms data, which was readily available to advertisers in the past. Another instance is the new implications of GDPR on Facebook Lead Ads. It is mandatory to inform the customers about data collection and allow them to see and edit it. But don't worry — the introduction of programmatic native ads is going to take care of this particular problem. These ads can't be blocked by ad blockers and help to drive click-through without violating the data privacy regulations.
4. Mobile-first advertising trends
The COVID-19 pandemic has changed many things, including the mobile advertising platform. Since the lockdowns, people are spending more time on their smartphones and mobile devices which has led to a surge in mobile shopping, video streaming, and gaming among other mobile-based activities. This was not missed by marketing experts as they explored ways to use the post-pandemic behavioral changes to their advantage. According to eMarketer, we will see steady growth in mobile ad spending. As of 2021, mobile advertising spending stood at $275,827, but it is expected to reach $308,182 by the end of 2022, says Statista.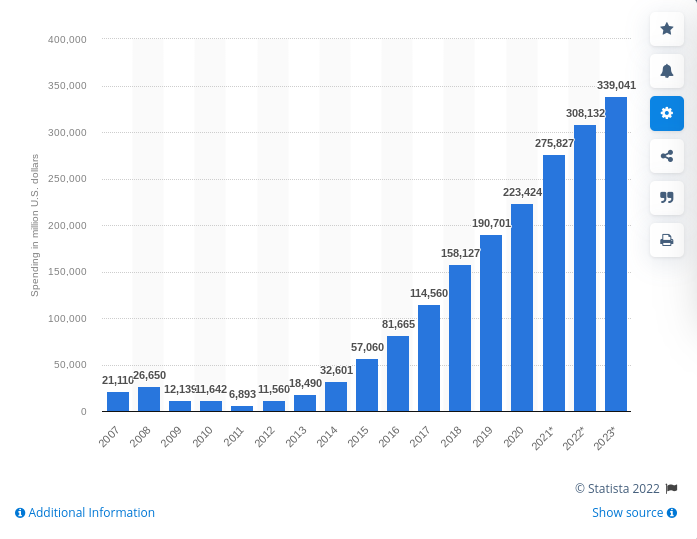 Source: Statista
Mobile commerce (m-commerce) is expanding and is expected to have the biggest sales growth. With a widespread user base, mobile phones and tablets have created a rich medium for m-commerce. Mobile sales are expected to increase by a record-breaking 68% sales growth in 2022. People want to shop from the comfort of their homes on their phones. For example, the grocery shopping apps have seen a growth of $24 billion in 2020 and are predicted to surpass $38 billion in 2023.
Location targeting mobile ads will also be the center of attention in 2022. These ads are designed to serve location-focused ads to consumers on the go. Industry forecasts revealed that location-targeting mobile advertising spending in the United States will exceed $32 billion by the end of 2023.
Another popular trend of 2022 is the wide integration of augmented reality with mobile games. Augmented reality allows the user to bring virtual objects into the real-world environment, using a smartphone or tablet camera. In practice, this technology shows the products to the prospects, so they will know exactly how they'd see it in the physical world around them. For instance, they can see how cosmetics or hairstyles would look on them when applied.
5. Video advertising trends
Because of the rising popularity of visual content, video marketing is one of the most important marketing channels today, and will still be in the coming year. It has become the platform of choice for customers to learn about a new product or service. As of 2021, 78% of people watch videos online each week and 55% say they watch them daily.
Statista has mentioned that ad spending in the video advertising segment is expected to grow over US$106,879m in 2022.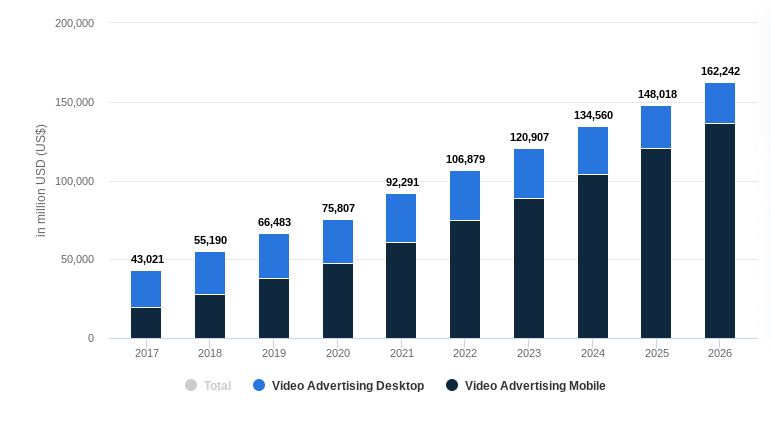 Source: Statista
According to a recent study, customers will spend 100 minutes a day watching online videos. This study was conducted in 2021, reflecting a growth of 19%, or 84 minutes, daily viewing minutes since 2019. Online video is catching on faster than TV ever did, because people can watch it on their own time and with convenience on their mobile, tablet, etc.
These stats highlight video advertising as a viable marketing platform in 2022. Here, you can find a few trends that cover all the beneficial angles of video marketing:
The first video advertising trend is the increase of video ad formats across social media platforms. As usual, Facebook is the flag holder of marketing strategies. Users watch an average of 100 million hours of video content on Facebook daily. As a general rule, videos have a higher engagement rate compared to other types of content and they net about 1200% more shares than text and image content combined. According to Databox research, 52% of companies will increase their Facebook ads budget in 2022.
User-generated content is also a top choice when it comes to video marketing strategies, but just make sure that it goes through a proper screening process to check if there is any need for content moderation. According to stats, users arriving on an e-commerce site via user-generated video content are 184% more likely to make a purchase.
Below is a chart showing an outline of key video trends for 2022.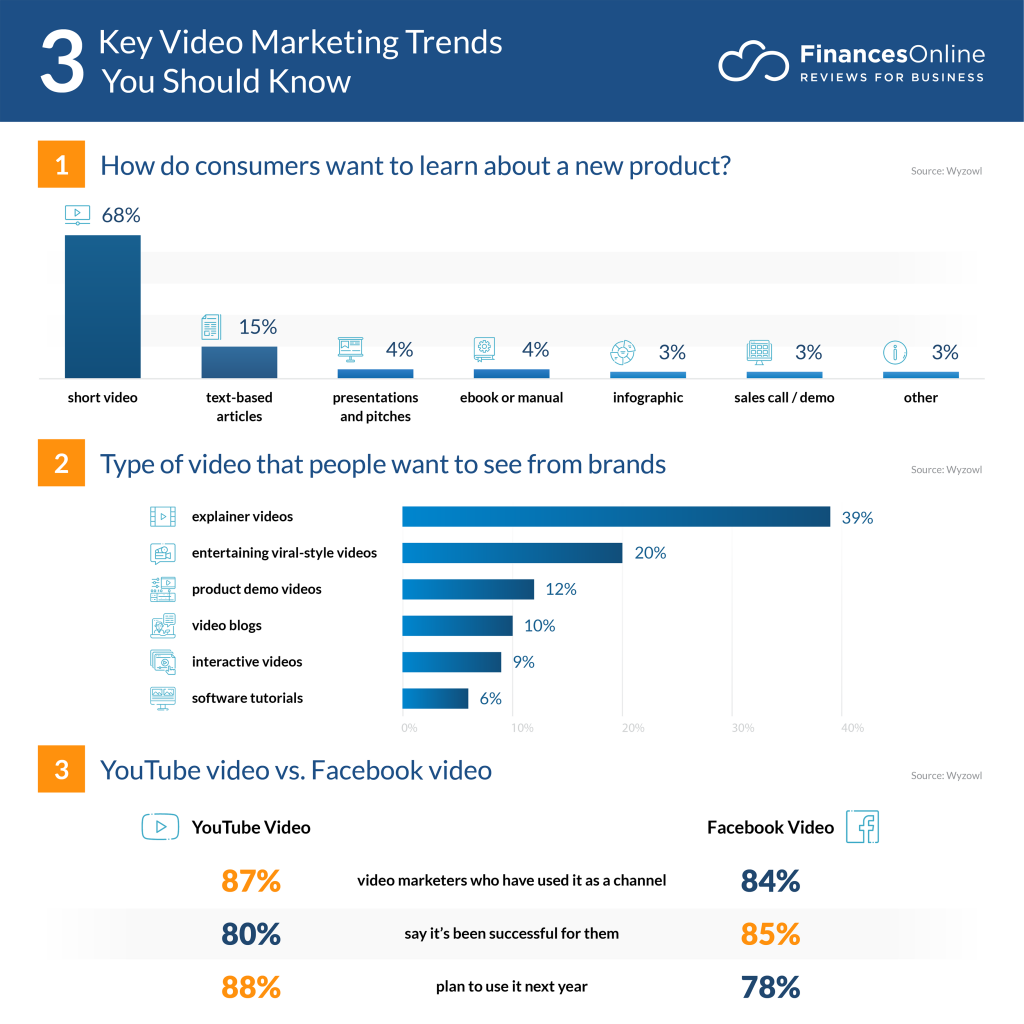 Source: FinancesOnline
6. Social advertising trends
The COVID-19 pandemic also altered some functions of social media platforms for good. The number of users has increased, and so has the amount of time spent on various social networks. During isolation, everyone wanted to stay connected and entertained using social media platforms.
In 2020, DataReportal revealed that nearly half of respondents have spent more time on social media because of COVID-19. In the following year, the number of users on social media reached 4.55 billion, representing 222 million new social users over the course of 12 months. This is why the Ad spending in the social media segment is projected to reach US$173,988m in 2022.
As a result, social media ads gained greater attention in the marketing world. In 2022, social commerce will continue to expand even more. Social commerce is the practice of selling products and services through social media networks. A good example of social shopping tools is the Facebook shop. It allows businesses to list, manage, and sell their products directly on Facebook. Not to be confused with Facebook marketplace, which allows users to buy and sell second-hand products. eMarketer predicts a significant rise in retail sales, which is equal to $6.624 trillion in 2022.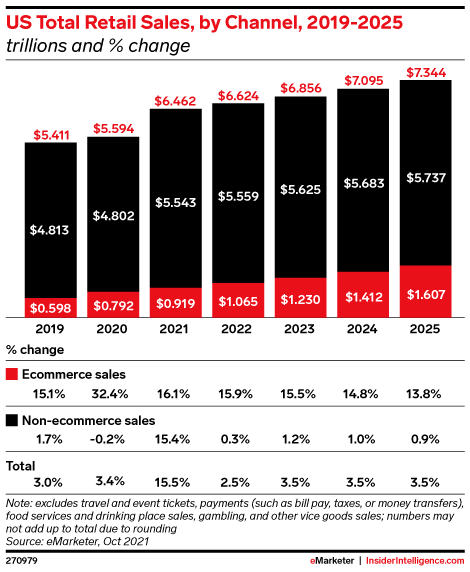 Source: eMarketer
Apart from Facebook, Instagram also offers shopping features. Pinterest, TikTok, and Snapchat are also working on their shopping features, too.
One of the hot topics in advertising these days is the changes in social media platforms. Speaking of, Facebook has officially rebranded itself to Meta and is now working towards the Metaverse; a fact that affects the fundamentals of brand sales and marketing strategies. That being said, the most concerning aspect of this shift is the new privacy concerns. Now, Meta is blocking certain detailed ad targeting categories. In short, there are new limitations to accessing data that is newly labeled as sensitive, such as race, sex, and orientation. On the other hand, Metaverse gives ground to augmented reality-related products, which all the big companies are investing in, including Google, Amazon and Microsoft. Facebook has released augmented reality wearable glasses and will introduce new features in 2022.
Other social media networks are also increasing their use of augmented reality in 2022. Snapchat has been using it for a while now, while other platforms are upgrading their systems for new lenses, filters, and effects. Instagram and Pinterest have also released virtual try-on products and Mixed Reality Solutions. From a marketing perspective, AR is a revolution in sales. This way, the consumers can get a feel of a product before making a purchase.
A good example is Sephora's Virtual Artist App. Find it below.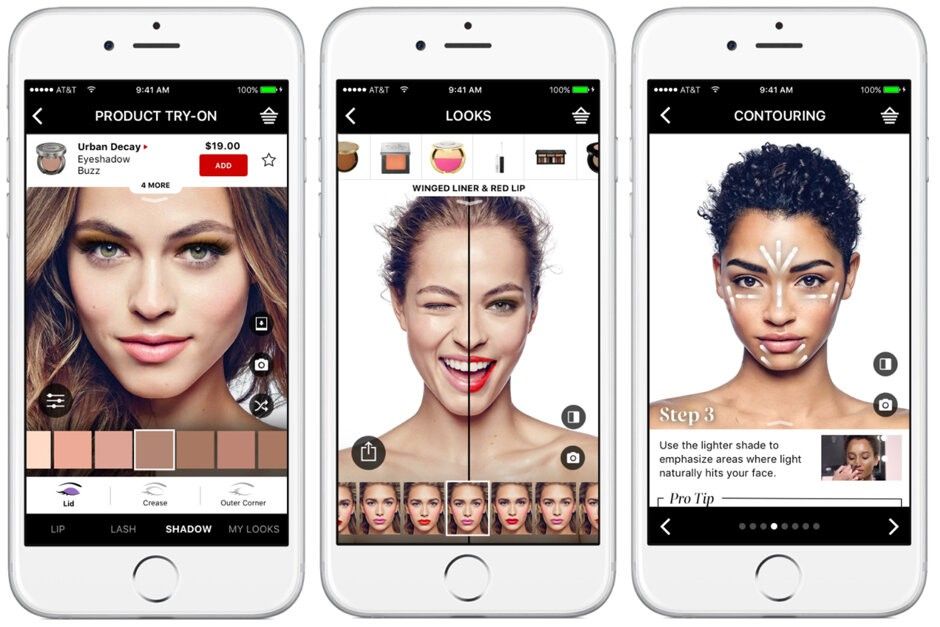 Source: Indigo Digital
LinkedIn also remains one of the hot topics in advertising. The platform shows positive growth in the number of new users, active sessions, and user engagement. The stats reveal 71% of B2B advertising strategies use LinkedIn to reach out to their audience. If you are marketing for a B2B business, LinkedIn should be at the top of your list in 2022.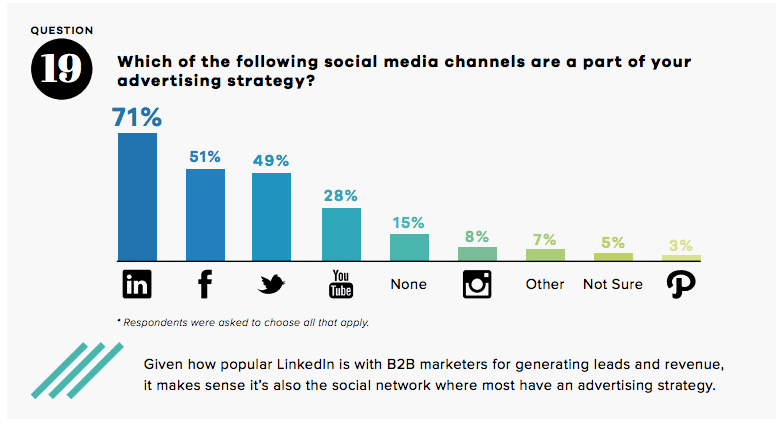 Source: findstack
Data privacy & inclusive marketing
With that massive migration of ad spending budget from offline marketing to digital advertising, the demand for user data collection is higher than ever. Digital ads depend on data to gain insights, measure performance and automatically optimize. In response, governments are taking new measures to protect users and their privacy. The privacy transformation affected several operating systems and platforms, including iOS 14 data tracking permissions updates and eliminating third-party cookies from Google Chrome.
While privacy is at the core of these regulations, there are also cultural factors at play. Brands and digital platforms are developing new features around diversity, equity, and inclusion to embrace new social ideals. These considerations help to acknowledge the individuals' identity and avoid discrimination and oppression. To make an inclusive marketing strategy in 2022, it is vital to research the market's identity. Then, marketers can use these characteristics to update the advertising creatives and connect with the target audience.
A study indicated that people are also changing their mindsets when it comes to sharing their personal data with companies. During the survey, over half of the participants said that they were more concerned about their online privacy.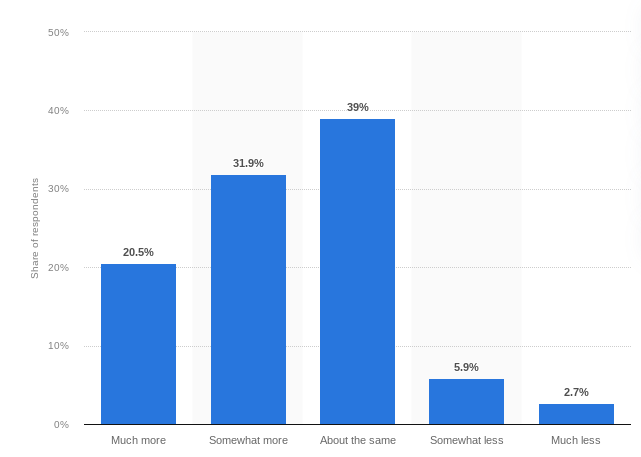 Source: Statista
New laws and regulations are shaping the future of digital marketing. A future that is moving towards customer awareness, inclusion, and consent-based marketing. At any rate, it is expected to see new regulations on antitrust and content moderation legislation policies in 2022.
The final takeaway
The shift in ad trends for 2022 promises a transformation in the shape of digital advertising. As a marketer, you need to pay more attention to programmatic advertising, particularly to mobile and video. You should also invest more in content, product, and email personalization; customers are more likely to shop with brands that are relevant and specific to their own values and provide offers and recommendations. Display advertising with remarketing is another one of the main ad trends for 2022 that will become more prominent. It offers a great opportunity to re-target your customers and make more sales.
People are spending more time on mobile than ever before. It is time to make larger investments in mobile advertising if you have not yet done so already. Video is also gaining more ground, which means more opportunities for advertisers.
It is time to take advantage of social commerce in 2022. Different social media platforms, such as Facebook and Instagram, now have shops where you can sell your products. The best way to do this is by integrating your favorite advertising platform with your marketing and sales tools. Learn more about our all-in-one advertising integrations!