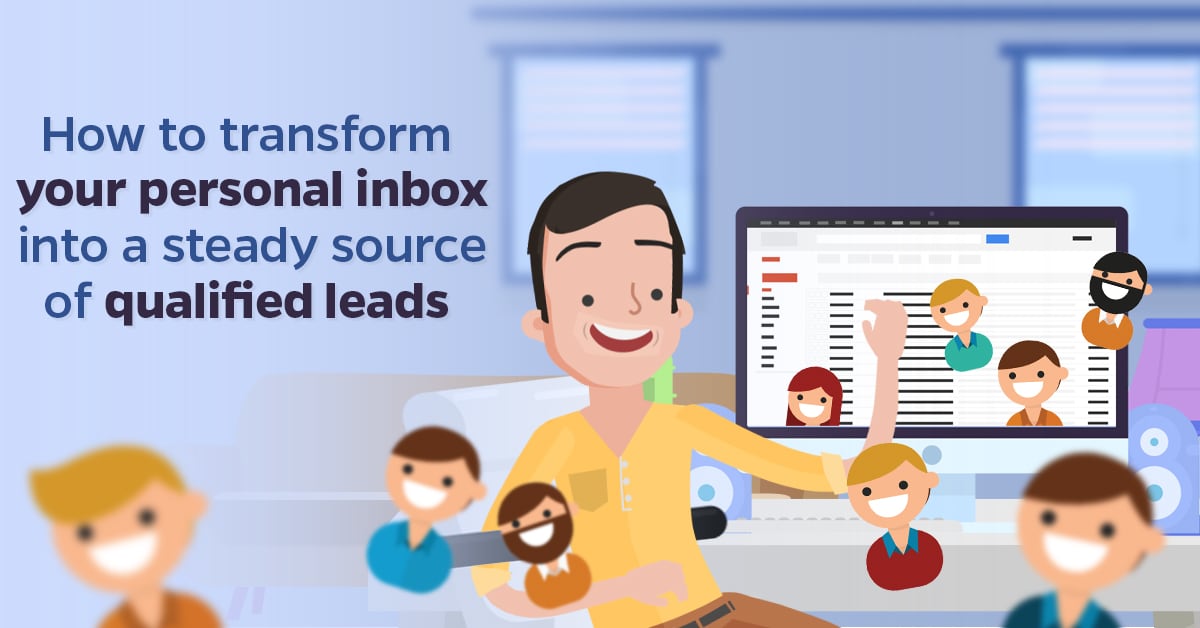 Lead generation can be a tricky business. There are many different platforms and tools that allow you to collect leads, but, nowadays, one of the biggest issues for businesses is the inability to connect their most-used tools in order to establish a solid and smoothly flowing lead generation system to boost your sales funnel.
An example? Your inbox!
Are emails that important?
Email prospers as a communication tool for business and personal purposes. The number of active email accounts is constantly growing and people from many different age groups and demographics are using it.
The graphic below shows the numbers and predictions of how many active email accounts there are and will be in the world in the coming years.
In 2014 there were 4 116 000 000 email accounts worldwide, Statista forecasts a significant incrementation for 2018 with 5 234 000 000 active accounts and the numbers will continue to grow, with technology becoming more and more essential to our daily lives.
The quantity of emails circulating is also continuously growing. The Radicati Group foresees a whopping 269 billion emails sent during 2017 and the number could continue to grow with a 4% growth rate each year to come.
In a Survey conducted by Data & Marketing Association (DMA) and Demand Metric, 90% of marketers in North America use email as a media to engage with their audience, clients and business partners.
This is also true no matter the industry, as we may see in the graphic below, Retail is the industry where email is used less with an outstanding 81% of marketers recurring to this medium, especially for lead generation and management.
So how much potential does your inbox have? Short answer: A LOT!
Believe it or not, your personal email inbox is a gold mine
Think about the amounts of email you receive every day, with information from current and potential clients, providers, and partners that reach out to you.
Just think about your inbox, being constantly populated with these emails. What if I told you that you could gather all these emails and automatically send them to your favorite CRM or autoresponder?
This automation may have a huge impact on your business. Here you are some examples.
General email
Every conversation you have with someone has potential, but most of these emails probably just sit there, collecting virtual dust, because manually gathering this information is daunting and time-consuming.
All these threads where real conversations are being held with people that are actually interested in your product are golden and being able to send them to your CRM automatically would be a big leap forward for your business and marketing efforts.
So how can you automate this? Just head over to LeadsBridge and use the BCC importer integration, you'll get a unique email address to use as a BCC receiver in your conversations and LeadsBridge will process the information.
Using the BCC allows you to choose which information you want to be sent by adding the email address to selected emails, you may also create more than one to start segmentation from the source and send leads to your different systems depending on your needs and the stage where they're at.
Introductions
More often than not, other people introduce you to potential customers. Colleagues and partners often put you in touch with new people that are interested in your product, so you start a conversation with them and establish a conversation. This is great but often limited to your email account, by using the BCC importer you'll be able to automatically send this people's information to your autoresponder and offer an even better experience from lead to conversion and retention.
Email Notifications
We use a lot of different systems on a daily basis that send out a notification; for example, each time someone takes action on a website and landing page forms, online payment systems, and user registration.
Email notifications are great because they allow you to stay on top of your game and quickly take action, but if you're missing the connection to your CRM or another system you use in your sales funnel then you'll be slowed down.
These notifications usually just accumulate in your inbox and sit there without being of much use, because we all know how daunting it can be to manually gather the information and move it to the desired platform.
With LeadsBridge you may use the Incoming email integration that generates an email to use as a forwarding address or to receive those email notifications. Our system will process the information and send it automatically to your CRM to kick-start the sales process.
There are many other ways to leverage your personal Inbox to collect leads. Just think about what you can do in…
Meetings and networking
Getting to know new people, potential partners, and customers is key to your professional career, but can also help with lead generation.
Give these people a way to not only reach out to you afterward but also get into your sales funnel. Use your business cards and contact information with a magic email address, using the incoming email integration you'll be able to get an email that will automatically forward the information contained in the email to your CRM or autoresponder.
You may write it on your business card or contact information directly, or set it up as a forwarding address inside your email provider account's configuration.
Public speaking events
Not only can you use public speaking events to get qualified leads by syncing your event management software with your CRM.
Being a speaker at an event gives you credibility as an expert on the topic and you may use this position on the stage to engage with the public and invite them to give you their contact information or get in touch with you.
The great thing about public speaking events, presentations, and workshops is that they're focused on education and attendees are there because of their interest in the subject; if you play your cards right you'll have lots of new leads by the end of the event.
How? Just ask them to send an email to you in order to receive a free book, a consultation or more.
Make sure to share your contact information and have set up your Incoming email or BCC importer integration ready so this highly qualified leads can go through your funnel smoothly.
Conclusion
Your inbox IS a gold mine!
Keep in mind just how many people use email and the amounts of conversations happening every day through email only, not only that but email is so diffused in the world that we use it for almost every aspect of our lives.
The above are all great ways to upgrade your lead generation game, even when you generate leads offline, you'll be able to take them online and automate the process in no time with the Inbox Leads tools.
You'll be able to have a complex, but easy to use, cross-platform system that allows you to take advantage of the different segmentation and automation platforms you currently use and even implement new ones to enrich the experience.
Build an unstoppable lead generation machine using the tools you love!
What kind of system do you currently have in place? Where will you be implementing the Inbox Leads tools? Tell us about your experience!