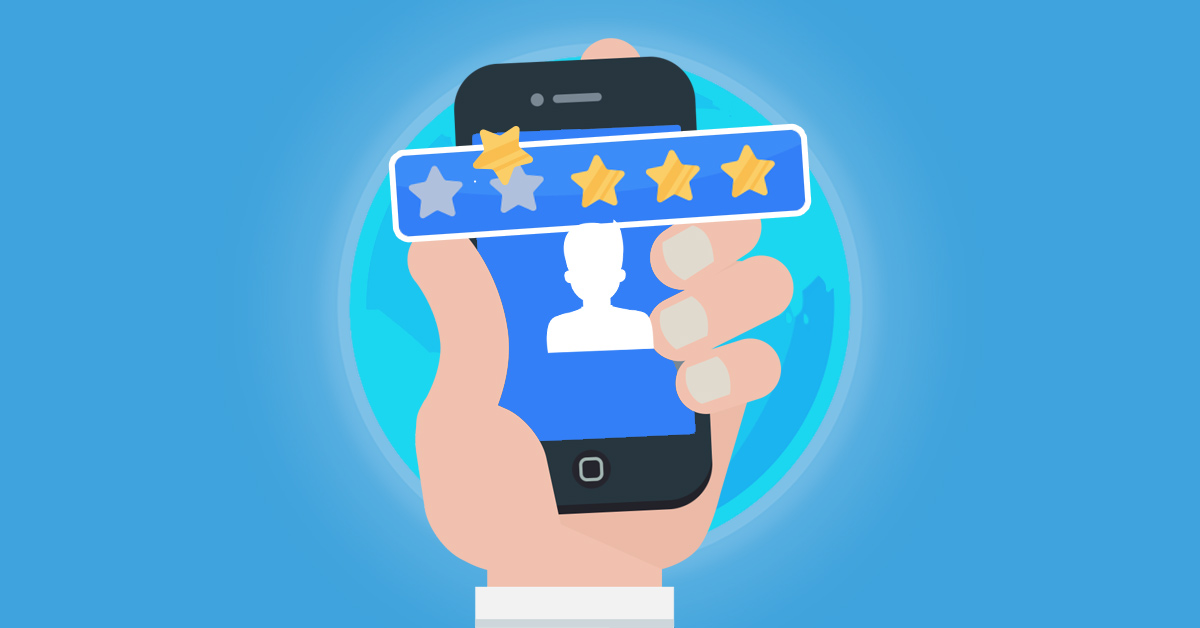 The better the experience a customer has, the more likely they are to come back, leave positive reviews, and recommend you to friends and family.
The experience they have with you has a huge impact on their future purchase decisions and their loyalty to you as a brand.
If they have a bad experience, it's easy enough for them to go elsewhere.
What is Telco Customer Experience Management?
The customer journey in the telecom industry is defined by a series of touchpoints where consumers speak to or engage with a brand, and the experience they have will define whether they come back or not.
The customer experience is the sum of the interactions a customer has with your brand.
It can also take into account customer service in the telecom industry, which is a little more rigid. Essentially, this refers to how a customer is treated when they have a problem, objection, or question.
With the increase in competition and the surge in new, disruptive startups entering the telecom space, telco companies are having to rethink how they manage the customer experience.
Consumers are increasingly seeking out brands that put them first, which means being customer-centric is absolutely crucial today. Luckily, innovative technologies are making it easier than ever for brands to create exciting and engaging customer experiences and improve their telco customer experience management strategies.
The customer journey in the telecom industry has often been put on the backburner. In fact, the NPS Benchmarks Report shows that the Net Promoter Score of telcos remains low compared to other industries, such as retail and manufacturing.
Telecoms companies that start putting the customer experience at the forefront of their brand will instantly put themselves ahead of their competitors.
How to Improve the Customer Experience in Telecom
Wondering how to improve the customer experience in telecom? We've got you covered.
Back in the day, the telecom industry was pretty straightforward. It was simply a case of finding out how to make sales over the phone – and voila, job done! Now, the influx of competition and a customer-centric focus has made it slightly more complex.
Here are some tried and tested ways that show you how to improve the customer experience in telecom.
1. Understand Customer Expectations
Creating a successful telco customer experience management strategy starts by knowing what your customers want and need.
Think about what they want from you. Is it a user-friendly way to communicate? A distinct lack of a standard, regurgitated script? Personalized help?
Once you can identify what it is they'd like from you, you can start to implement solutions throughout the customer journey.
For example, if your customers expect personalized help, think about ways you can incorporate that. It might be an online help center they can browse through, an automated chatbot that answers common questions, or a dedicated support person that's on hand to help them with their needs every time.
Take note of what different customers want too. A 50+-year-old "offliner" might consider a 24/7 hotline great customer service, while an early-20s digital native might prefer a searchable internet community or a WhatsApp thread with an agent. This is all-important information for telco customer engagement strategy.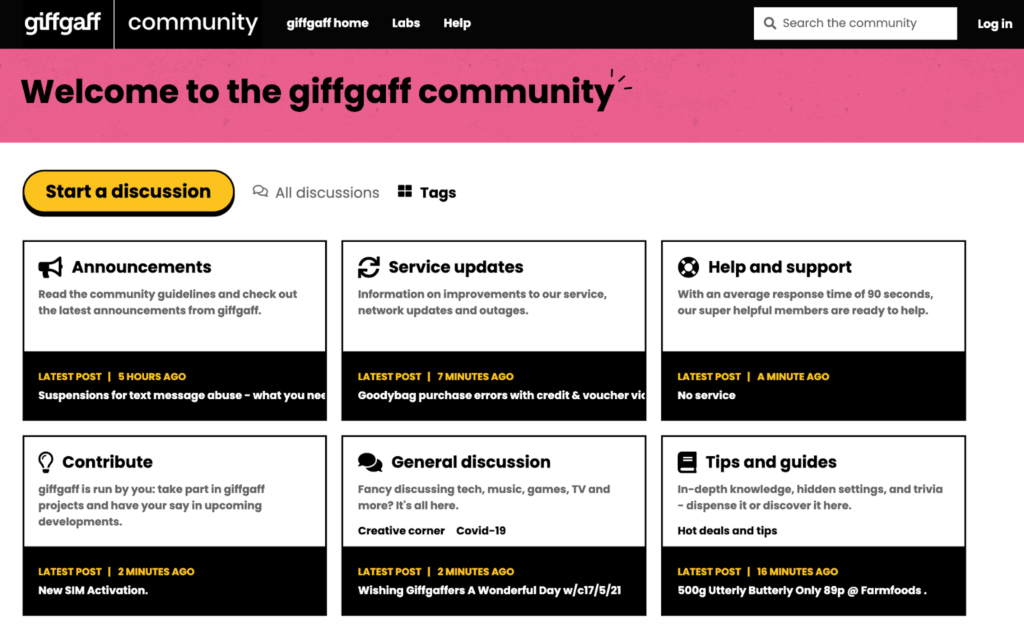 GiffGaff have actually tailored their business models to address the preferences of very specific customer segments. They were the first MVNO that relies fully on an online community for customer service. Doing so has led the company to consistently achieve customer satisfaction ratings of 85-90%.
2. Implement Technology
We have a wealth of technology at our fingertips today that can help bolster customer service in the telecom industry. Consumers today expect companies to answer their questions instantly, provide them with the information they need at the right time, and create a frictionless journey to the point of sale.
To tie in with this, leverage technology like chatbots and automation software to:
Reduce waiting time for customers
Provide easy access to information as and when customers need it
Get queries answered faster
Provide 24/7 customer support
Store data for easy personalization
Implementing technology to help with things like answering questions and automating responses means customers get an on-demand experience without the frustration of waiting around for a sales rep to come online. 
Refining the content of calling scripts can also greatly enhance the customer experience. Ensuring that scripts are personalized, empathetic, and tailored to the specific needs of customers can make every interaction feel more genuine and helpful.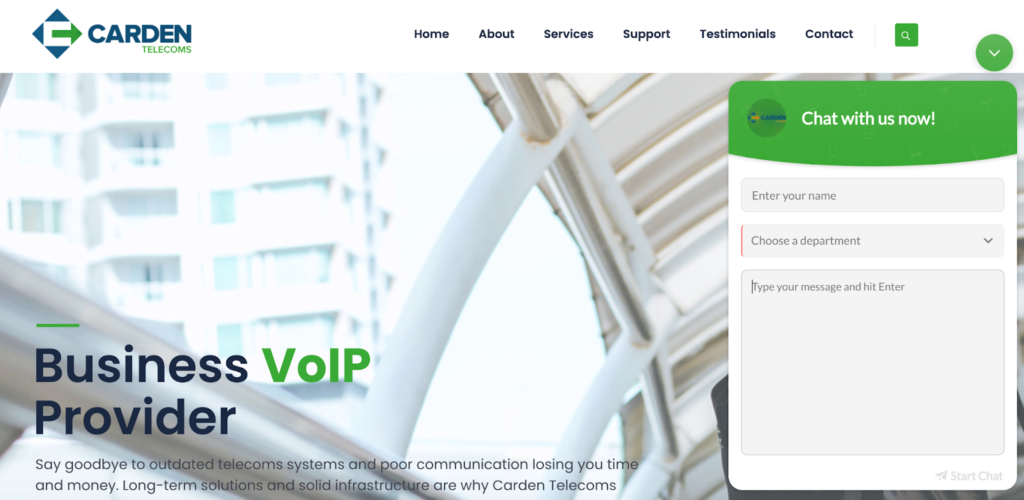 Carden Telecoms has a chatbot available on every webpage where consumers can ask questions and get help.
3. Provide an Omnichannel Experience
Today's customers use multiple channels to communicate with brands.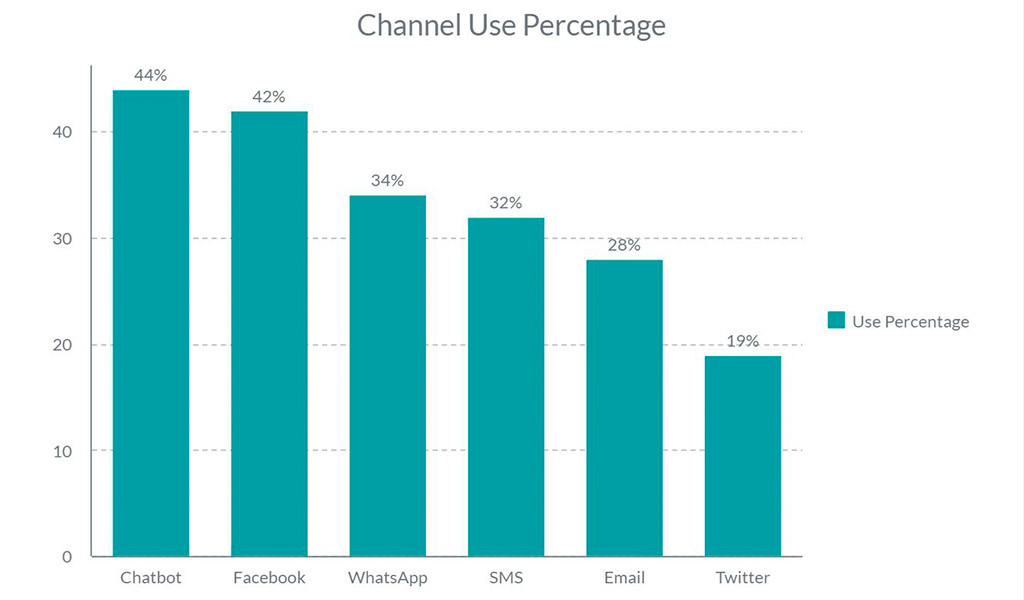 According to research, 44% use chatbots to interact with companies, 42% use Facebook, 32% use text messages, and a surprisingly low 28% use email.
Knowing which touchpoints and channels customers favor will help you create a customer journey that they feel comfortable moving forward on. Start by breaking down information silos so customers don't have to keep repeating themselves.
If a customer gives their name and address to a chatbot which then refers them to a phone operator who also asks for their name and address, it can get frustrating and waste time.
You can use technology to bridge this gap. LeadsBridge syncs data from LinkedIn, Facebook, and Google Ads lead form extensions with your CRM in real-time so you can quickly track online and offline conversations and conversions. Learn how to set up these integrations on LeadsBridge, including linking your LinkedIn Lead Gen Forms with My CRM Example, connecting your Facebook Lead Ads to My CRM Example, and integrating your Google Ads lead form extensions with LeadsBridge.
4. Collect Feedback and Act On It
One of the hardest parts about telco customer experience management is understanding your customers in the first place. It's easy to assume you know what they want, but guessing can often be a recipe for disaster.
Instead, use testimonials, scour reviews and create customer surveys to identify the biggest frustrations and pain points your customers have.
Often, they'll use feedback to talk about things they weren't happy with or what they would like to see improved next time. You can then create solutions to these pain points and implement them across the customer journey.
For example, if the wait time was too long when they called you up, can you shorten this by directing them to other helpful resources in the meantime?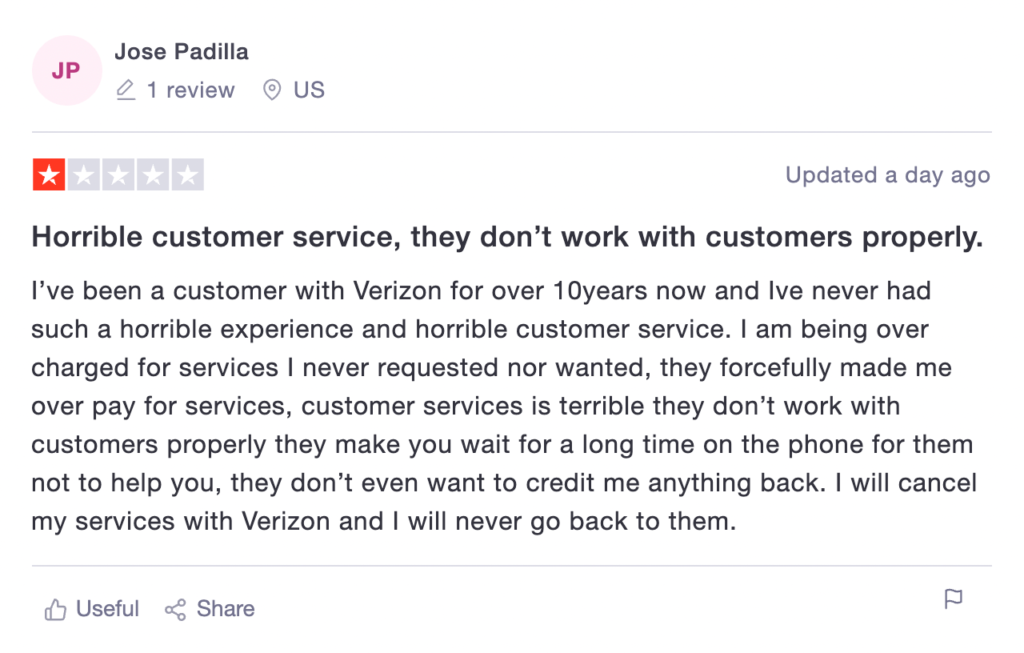 Verizon has quite a collection of bad reviews that they can draw inspiration from moving forward.
5. Expand and Improve
A great customer experience keeps people coming back for more. And increased customer retention leads to more revenue and more loyal customers – it's a simple equation.
Providing customers with an enjoyable and engaging customer journey in the telecom industry can take time, though.
Identifying what needs to be changed and what solutions can be implemented doesn't happen overnight. As a result, it pays to consistently monitor customer feedback, pinpoint areas for improvement, and action those improvements.
Experiment, too. Don't just go ahead and implement a solution to feedback from one customer; they might not represent the collective mind of your other customers. Instead, strategically implement new measures, track results, and choose whether to scrap them or keep them depending on how well they work.
LeadsBridge for Telecom Lead Generation
New leads mark the very start of the customer experience. There's huge potential here, so it's important that you create a great first impression if you want customers to stick around.
LeadsBridge gathers information from various channels and syncs it with your CRM to provide a personalized experience for each customer. It fulfills key integration needs so that you can sew together your tech stack while focusing on bridging gaps between advertising platforms and sales funnels.