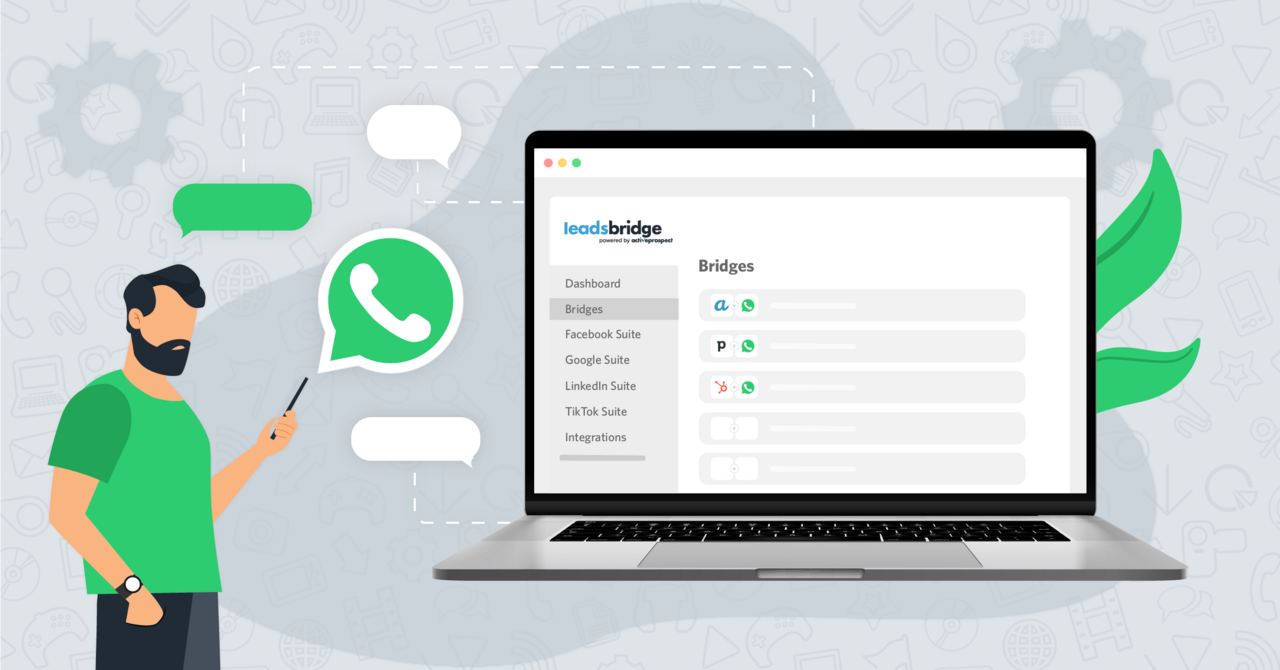 WhatsApp is one of the most widely used communication platforms in the world, boasting over 2 billion active daily users. Used in over 180 countries, this platform offers highly-secure instant messaging, making the sharing of information safer for all parties.
Advertisers' primary motivation is to directly connect with their prospects and existing clients. However, this can prove to be challenging when customers are constantly being barraged with input from other businesses.
The value of WhatsApp lies in the nature of its direct, two-way communication model, which allows you to reach your customer instantly.
Users contact family, friends and colleagues via WhatsApp multiple times per day. Therefore, numerous companies have identified the business opportunity of communicating with clients on the same service.
This has led them to establish their own Whatsapp CRM integrations.
Throughout this article, you will discover the benefits available to your business by establishing a CRM for WhatsApp. The most valuable connections will be showcased in detail, making it easier for you to decide which ones are best suited to your objectives.
WhatsApp is a META product. As a META partner, LeadsBridge delivers several integrations with best-in-class customer support. Book your demo here to discover all the solutions that LeadsBridge can offer to support your WhatsApp CRM connections.
Why consider a WhatsApp CRM integration for your business?
Communicating effectively is a core objective when advertising to an end user. You must place your business wherever they are.
Establishing a CRM for WhatsApp allows you to engage customers on a platform that they use daily for various purposes. Giving your business a presence in this space will allow you to position yourself at the forefront of the customer's mind.
This system enables companies to organize and manage their customer data and sales information from anyone who makes contact with the business via the WhatsApp account. Having this information, companies can communicate efficiently with clients, as well as ideate informed strategies to target them more directly.
Further benefits of using this application include;
Opt-in messaging that ensures you are operating within regulation by only contacting customers who agreed to receive input from your business.
End-to-end encryption, safeguarding information shared within communication.
Two-way conversation model, allowing for a prompt process for the customer, which leads to increased satisfaction.
For an in-depth view, take a look at our complete guide to WhatsApp marketing tools.
How LeadsBridge can facilitate your WhatsApp CRM integration
LeadsBridge is the automation solution that will facilitate maximum usage of your WhatsApp data, bridging the gap between the platform and your sales funnel. Our status as an official Meta partner means that we have a direct line of communication for Meta products, including WhatsApp.
This, matched with our demonstrated experience in customer integration, allows us to facilitate our users with the building of any WhatsApp CRM connection they require or maintenance task.
We are masters of our craft, with a dedicated team focused on attending to your needs.
LeadsBridge offers various features such as lead syncing, which allows you to automatically sync your lead data. Therefore, moving them through the pipeline faster and increasing conversion.
As well as this, our audience targeting feature gives you the ability to segment your leads according to specific traits. This process makes it easier to retarget users at every stage of the funnel.
Additionally, the LeadsBridge Online and Offline tracking tool allows you to attribute offline conversions to the online world.
The 5 Best WhatsApp CRM integrations
Let's take a closer look at the five Whatsapp CRM data bridges that can help you convert interest into sales.
Bitrix24 integration
By initiating a Bitrix24-WhatsApp integration, you can directly communicate with leads and keep a detailed record of each interaction. This means that any member of your team will be fully equipped to speak with a customer at any point within their purchasing journey, even if they have not spoken previously.
Bitrix24 WhatsApp connection
The integration has a range of features that can be beneficial as a WhatsApp CRM connection, such as:
A customer database that highlights what a customer has bought, or any specific notes regarding that user. This means that a select segment of customers, grouped by purchasing patterns, can be included in specific WhatsApp promotion communications.
The easy sharing of webforms, reports and invoices via WhatsApp makes communication with sales reps seamless.
Detailed reporting that can help you establish sales pipelines. These lead to greater insight into the purchasing journey and better targeting, which can increase conversion rate.
Maintenance of prompt communication. All replies sent to users later than 24 hours after an initial message will not be delivered.
Join the waiting list to streamline your WhatsApp data with Bitrix24.
Zoho CRM connection
The Zoho CRM-WhatsApp integration gives way to richer contact management, customer support and marketing strategies within your business. Through detailed reports and analytics, you can create informed, targeted strategies to boost your sales volume.
Zoho CRM WhatsApp unification
Additional features that can positively impact your CRM for Whatsapp include;
Segments and lists that enable you to include WhatsApp as a touchpoint in your customer's journey. As Zoho CRM has your entire prospect list, they can filter users and include them in targeted WhatsApp communications.
Demographic specific information regarding WhatsApp users, which allow for concise targeting and enhanced future communications.
WhatsApp messaging triggers that automatically creates tasks reminding you to respond to users. When this message is received, Zoho will automatically update the CRM.
Join the waiting list to integrate Zoho CRM with WhatsApp
amoCRM integration
amoCRM is a notable Messenger Based Sales CRM software that aids companies in amplifying their sales and fostering enduring customer relationships. This integration will automatically store and sort the details of every user that engages with you via WhatsApp, making targeting strategy ideation easier.
amoCRM WhatsApp connection
amoCRM can heighten WhatsApp business function with the following attributes;
Digital pipeline offers automated lead organization based on where users are in their journey. Targeted WhatsApp messages can then be sent for every stage customers progress too.
Advanced analytics showcasing specific details regarding every lead. Insight from these reports provide an in-depth view of actions taken across every funnel stage. This gives way to better targeting and future sales generation.
Engagement feature links your WhatsApp account from your website, meaning customers who visit your site can simply click the chat button to begin direct communication. All user interactions are then automatically uploaded to the pipeline.
Pipedrive unification
Establishing a WhatsApp CRM-Pipedrive data bridge allows for the seamless automation of customer relations processes directed from the WhatsApp messaging service. This streamlining facilitates greater success in effectively nurturing leads and future rate of conversion.
WhatsApp CRM Pipedrive benefits
Merging your WhatsApp with Pipedrive can be advantageous in the following ways;
Easy sharing of messaging history between team members. Employees dealing with specific tasks can view previous communications with the user. This feature increases customer satisfaction as they do not have to explain their needs multiple times.
Customizable pipelines that give insight into the purchasing journey of each lead. Targeted WhatsApp communications can be sent to nurture each lead and encourage progression to the next stage.
Join the waiting list to automate WhatsApp data management with Pipedrive
HubSpot integration
Regarding inbound marketing, a HubSpot CRM WhatsApp integration should not be overlooked. The HubSpot tool allows you to track all WhatsApp conversations, manage the data to your own preferences and shape your strategies accordingly.
HubSpot CRM WhatsApp connection
The HubSpot solution features that can be beneficial to your business are as follows;
Data automation that allows you to seamlessly control incoming WhatsApp leads. By setting pre-determined triggers based on keywords/content within messaging, HubSpot will send an alert when it discovers a lead opportunity. You can then send a WhatsApp message to this lead to advance communications.
Attribution reporting enables you to understand the actions that occurred along the sales process. Identifying where the customer was influenced allows you tailor your future WhatsApp communications accordingly to be more effective.
Automating communications, triggered by contents, from within HubSpot promotes prompt communication. The customer can move down the funnel quicker.
Join the waiting list to unify WhatsApp and HubSpot

Key takeaways
Understanding the potential that WhatsApp offers to your business is the first step toward creating effective strategies on the platform that can improve your bottom line. By adopting WhatsApp CRM integrations, you can create seamless interactions with users, target them more effectively and garner a higher conversion rate.
Having discovered some of the various integrations at hand, you can choose which features are best aligned with your business objectives. Each connection offers unique value, which can be tailored to your specific CRM for WhatsApp system.
Discover over 380 custom integrations within LeadsBridge to increase your lead generation via WhatsApp.