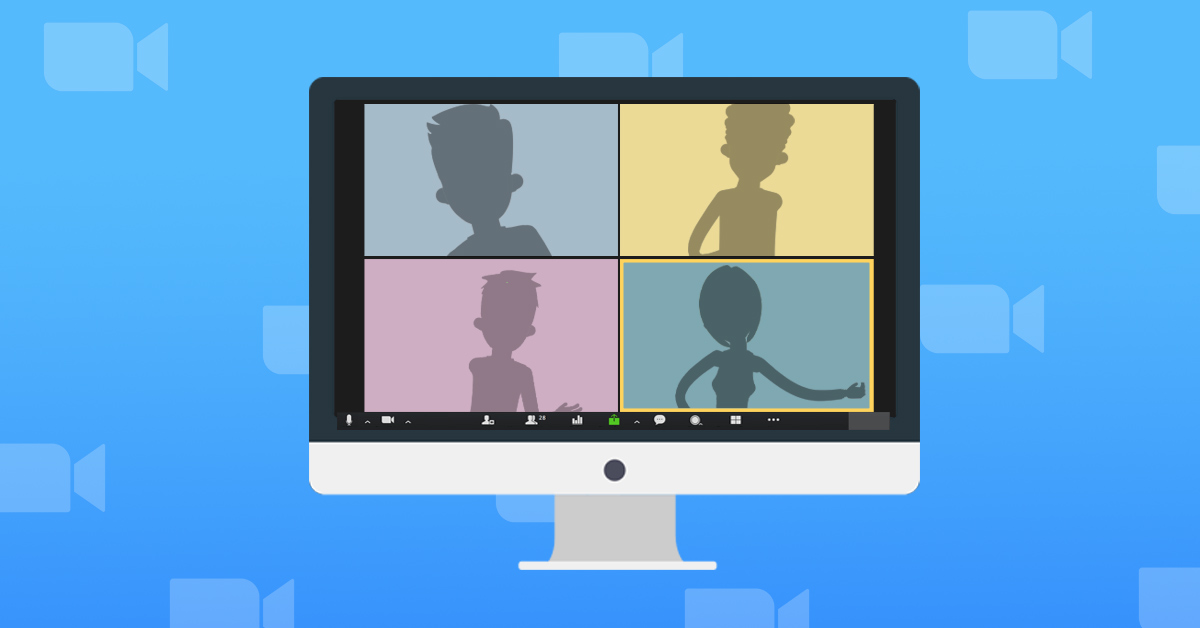 In the past few years, the global market has seen a strong digitalization of the way businesses operate, which resulted in thousands of software solutions to help companies carry out their daily activities. To meet the need for efficient, remote communication between people, one of the tools that have been widely adopted by both small businesses and large enterprises is Zoom Meeting. 
This article is a Zoom Meeting review which focuses on the following aspects:
What is Zoom Meeting?
If you are not familiar with it, Zoom Meeting is a video conferencing platform that offers high-definition video online meetings, conferences, and group messaging with the goal of making online communication easy.
In many ways Zoom Meeting is revolutionizing the way both centralized and distributed teams communicate, enabling people to experience a 'face-to-face feeling' while talking with their colleagues via desktop or mobile devices.
Source: Zoom.us
What makes Zoom Meeting stand out from other video conferencing platforms is its user-friendly platform which facilitates remote collaboration and communication. Zoom in fact, enables workers to quickly set up group calls, one-on-one meetings, and video conferences, offering reliable software that guarantees consistent audio and video streams.  
How to set up a zoom meeting
To learn how to set up a Zoom meeting there are only two simple steps to follow. The simplicity of the software is indeed what makes it so successful and widespread in the world of business. 
Step 1: Download the Zoom app on desktop or mobile
The first step is to download the Zoom app from desktop or mobile and log in either by creating a new account or with an existing Google or Facebook account. If you haven't downloaded Zoom on your computer and you are invited to join a meeting with a link, you will automatically start to download it via a browser. 
Step 2: Launch the Zoom app and start a meeting
After launching the Zoom app on your computer or phone starting a meeting is fast and intuitive. On the main screen simply click on 'Start' to create a meeting. A meeting can be both hosted and attended either via a laptop or mobile app, facilitating communication regardless of one's circumstances during the workday. 
The app asks you if you want to join with the computer audio or not, and if you want to test your microphone to make sure it is working fine. In a matter of seconds, the meeting starts and it is possible to invite others simply by copying a URL link. The host can choose to invite other members via email communication too. 
Each attendee can choose to mute the microphone and or enable their video camera by clicking on the respective icons at the bottom left of the screen. Both the host of the Zoom call and its participants can share their screen to explore the content of the conversation through visual aid. 
How to schedule a meeting
It is also possible to schedule a Zoom call ahead of time by clicking on the 'Schedule' icon in the Home tab of the app. The host can choose the topic, timezone, date and whether to make the meeting a recurring one. 
The host can schedule meetings also by installing the Zoom add-on for Google Calendar. Due to the popularity of the Google Calendar, this option can facilitate both hosts and participants in scheduling, joining and managing team meetings. 
On their Google Calendar, participants can easily confirm their participation in a certain meeting, find the link to join it and set up a reminder on their phone a few minutes before the meeting, depending on their time zone.  
The calendar integration is possible not only with Google Calendar but also with Outlook and Apple calendar. For users with a Pro account, it is also possible to ask someone else to schedule meetings on your behalf by selecting 'Other' under Settings – Meeting, and assigning scheduling privileges to an email account of someone of your team.
How to record a meeting
After a video conference or call, it's often helpful for employees to be able to review what has been discussed during the call or perhaps share it with someone who couldn't be there. The Pro version of Zoom gives the ability to record all of the calls and meetings and store them either locally or to the cloud, with searchable transcripts. Some companies leverage this feature to record particularly informative sessions and use them as evergreen training resources for their employees.
It is possible to set up the automatic recording of every meeting in Persona Settings – Recording. 
How companies use Zoom
Companies use the Zoom Meeting in multiple ways. One of the most common uses is for internal company communication, especially for distributed teams who are not working from the same physical office. 
Many SaaS companies use Zoom to enhance their Customer Support by easily scheduling and quickly jumping on video calls with customers in need of help, but also to attract potential customers through live screen sharing sessions where they show a demo of their software services.   
Another industry that widely adopts Zoom for everyday business tasks is the one of Education. For example, the University of San Francisco started using it a few years ago to meet the growing demand for its online programs. Zoom enables educational institutions to address the needs of all the students and professionals who cannot physically attend courses in class but would do so flexibly online. Thanks to its wide range of annotation tools, Zoom makes it easy for teachers to deliver engaging and compelling classes. 
Zoom Meetings is also used in many other industries, like HR professionals who use it to interview potential candidates or fitness professionals who have learned how to set up a Zoom meeting in order to teach their classes online too. Outside of the business world, the app is also becoming increasingly adopted by friends and families to stay in touch from distance. 
The difference between Zoom Free and Pro
Zoom offers four different pricing plans: a free version, a pro version and specific plans for businesses and enterprises. In this Zoom Meeting review, we focus only on the difference between the free and pro version.
The free version Zoom it's quite generous: the platform offers an unlimited number of meetings of a duration up to 40 minutes and for a max of 100 participants. This option includes high-definition audio and video conferences, practical and fast screen-sharing and chat rooms for both group and private conversations.   
The pro version currently costs $14.99 per month and it extends the meeting duration up to 24h and it includes 1GB of recording stored in the Zoom Cloud, which users can access to download or stream their meetings from a browser.
The Pro version also comes with many more admin features controls, such as the ability to assign and remove roles during meetings, allowing others to set up meetings for you (as explained earlier), and getting reports on employees meeting attendance.
Most small-medium businesses start with this version and then upgrade along the way depending on their needs.  

Source: adapted from Zoom.us
Zoom Meeting integrations
Zoom Meeting is only one of the many software tools that companies use nowadays to work more efficiently. For effective daily communication and organization, companies also rely on many other software applications, such as CRMs, calendars, content sharing applications, and marketing automation tools.   
Zoom offers several native integrations with tools such as Dropbox, Office 365, Pardot and many more, however many other integrations are not offered natively. The best way to connect Zoom Meeting with other marketing tools and applications is through a trusted third-party software such as LeadsBridge.
LeadsBridge is a cloud-based integration platform that offers Zoom Meeting integration with tools such as Hubspot, Pipedrive, Keap and many more. For a step-by-step documentation on how to integrate Zoom with other marketing tools visit this page. 
Zoom Webinar
Zoom also offers a solution called Zoom Webinar for businesses that need to host webinars. Webinars are virtual live events that some businesses host to share their expertise to educate and attract potential customers. It's an interactive experience in which the audience can ask questions and answer to live polls while learning about a certain topic. 
Among the Zoom Webinar features there are high definition screen sharing, steady sound and video streaming, reports on attendees engagement and easy broadcasting on other channels like Facebook and YouTube. The Zoom Webinar option starts at $40 per month and it can host up to 100 attendees, with the option to increase the number of participants. 
Source: blog.zoom.us
However, unlike other webinar software, Zoom Webinar is not built to provide 'the ultimate webinar experience' for attendees or to nudge them to become customers. At the moment Zoom as a company seems to be primarily focused on delivering a reliable video conferencing software with Zoom Meeting, rather than developing advanced Zoom Webinar features. 
As a matter of fact, besides the option to create live polls and Q&As, the experience of Zoom Webinar is quite similar to the one of the Zoom Meeting. The software doesn't come with advanced marketing automation features or persuasive webinar registration pages, so companies need to get around this problem by integrating Zoom Webinar with other marketing tools. 
In fact, webinars are usually part of broader marketing funnels which include pre and post-webinar email marketing communication, SMS reminders and so on, so it's crucial for companies to be able to integrate Zoom Webinars with their CRM, landing page builder or Email software. 
Zoom Webinars offers some native integration with platforms like Marketo, Eloqua, Salesforce, but to have a broader range of integration it becomes necessary to integrate it through a reliable third-party software like LeadsBridge. 
Zoom Webinar alternatives 
Companies that are not entirely satisfied with the available Zoom Webinar features can consider other platforms. Some of the best Zoom Webinar alternatives are BlueJeans, WebinarJam, GoToWebinar, and Cisco WebEx.
Despite different layers of quality and depth, all these platforms offer a video conferencing platform for businesses and enterprises to create highly professional meetings, webinars, and live streaming.
Conclusion
The main purpose of this Zoom Meeting review was to give a broad picture of what is Zoom meeting, how companies use it and what are some of its key features. 
Overall, Zoom Meeting offers professional, intuitive and reliable software. Companies can benefit from it for efficient online communication or video conferencing. From customer support to HR recruiting, to educational training there are many applications of using Zoom. 
The free plan is very generous and the Pro plan is practical and affordable both for small and large businesses. Zoom also offers many native integrations with some of the most commonly used software, although many others are missing and need to be integrated separately. 
Concerning Zoom Webinar, it is a reliable solution for companies to host live webinars, but it lacks some advanced marketing automation features.  
With the fast adoption of distributed work and the growing demand for online video calls, webinars and conferences, both Zoom Meeting and Zoom Webinar features will be likely developed further in the months to come.