Get Inspired by These 5 High Performing Facebook Lead Ads
Are you struggling to attract new leads through Facebook?
Wondering how to create Facebook Lead Ads that get more clicks and conversions?
In this article I will answer to the most burning questions I received in the last months about how to generate qualified leads from Facebook.

Hey…if you want to learn how to create a Facebook Lead Ads campaign from scratch, don't miss our step-by-step guide to Facebook Lead Generation ads
The questions are:
"What's the best way to generate an astonish number of leads effortlessly through Facebook Lead Ads?"
"How can you start to run a successful Facebook Lead Ads campaign from scratch?"
Let me tell you a secret.
Since I'm an Internet marketer, I noticed that many advertisers are always looking for a "new little-known method" to make more leads, more sales, more money.
Of course, sometimes it comes out a new strategy or tool that can have a huge impact on your marketing – like Facebook Lead Ads itself.
However, often in marketing you don't need to reinvent the wheel.
For this reason, the best tip I can give you to learn how to mastery Facebook Lead Ads, is embarrassingly simple.
You just need to:
Recognize what is working NOW.
Do the same stuff.
By scrolling this page down, you will discover 5 high-performing Facebook Lead Ads to inspire you, and how they work.
It doesn't matter if you're an expert Facebook Advertiser or a marketing newbie. By following these examples I'm about to share with you, you can create Facebook Lead Ads that convert.
Let's get right down to it.
The "social proof" Lead Ad
The Social Proof principle is one of the most powerful triggers used in marketing.
When running a marketing campaign on Facebook, Social Proof work in many ways: for example, using testimonials and having a huge number of likes and comments can influence people about your brand's popularity and credibility.
The image below provides another example of Social Proof.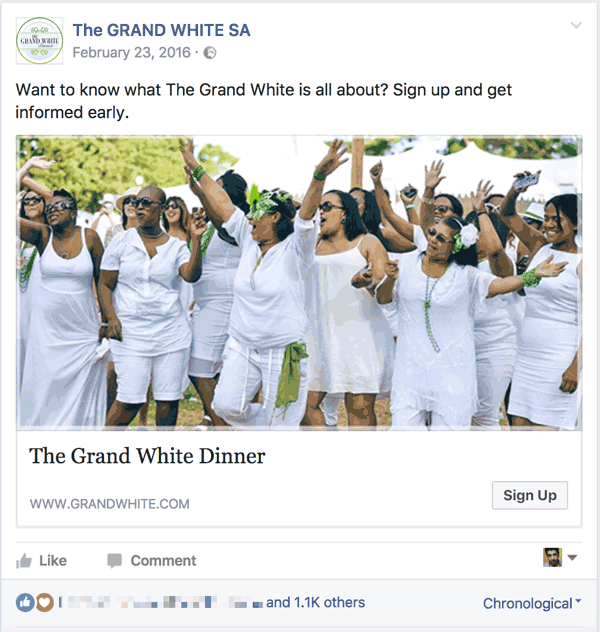 The ad promotes "The Grand White Dinner" event, showing an image with many people who enjoy staying together, which builds a sense of Social Proof into the offer.
As you can see, the sign-up form requires many data – such as Name, Surname, email and country.
However, the signup process remains very simple and fast, because Facebook Lead Ads automatically populates contact information that people have given.
Click HERE to see this Ad on Facebook.
The "benefit list" Lead Ad
One of the main questions you should ask yourself when creating a Facebook Lead Ads campaign, is:
"Which benefits can I provide to my leads by joining my list?"
The ad below has the answer!
This ad shows off a full list of benefits that prospects will receive thanks to the IRS, the topic of the Free Pdf they use as Lead Magnet.
Moreover, the information required to sign-up are just name and email, which makes the process of acquiring leads very short.
Click HERE to check out this Ad on your Facebook.
The "Carousel" Lead Ad
Have you ever tried to use a Carousel Ad for your Facebook Lead Ads?
Carousel Ads let advertisers showcase multiple images in the same ad, and there are many different creative ways to use such a type of ads to increase your results.
This Carousel Ad from Tokyowheel promotes a FREE 6 part e-course, and each lesson is shortly described by an image that users can scroll.
The guys from Tokyowheel included in their sign up process a welcome screen to aware people about what they are getting by subscribing to their list.
What's the welcome screen?
The welcome screen is, simply, the new name for a context card, an optional tile that pops up when people click on the ad in their news feed, right before they visualize the pre-filled signup form.
Facebook introduced this function to allow people to get more information about what they were signing up for prior to submitting the form.
This sort of additional step within the signup process helped many marketers and business owners to increase the leads' quality.
Finally, the ad requires only basic data to prospects such as name and email.
Want to see this Facebook Lead Ad in action? Click HERE!
The "Learn more" Lead Ad
Many marketers think that offering a lead magnet is the only way to generate leads.
I thought the same, before learning how to use Facebook Lead Ads.
Facebook Lead Ads, in fact, can be used to collect leads who simply want to learn more information about a topic.
Moreover, thanks to its easy sign-up process, Facebook Lead Ads allows you to generate leads for consultations, sales calls, demos and test drives.
If you want to learn more about how to boost such types of services through Lead Ads, click on the link below and learn everything you need to know about it.
How to boost sales calls, demos and test drives using Facebook Lead Generation Ads
The Lead Ad with emojis
Have you tried emoticons and emojis with your Facebook Lead Ads?
If not, please do it NOW.
Emojis are small, funny icons used for digital communications. These icons represent a "universal language" that everybody can understand immediately, and in today's world they have become an essential part of our text language on Social Media.
However, we recently tested emojis in our Facebook ads.
We wanted do to understand if, by using them, we could really improve Ads' engagement and CPA on Facebook.
The results that came out of it were just incredible: the ad with emojis obtained 2000% more leads than the same one with only text.
If you want to learn more about our test with emojis, click on the link below and get more details.
How emojis improved our Facebook Ads by 2000%
Psss… you can take a look to this ad on Facebook by clicking HERE!

Conclusion
I know first-hand that collecting leads through Facebook can be a headache. But it doesn't have to be.
As you can see, there are many ways to increase your Facebook Lead ads results, if you know how to do it.
In this article I shared with you some interesting types of ads that will, hopefully, inspire you to take the most out of this fantastic tool.
You've seen many uses and ways to create more effective Facebook Lead ads:
The "social proof" Lead Ad
The "benefit list" Lead Ad
Now it's your turn.
How will you use these models?
Do you find them useful?
Let me know which type of ad is most inspiring for you, and how are you going to use this "Lead Ads swipe file" to bring your next lead generation campaign to the next level.
Automation Tools for Facebook Advertisers
Better tracking, better conversions, better audiences, better results.