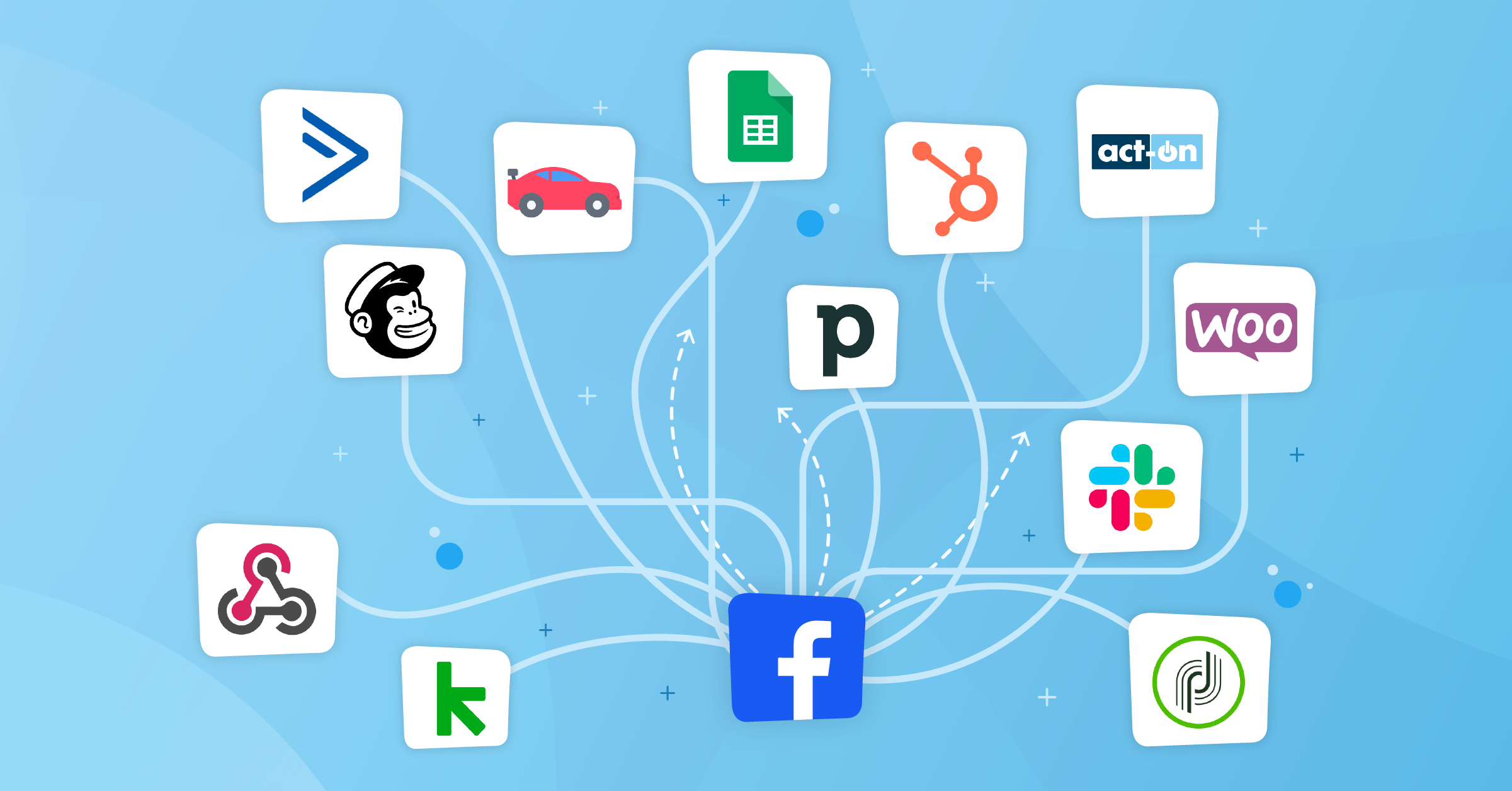 Competition is fierce in the ad world and getting noticed is becoming increasingly difficult. Businesses are tasked with finding new ways to reach their audiences, but with all the recent privacy updates and tighter security, it's an uphill struggle to get in front of the right people.
Enter Facebook. With 2.98 billion active monthly users, it's a no-brainer for brands to tap into its potential. Facebook's suite of ad tools is incredibly powerful, but it can be time-consuming to manually connect different apps to access consumer data.
Imagine creating an interconnected system of your favorite tools where you can share knowledge about your target audience for ads and other marketing purposes. Sounds good, right?
This is where the right integrations can take your advertising to the next level.
But before we dive into that, let's talk about Facebook Business Integrations.
What is a business integration on Facebook?
A Facebook business integration is a connection between a Facebook app or product and another external app to share data and information between the two. For example, you can connect your CRM tool with Facebook Custom Audiences to seamlessly share customer demographic information between the two.
The purpose is to share and optimize data for better workflows and conversions by tapping into data you already have on the channels where it's collected and stored. The majority of Facebook's products and features support integrations, including:
Messenger
Pages
Groups
Custom Audiences
Offline Conversions
Conversions
Workplace
Ad Insights
By integrating the apps you already use with Facebook's products, you can leverage the data you have to create highly-targeted ad campaigns that have the potential to reach 34.1% of the global population.
The benefits of Facebook Business Integrations
Facebook Business Integrations are a useful way to create an app ecosystem that's personalized to your business's unique needs.
Here are some of the benefits you can enjoy:
Automated processes and workflows: You no longer have to manually post content, monitor activity, or share data between apps.
Optimized campaigns: Use data from multiple sources to create a central source of knowledge.
Improved customer support: Funnel all customer questions to one central place for easy troubleshooting.
Better customer insights: Get detailed insights about consumer behavior across channels.
Reduced costs: You no longer need to have people manually carrying out tasks that can be automated.
Win back time: Free up time that would otherwise have been spent manually updating and sharing information to focus on other areas of business.
How to add your business integrations on Facebook
Ready to get started with Facebook Business Integrations? Here's how to add apps to Meta Business Manager:
Open Business settings.
Under Accounts, click Apps.
Click the Add dropdown menu.
Select Connect an app ID.
Enter the Facebook app ID.
Click Add app.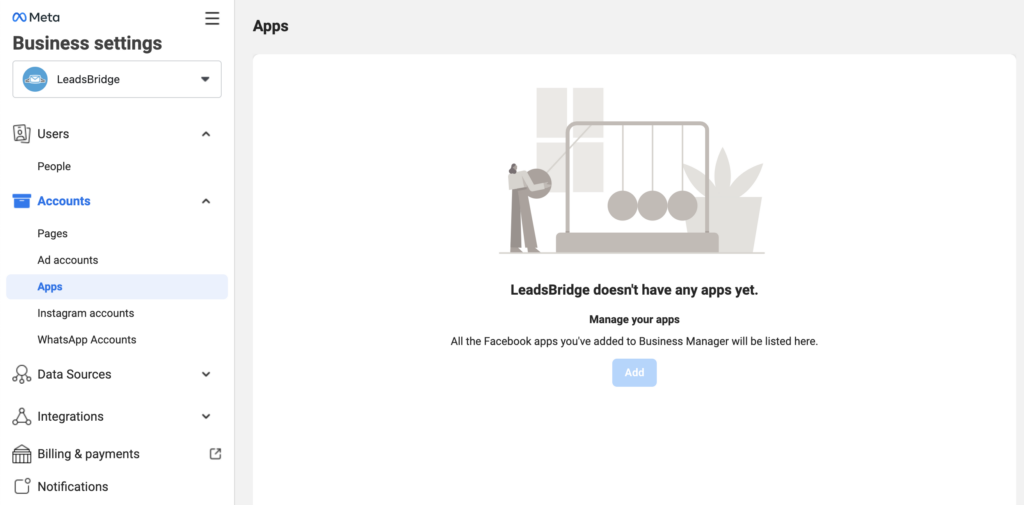 Voila! You will now be able to integrate your chosen app. Rinse and repeat this method for every app you want to integrate with Facebook.
How to manage integrations for your business on Facebook
If you want to manage integrations for your business on Facebook, all you have to do is:
Click on your profile picture in the top right corner of your Facebook page.
Select Settings & privacy, then click Settings.
Click Business Integrations on the left side.
Select Active or Removed, or search for a specific business integration using the search bar to the right.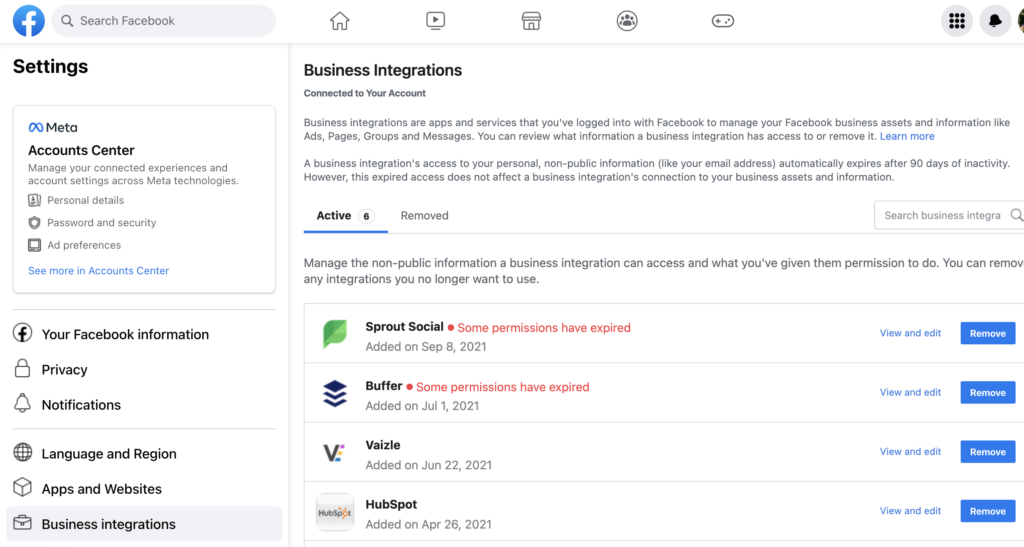 Once you're here you can:
Adjust your settings by clicking View and edit next to the business integration to control the information it has access to.
Renew permissions for the business integrations that have expired by clicking on View and edit and then Renew.
Remove an integration by clicking on Remove.
One thing you need to know about managing integrations for your business on Facebook is that expired access does not affect a business integration's connection to your Facebook business assets and information. In fact, integrations that have expired permissions or are removed can still continue to access the following information:
Your name.
Your profile picture and cover photo.
Your App User ID.
Information that you shared while the integration was active.
4 ways to create Facebook integrations
Choosing which apps to integrate is the first part of the puzzle. Ideally, you'd integrate the software you're already using so that you already have access to existing customer data. This can then be transferred to Facebook to populate ad campaigns and assist with segmenting your ad audiences.
The way you integrate each app will vary depending on what kind of tool it is and whether it's already partnered with Facebook. To help you out, here's a handy guide to the different ways you can add a business integration to Facebook.
1. Third-party integration tools
Third-party integration tools are built by an external brand but can be easily integrated with Facebook.
For example, LeadsBridge is a Meta partner with popular integrations for Facebook, including a Facebook CRM integration and an email marketing integration. Through the tool, you can connect various different tools together to create a unique integrations ecosystem.
The most popular integrations for Facebook are:
The great thing about third-party integration tools is you can integrate multiple apps and workflows at once from one central place. Explore all our integrations here.
2. Cloud integration tools
Cloud integration tools allow you to create and deploy Facebook integrations with other apps, like CRMs, email marketing tools, social media platforms, ecommerce tools, and messaging chatbots. Popular apps like HubSpot, Mailchimp, Twitter, LinkedIn, Shopify, WooCommerce, Slack, and ManyChat can be integrated with Facebook this way.
This method lets you create an endless number of integrations based on your brand's unique needs. You also don't need any coding knowledge, since most cloud-based integrations offer good customer support and how-to guides to make the most of the integrations.
3. Native third-party app integrations
These are in-app integrations developed by Facebook or companies that are Facebook partners. The good thing is the parent companies have already established a partnership with Facebook, leading to slick and easy integrations.
Here's how to find business integrations on Facebook:
Go to your Events Manager.
Choose Partner Integrations in the left-hand menu.
Choose the integration you want to implement.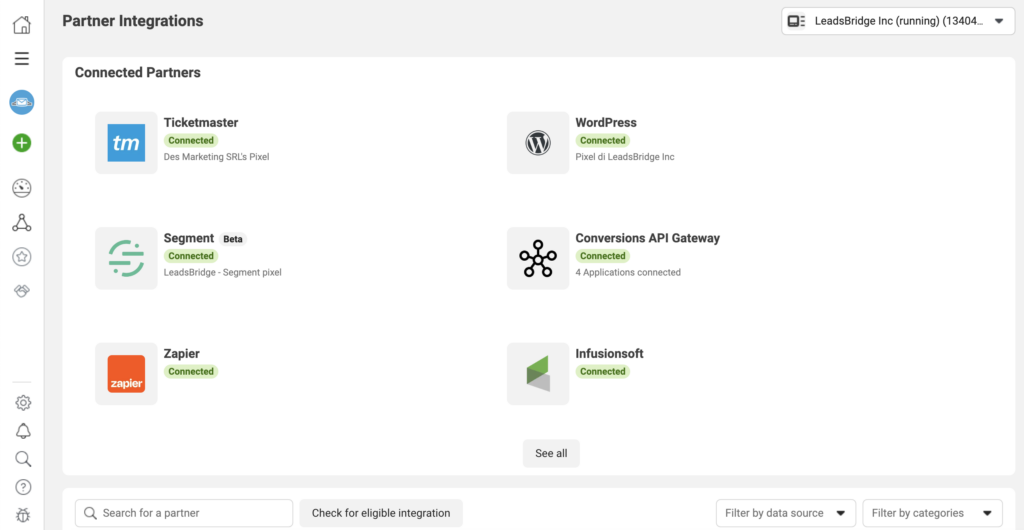 This is a quick way to connect your apps. Plus, you can integrate multiple different apps all from your Facebook dashboard.
4. Facebook APIs
You can also build unique integrations for your brand using Facebook APIs. Bear in mind that this is the most time-consuming method because you have to create the code yourself from scratch (not an easy feat). Facebook also recommends you read through its entire documentation on APIs before you get started to avoid any bugs in your code and integrations.
While you can create highly-customized integrations using Facebook APIs, you'll need to have a working knowledge of code or have an experienced dev team on hand to help.
Get started with Facebook Business Integrations
A business integration on Facebook helps speed up processes and streamline data sharing across platforms. It provides an easy way to transmit customer information from one platform to another to create laser-focused ad campaigns and targeted segments.
Get started with a powerful integration tool like LeadsBridge that helps you choose and connect apps in just a few clicks.
Check out all of LeadsBridge's business integrations with Facebook.