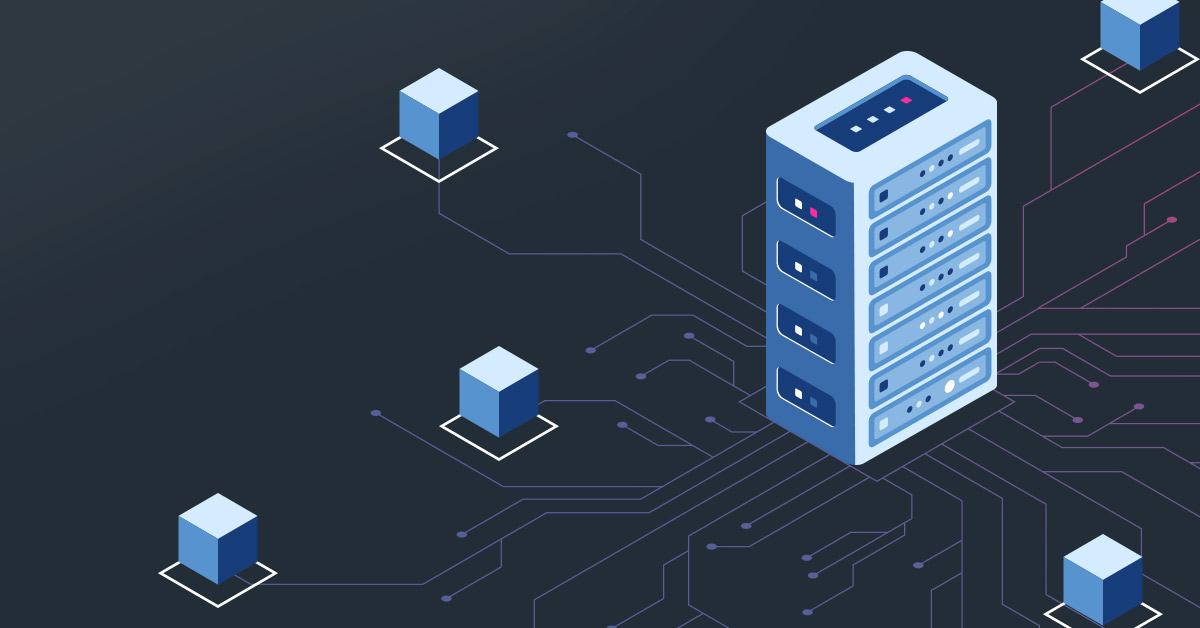 There are many reasons and ways to connect your marketing tools together. As a marketer, there's a lot to keep track of, which means that coming up with an integration solution is vital for efficiency and accuracy. One of the most popular integrations is database integrations, which we here at LeadsBridge are very familiar with. In fact, we offer one of the best database integration solutions on the market.
In this article, we're going to go over everything that you might need to know about database integrations, talk about some examples, and give you some solutions.
What is a database, and why does it need to be integrated?
For someone unfamiliar with databases, talking about a database integration solution might be a little confusing. Even if you are familiar with them, everyone must be on the same page before continuing. With that said, what is a database?
A database is a structured set of data stored in a computer, especially one that is accessible in various ways.
As a marketer, this database will mainly consist of lead and other marketing data. Why is this important? Having information like this stored helps businesses target, retarget, and nurture leads as they travel through the sales funnel.
Given the previous statement, you can understand why it's essential to integrate it with your other marketing tools. There are plenty of database solutions out there, but learning how to integrate your database with tools like your CRM truly gives you the upper hand when it comes to tracking leads.
Data integration example
To integrate your database, you need a data integration system. Being one of the best data integration solutions out there, we feel that it's only fitting that we give you some data integration examples based on our experience. Here are a few common use cases that we've come across:
Each example above contains a data silo — essentially a stack of information on various marketing procedures and operations. Databases provide the ability to bring all that information into one place, and LeadsBridge delivers the ability to integrate that data with your other marketing tools.
Data integration solutions
There are a few data integration solutions out there, but none of them are marketing-specific. Except, of course, LeadsBridge.
We are your all-in-one database integration solution with features that will make a huge difference when it comes to lead generation.
Connect your marketing data as safely and securely as possible: We are GDPR and CCPA compliant, which means that you can rest assured that your data is secured. On top of that, we never store lead data in our servers. 
With our comprehensive tool, you can avoid the headache of CSV files and stay on top of your lead data as it's coming in – meaning you won't risk your leads going cold. With LeadsBridge, you can:
Automate customer management by connecting your marketing data to your favorite database
Create custom integrations for your specific needs
Sync new leads and customers generated from Facebook, LinkedIn, and Google Ads Lead Form Extension.
Choose from the largest selection of CRM integrations on the market
One of the most powerful things that you can do with our database integration is write custom queries in plain SQL language.
Custom queries
With a custom query, you are able to select which fields you want to expose in with fields mapping. Most importantly, you can add logical and mathematical operations to the data you're extracting from the database.
For instance, you can select specific fields from two different tables of the database, join them together using a common field between the two tables, filter the result by using conditional logic, and expose a custom field calculated by summing the values of two other fields.
These records could then be synced with the destination: e.g. building a List View in SalesForce or any other CRM, creating an Event Set for Facebook CAPI or Facebook Offline Conversions, creating a Custom Audience in Facebook, and so on. The possibilities are endless, and all of this can be done right from the LeadsBridge UI without any custom development.
That being said, one of the features we pride ourselves on here at LeadsBridge is the ability to make a custom solutions tailor-made to your needs. We offer a variety of pricing options, and you can even get started for free.
How to integrate data from multiple sources
With our platform, it's possible to integrate data from multiple sources. In this way, all your data will be in one place, ready for you to make marketing-driven decisions. How is this done? Follow the steps below:
Step 1. Navigate to Bridges on your LeadsBridge dashboard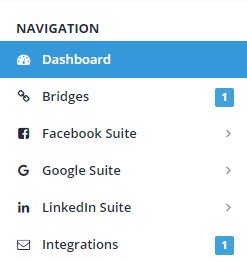 Step 2. Once you click on Bridges, you'll see a blue Add New button at the top. Click to continue

Step 3. Now, it's time to choose the data source and integration. Here, you'll need to name the bridge (very helpful when you have multiple bridges setup), create labels for further identifying the bridge, select your data source (database), and finally select your data destination CRM, advertising platform, and so on)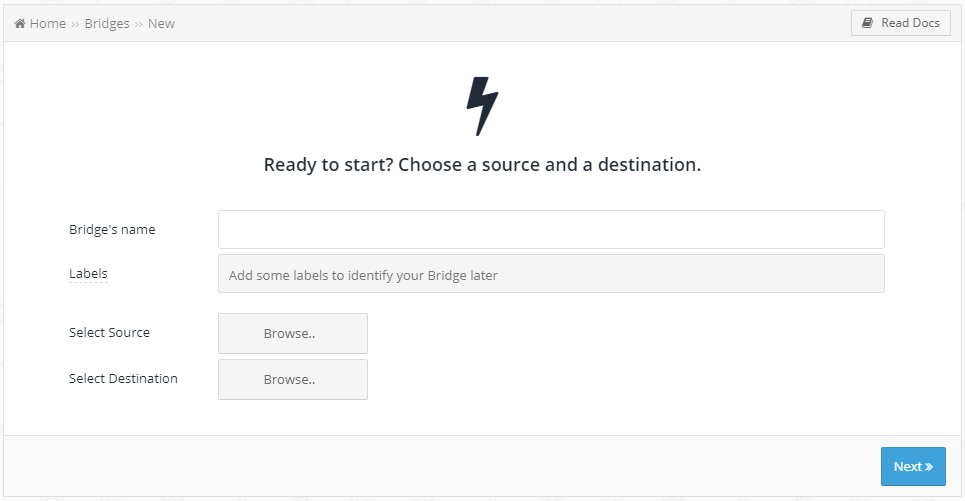 Step 4. Next, you will need to start putting in the data for the database integration. This data includes Host, Name, and so on. During these steps, it's essential that all the information you put in is 100% correct. Otherwise, the database integration won't work. Additionally, the screenshot below shows a mockup integration for MySQL. If you don't choose this option, your screen might look slightly different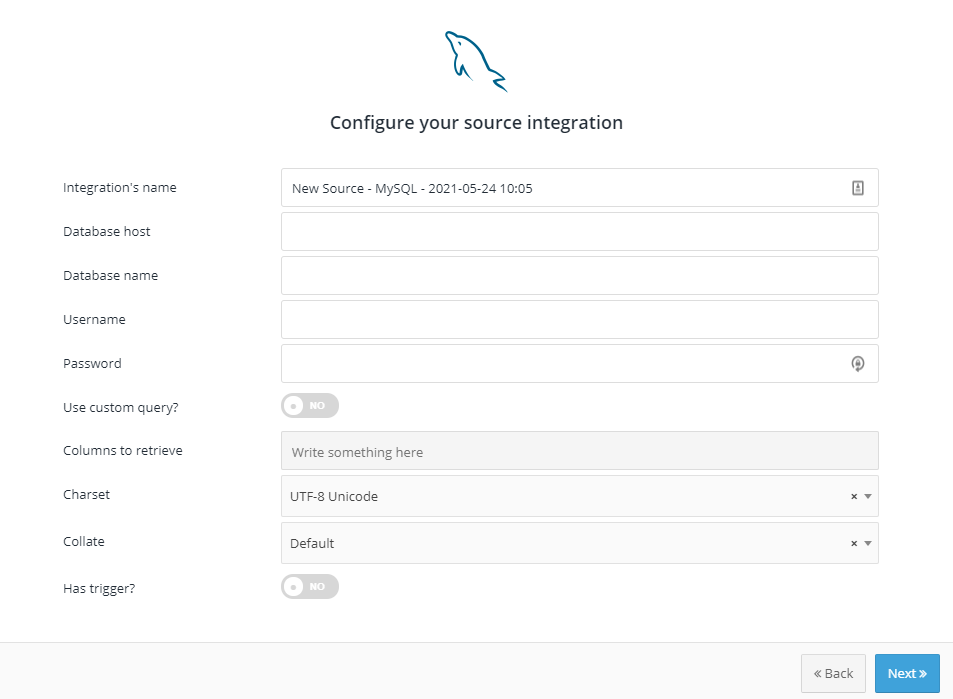 Step 5. For the next step, you will essentially be doing the same thing but for the data destination instead. Again, make sure all your data is 100% correct.
Step 6. Before we move on to test the integration, you have the option to do some fields mapping for lead data. You can run with the standard information like name, email, and phone number, but you also have the option to input some custom fields.
Step 7. Finally, it's time to test the integration. In order to do that, simply put some test information into the given fields, insert your email address, and click test.
With our platform, you can integrate multiple data sources into one destination. Doing so will allow you to collect and maintain all data in one place, reducing the friction between you and your leads or other marketing data and allowing you to truly focus.
Takeaways and conclusion
As complicated as it can be to deal with databases and the data silos that come along with them, it doesn't have to be that way. LeadsBridge's database integrations are available for all your tools, even if we have to customize it.
With a few simple clicks using LeadsBridge, you can connect your database to all your marketing tools. Following the steps above allows you to quickly and seamlessly control your database integration. If you have any questions about database integrations or how to integrate data from multiple sources, our customer support is standing by and ready to help.