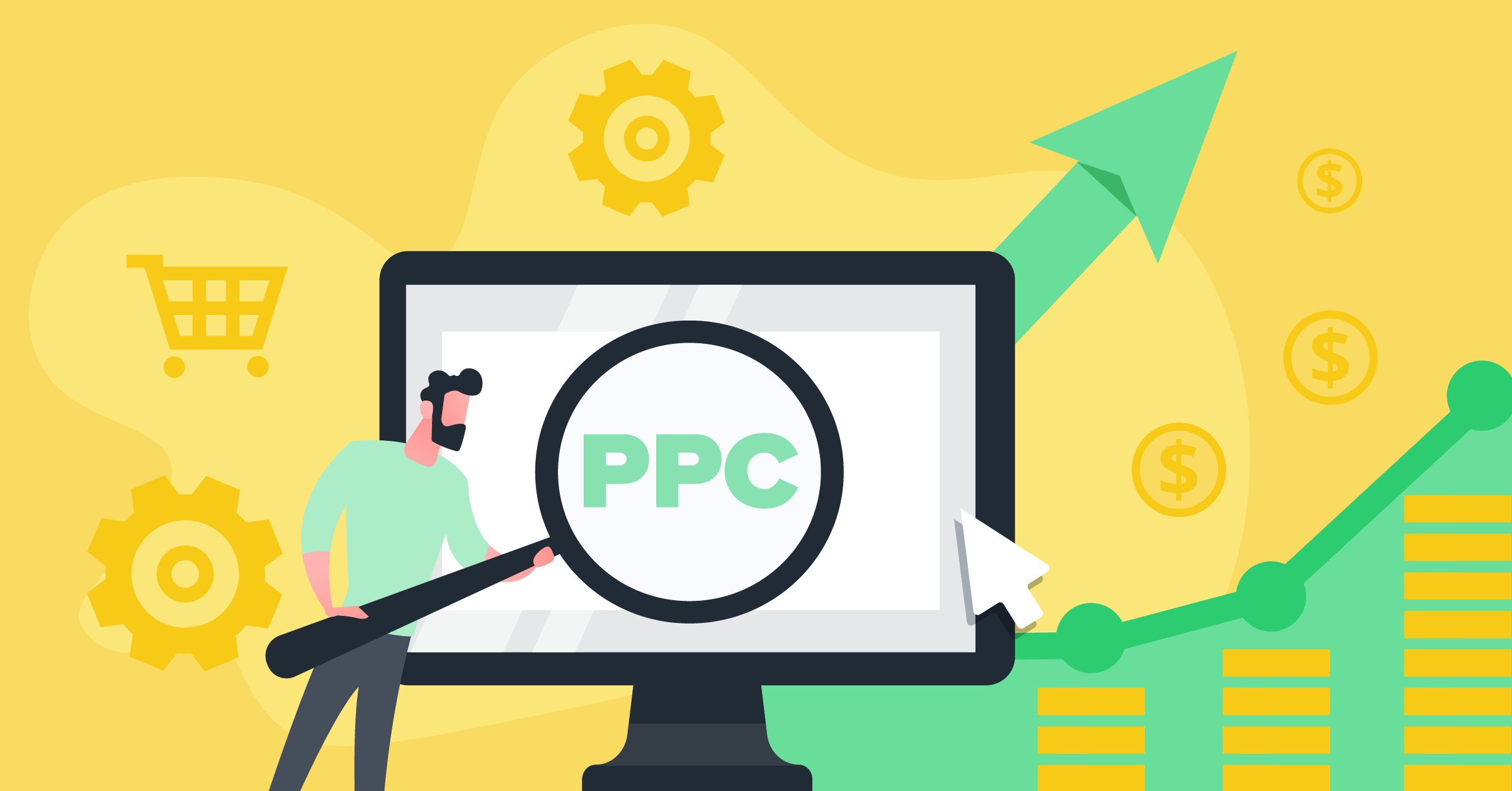 Pay-per-click (PPC) advertising is one of the most persuasive marketing practices. But with the head-to-head competition in today's market, it's impossible to run digital campaigns such as PPC manually and maintain good ROIs.
In general, 65% of all high-intent searches lead to a click on a PPC ad, and these visitors are 50% more likely to buy compared to organic visitors. So to get similar results, you'll need to know how to run a successful PPC campaign.
In this article, we'll discuss what PPC campaign automation is, how to analyze your PPC campaigns' effectiveness, and most importantly, how to improve them.
We'll also talk about the tools and automation integration that help you stand out from the competition. Book a call to learn how you can leverage your business's full potential with LeadsBridge integrations.
What's PPC automation, and what does it do?
PPC automation is the practice of streamlining an advertising system that charges the advertiser a fee each time a user clicks an ad.
This process improves the management of click-based ad campaigns through automation and machine learning, without the usual manual interventions. For an omnichannel approach, PPC campaign automation is done through third-party providers like LeadsBridge.
Types of PPC automation & recommended tools
Nowadays, you can find ways to automate any workflow. However, PPC automation can help your business automate and optimize in two possible ways.
Through ad management platforms with native automation features: Some ad platforms offer built-in automation tools, enabling your business to leverage PPC automation without much training, complex workflows, and tasks.
Using an automation app to manage your PPC campaigns: Automation integrations are data bridges connecting different apps you want to move data to and from when running your PPC campaigns. These bridges could be built between various data points. These could be advertising platforms like Google Ads, or sales and marketing management tools such as CRMs.
Here are some of our most popular integrations for PPC automation:
Advantages of PPC automation
PPC automation offers several benefits, including saving time and increasing a campaign's performance. You'll no longer have to deal with time-consuming tasks like bid management, data sync, and reporting.
Additionally, PPC automation allows you to easily manage modifications, such as changing your target audience before the end of an ad cycle. This way, you won't need to manage, activate, terminate, or modify your ads manually.
Source: Idea Marketing
PPC campaign automation also:
Helps scale your PPC efforts by running more ads without investing extra time.
Underlines what works so that you can improve your ad copy accordingly.
Allows bidding for maximum accuracy and profitability.
Offers better visibility which leads to an optimized strategy and an increased return on ad spend (ROAS).
How to analyze PPC campaigns
PPC analysis helps you better understand your PPC campaign performance through data collection. Then, you can use this data way to optimize your campaigns and drive tangible results for your business.
So to learn how to optimize your PPC campaign, you'll need to first consider how to analyze PPC campaigns through KPI metrics. These metrics help you conduct qualitative and quantitative PPC analysis to improve your campaigns accordingly.
What are the KPIs to track in PPC campaigns?
KPIs (key performance indicators) are performance benchmarks that are taken over a certain time for specific objectives.
Tracking these indicators is a way to measure the effectiveness of PPC campaigns and provide milestones to reckon the progress.
Some of the top PPC advertising KPIs are:
Average Clickthrough Rate (CTR)
Clicks are the fundamental element of PPC campaigns. Users click on ads that are relevant and useful to them. So the more accurate the ads' targeting, the higher the clickthrough rates.
Measuring your ads' CTR provides insights into how many people clicked on your ad after viewing it.
Source: Wordstream
According to Wordstream's benchmark database, a good CTR is about 6-7% for search ads such as Google Ads.
Quality score
Google developed the quality score KPI to define the quality and relevance of an ad's content. It uses multiple PPC metrics, such as clickthrough rates, ad relevance, and the ad's landing page quality.
Source: Wordstream
An adequate quality score ranges between 8 and 10, which would also reduce your advertising costs.
Impression share
An impression share refers to the number of people who saw your ad. Generally, your impressions are a specific value to your PPC campaign and show your position against your competitors.
Source: Growth Minded Marketing
Measuring this data helps you understand what works best. An ideal impression share ranges from 70% to 100%.
Average cost-per-click (CPC)
The CPC is a critical metric to define your expected spending each time a user clicks on your ad.
Source: Snov
This number depends on the target industries, keywords, and ads' quality score. However, most sectors pay between $2 and $3 per click.
Conversion rate
The conversion rates show how many of the interactions with your ad led to conversions. This metric depends on numerous factors, such as your target industry and your ad's content, the UX of your landing page, etc.
Source: emailchef
What should you aim for? Since this number depends on many elements, defining a certain range is difficult. However, the ideal conversion rate for Google Ads is usually about 3.75%.
Cost-per-action & cost-per-conversion
These metrics demonstrate the effectiveness of your PPC campaigns in terms of profit. The average cost per action shows the price marketers pay for each acquired customer.
Source: TOAG

These rates highly depend on the quality score.
Cost-per-lead (CPL)
If you are aware of your business goals, you can set a budget limit on your leads by measuring CPL and making sure it's aligned with your objectives.
Source: TOAG
An optimal CPL depends on your business goals and defined conversions.
Average position
Besides organic and paid results, Google focuses on the ads' quality and relevance to define the average position of an ad.
The highest bid doesn't always receive the best ad position. Instead, it's calculated based on the ad's ranking. You can measure your ad rank by multiplying your quality score by the maximum cost per impression.
Ways to improve your PPC campaigns
After understanding what to look for during the analysis, you'll need to know how to improve PPC campaigns through these metrics.
Let's go through some of the best practices to analyze PPC campaigns.
Review your account structure
Improve your site to see how you can improve your campaign, using factors such as:
The number of your campaigns
The ad groups and segments
The bidding method
The campaign settings
Overall budget
Increase your audience targeting accuracy
When running your PPC analysis, the target audience and how you target them are crucial factors. Narrowing down your audience segments helps you create more relevant ads and get higher clickthrough rates.
Learn more about audience targeting on Google and Facebook.
Optimizing your ad posting time
Analyzing your posting times, you can understand when your ads attract leads or get minimal traffic. This is done to avoid posting at times with low ad engagements, save marketing dollars and boost conversion rates.
Keep an eye on your competitors' ads
Researching your competitors' ads, keywords, SERP ranking, and landing pages is essential. This can help you remain competitive and get insight into new keywords you can add to your campaign.
How to optimize PPC campaigns: Top 10 strategies
Rework your keywords list & examine their performance
It's important to identify low-performing keywords and improve the relevance of your keywords. This helps boost your quality scores, meet your advertising goals, delete duplicate keywords and ultimately optimize your overall SEO.
Improve your website's performance
Speed testing and other UX features (Load Time, TTB and FMP, HTTP headers, Resource loading, etc.) are significant metrics you need to watch out for. You'll need the right tools to test and track speed issues and performance.
Work towards great website accessibility and security
Underdeveloped sites and tools with accessibility barriers would stand on the market's retrogressive side. So instead, aim to make your site convenient for any type of user, business, and society.
Use free add-on to improve your paid ad campaigns
There are many digital add-ons available for free, such as sitelink, callout, and review extensions. Use these tools to allow your users to know about your site's content and client reviews, and a peek at where the direct link would take them.
Design remarketing strategies for your existing contact lists
Remarketing is a powerful technique to target and retarget your audience through creative methods. This could be checking their email, reading the news, watching a YouTube video, or a reminder to complete an action.
Run A/B tests for each of your ad campaigns
Randomized experimentation with your PPC campaigns helps you understand the effectiveness of your campaigns. Also it allows you to determine which version (of the tested campaigns) drives the maximum impact and business metrics.
Add FOMO to your marketing strategy mix
FOMO, or the Fear of Missing Out, is the anxiety felt in case of exclusion from a social event. Add FOMO to your marketing strategy to convince your user to buy or complete an action, hence increasing your conversion rates.
Omnichannel marketing strategies deliver higher ROIs
HubSpot research indicates that 92% of marketers leverage more than one channel, out of which 81% employ more than three. The same is true for PPC automation strategies. Design an omnichannel approach for your PPC activity to achieve full value and growth of your total business returns.
Drive more qualified clicks with the right copy
Any form of successful marketing depends on delivering the right message at the right time. Optimize your ad copy for higher conversions; well-crafted creative messages enhance ad relevance and drive more clicks from your search ads.
Build localized landing pages
Improve your audience targeting with a local landing page designed to attract customers in your local market using location-specific SEO systems. Remember that the content on your local landing page should be specific to your business's geographical area.
Audience Targeting through LeadsBridge
To boost your lead generation and sales by targeting the people who are likely to convert, you'll need to strategize around audience targeting.
PPC audience targeting allows you to divide your audience into different segments based on various factors.
Essentially, the segments are created around users' purchase intent or their degree of willingness and inclination to finalize a purchase. These segments could be:
Higher-paying customers who tend to spend more money and often show brand loyalty.
Highly qualified leads (HQLs) who haven't made a purchase but are sales-ready.
Audiences created based on customers of product A, which can be used to cross-sell or upsell to product B.
Segments of all existing customers for sending an offer or excluding them from a promo, etc.
This practice enables you to drive traffic and increase the number of clicks. You are essentially increasing your odds of coming in contact with the specific group of people who are genuinely interested in your offerings.
However, this process involves lengthy, multi-step workflows that call for task automation and real-time data sync. LeadsBridge's Audience Targeting helps you establish these flows and more.
Book a call to learn more about Custom Audience Targeting and how you can implement it to achieve the best PPC campaign performance.
Top platforms for PPC & CPC campaigns
The terms PPC and CPC are often used interchangeably, mostly because they are closely connected. However, PPC implies pay-per-click, and CPC refers to cost-per-click. The major difference between PPC and CPC is that PPC is an advertising pricing model, while CPC is a metric that gauges the cost per ad click.
In short, these two terms describe the same thing from two different marketing angles.
Source: Pediaa
Alternatively, pay-per-impression (PPM) is the cost for every 1,000 impressions of the ad, regardless of the number of clicks.
Having established the basics, let's talk about the top platform for your next PPC campaign, and you can use automation on each platform.
Google
Google's PPC advertising solution is what we commonly know as Google Ads. This tool enables your business to bid on keywords and optimize your ad presentations in Google search results. Google allows you to pay only when someone clicks on your ad.
With this tool, you can advertise your business outside of Google Search by displaying ads on relevant websites within the Google Display Network (GDN). Moreover, it facilitates tracking conversions through the PPC reporting template to better understand their ROI and ROAS.
As a Google premier partner, LeadsBridge offers several integrations to streamline your entire Google Ads marketing and sales flows. Our integrations also help you gain visibility, create the best audiences, and understand the impact of your campaigns on your ROI without relying on cookies.
Besides taking full advantage of the Google Ads suite, you can create an account through LeadsBridge and earn advertising credits. Find out more about Google Ads account creation here.
LinkedIn
By advertising on LinkedIn, you can promote your brand or business to a professional audience. However, 80% of B2B marketers choose LinkedIn Ads over all other platforms, making this platform a highly competitive advertising medium.
While there are different types of LinkedIn Ad formats available, Text Ads are the go-to option for creating PPC and CPM campaigns. This versatile format allows you to optimize your bid pricing while generating new leads for your business on LinkedIn.
It also lets you choose the audience, build your own PPC ads on a budget, and only pay for the ads that bring in the results. But you need to connect LinkedIn to the rest of your marketing stack in order to create automated, high-performing campaigns.
LeadsBridge is an official LinkedIn partner, offering integrations to automate your LinkedIn marketing and generate and nurture your B2B leads.
Learn how to set up LinkedIn Lead Gen Forms & Pardot integration through LeadsBridge.
What's more, you can track the number of leads you're getting from your PPC ads on LinkedIn with LeadsBridge's conversion tracking integrations. Book a demo to find out more.
Facebook
Primarily, Facebook advertising works on a PPC system; you'll only pay when a user clicks on your ads. The platform also allows you to set your budget on PPM (based on ad impressions), CPC (cost per link clicks), video views, and other metrics.
You can use any of these methods based on which part of the advertising funnel you are targeting and how you'd spend your marketing budget.
As a Meta Marketing Partner, LeadsBridge allows you to bridge the gap between your marketing apps, boost your tracking capabilities and enhance your overall performance. Using our platform, you can streamline complex data processes, build Custom Audiences automatically, nurture your leads, and more.
Additionally, use our integrations to connect your CRM, autoresponder, and other advertising tools with the point-of-sale inventory with Facebook.
Discover more about Facebook Offline Conversions here.
Bing Ads & Twitter
Bing Ads and Twitter are two other platforms ideal for running click-based advertising. While these platforms sit on the less popular spectrum, they're still very effective when it comes to PPC.
They both offer solid performance and are suitable for multi-channel PPC strategies targeting ad campaigns across different networks.
Examples of PPC automation tools
The high-performing software solution is the best way to unload your repetitive tasks around creating, managing, and optimizing your PPC campaigns. But with the extensive range of tools on the market, finding the top PPC management platforms is challenging.
That's why we have decided to share the top three PPC automation tools you can use to run your campaigns on autopilot.
Swydo
Swydo offers a simple way to streamline data sets from various sources and run PPC campaigns effectively. It's a cloud-based marketing analytics tool that lets you view, manage and monitor marketing campaigns via a unified platform.
It also allows you to generate custom reports, design personalized emails, schedule communication with clients, monitor marketing campaigns, and notify administrators about issues.
The app also supports integration with different third-party platforms such as Google Ads, Facebook Ads, Google Analytics, etc. The subscriptions start at $39 per month and come with a 14-day free trial.
Report Garden
Report Garden is a marketing analysis tool for creating reports, monitoring ad spending, and building new PPC campaigns. You can use it to configure your marketing reports and dashboards in order to optimize your efforts, such as SEO, PPC, multi-channel reporting and analytics, social-media performance, and backlinks.

This platform has a variety of pre-built templates and dashboards, which are also customizable. Their base plan starts at $89 per month, billed monthly and annually, and a 14-day free trial.
WordStream PPC Advisor
WordStream PPC Advisor is the perfect option if your budget is limited. It supports integrations with Google Ads, Bing Ads, Facebook, LinkedIn, and Twitter.
The app connects multiple sources to gather blended data and offer you the most accurate insights. It's designed for report building, data analytics, landing page optimization, and anything else to help you build your PPC campaign management from the ground up.
Their pricing changes based on your marketing budget. But the base plan starts at $294 per month (for up to $2,500 per monthly budget).
LeadsBridge and PPC campaign automation
Despite your target market, Google Ads and other PPC ad networks are highly competitive and becoming even more so. Having the best apps to help you with PPC management fundamentals (budget management, ad optimizations, analysis, bid management) is great but not enough.
The solution? You'll need an always-updated marketing stack, an omnichannel strategy, and real-time data communication between all your marketing apps and platforms.
LeadsBridge offers:
Consent-based lead management
Many third-party automation platforms offer automated data sync for your incoming leads. However, our real-time data sync is what makes LeadsBridge truly unique. When using our platform, you'll get to decide exactly how often you want your lead data updated (for both new and existing leads).
Why does this matter?
If any of your leads opt out, you'll need to be updated to avoid contacting them again. Without having these updates, you'll continue to contact them, and by doing so, you'll continue to breach privacy laws.
Customer communication
Real-time data sync allows you to run timely welcome emails and follow-ups and ultimately increase your conversions. You can also use our integrations to track both online and offline conversions and optimize your strategies accordingly.
Then you can use this data to create custom audiences and focus your marketing budget where it matters.
Best-in-class service
We are partners with top advertising platforms such as Google, Facebook, LinkedIn & TikTok. When using our service, you'll also have access to up-to-date services and a direct line with the support systems of these platforms.
What to take away from this?
PPC automation offers numerous advantages. However, you'll need to understand your business goals, and how to analyze your PPC campaigns. Only then can you improve them using the right automation tools and integrations.
We recommend starting to automate your campaign at a minimum cost until you are able to run effective ad campaigns. After that, use these metrics to expand your advertising and put in more budget where you can expect positive results.
LeadsBridge offers free forever integrations you can use to automate your Google Ads or other PPC platforms. Sign up to get started.
Discover all the possible integrations to streamline your ads conversion & sales activities through LeadsBridge.