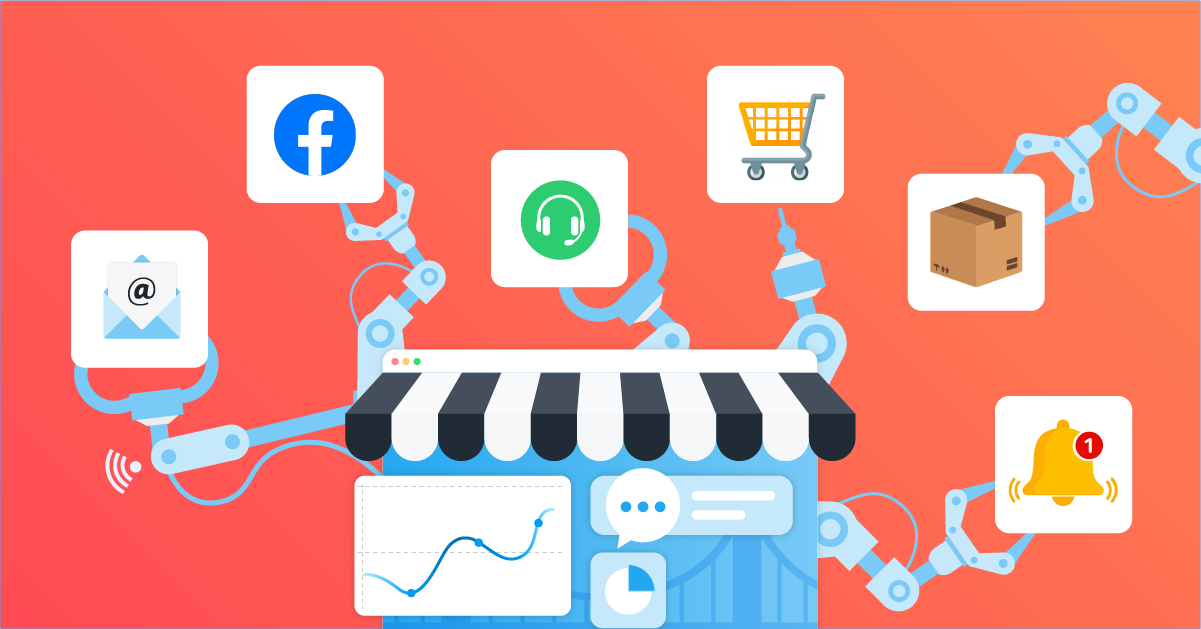 As a merchant, nothing compares to the feeling of seeing your eCommerce business grow and prosper.
However, with increasing growth comes more demanding and time-consuming tasks: You need to be able to fulfill orders and payments 24/7, process and track packages, and keep your inventory updated and fully stocked with the right products — all while trying to stay on top of marketing, advertising, and customer service.
Little by little, five-minute tasks start to pile up on top of each other, eating up all of your time. But there are just so many hours in a day, right?
So, how can you keep your business on track without losing your mind? With eCommerce automation.
In this article, we are going to talk about what eCommerce automation is and how to automate your eCommerce business with some of the best tools available on the market.
What is eCommerce automation?
It's the process of using software to automate time-consuming repetitive tasks and processes, by putting them on auto-pilot. All you need to do is set them up!
Usually, a typical eCommerce process automation consists of three components:
A trigger event, or action, that indicates when the automation should start;
A condition, that defines what the automation should do;
A result, which is performed by automation without human intervention.
And once you've set up these three elements, the software will automatically trigger a specific workflow.
Ok, but what does this mean practically?
Here are some good examples of repetitive tasks that can successfully be automated:
Every time a new customer creates an account on your online store, they will receive a welcome email with a 10% discount code on their first purchase;
If a customer's first purchase exceeds a certain amount, they will automatically be tagged as "high priority" or "high spending" customer and segmented into a different list, which is reserved special prices or offers;
Customers who have put items inside their cart but haven't proceeded to complete the purchase will receive an automated reminder to complete the checkout process;
When products in your stock fall below a certain threshold, the software will generate an automated order to send to your supplier;
All customers receive an automated email 30 days after they've completed their purchase to request a product review.
These are just a few examples of what eCommerce automation looks like in applications. Essentially, any task – both internal and external – that is repetitive and follows a specific procedure is well-suited for automation.
Benefits of eCommerce automation
There are many benefits associated with using workflow automation and coordination in an eCommerce business. Let's look at the most important ones.
Efficiency
Devoting your time – which is an extremely valuable asset – to the most repetitive, time-consuming and prone to error activities in your business only creates roadblocks and bottlenecks in your processes. By digitizing these activities and letting the eCommerce automation software handle them for you, you will automatically make the process more efficient.
Consistency & accuracy
These two benefits are strictly related. In fact, when you're letting an eCommerce process automation handle tasks for you, you can rest assured that they will always be performed in an accurate and consistent manner. You just need to set up the automation, and once it's up and running, the software will take care of everything for you, leaving no space for human error.
Productivity
eCommerce automation clearly allows you to save up your and your employees' time, which results in a boost of productivity. By letting the software handle "back-office" operations, you automatically free up your team who can then focus on more revenue-generating activities, such as customer service, product development, improving new strategies and creating a more valuable customer experience.
Customer loyalty
Customers long for an easy, memorable purchase experience. They appreciate being able to track their orders, make returns, and receive up-to-date inventory information. An eCommerce automation software would help you make it extremely easy for your customers to make orders, track them and return them, without ever having to get involved with a person, which would save time, money and build their trust towards your brand in the long run.
Sales & revenue
With automation, you can look at the purchase history of your customers and send them personalized emails with suggested related products they might be interested in. You'd be surprised, but research shows that cross-selling email reminders can increase sales as much as 28%, resulting in a higher revenue.
Who can benefit from eCommerce automation?
You might think that this is something that only big companies can look at. Well, that's not necessarily true. Both big and small businesses can benefit a great deal from using eCommerce automation software. Therefore, it is important to know the best automation tools when building your online store website.
Depending on the size of the business, automation can only get less or more complex, according to the number of workflows in place and the logic that regulate them.
But that's not all! Automation benefits not only your business but every single team inside of it, big or small. Management, operations, marketing, customer service, customer success…it can benefit all of these departments by connecting them with shared data, helping them make better-informed decisions.
Last but not least, your customers also benefit from eCommerce automation, especially when it comes to creating an online store. It's what allows them to get a timely, easy, personalized purchase experience and ultimately what keeps them coming back to your brand.
Most popular eCommerce automation software
There are many different eCommerce automation software available on the market today. We will give you an overview of the most popular ones.
WooCommerce
WooCommerce is an eCommerce platform built on WordPress, that provides functionality and flexibility, thanks to its simplicity and ease of use.
WooCommerce is a pretty comprehensive tool and counts many native integrations. However, in order to get full control of your eCommerce automation software and build a complete, fully automated ecosystem for your business, you can connect your eCommerce platform with your favorite marketing and advertising tools, thanks to LeadsBridge.
With LeadsBridge, you don't need to manually move data from WooCommerce to other eCommerce platforms in order to run your ad campaigns. Data will be synced automatically, securely, and in real-time, at all times.
Here are some examples of integrations between WooCommerce and Facebook by LeadsBridge.
Facebook Lead Ads + WooCommerce
WooCommerce + Facebook Conversions API
WooCommerce + Facebook Custom Audiences
Facebook Dynamic Ads + WooCommerce
PrestaShop
PrestaShop is an open-source eCommerce software that merchants can use to create multiple stores, from scratch and in a matter of minutes, thanks to pre-built templates and easy-to-learn features.
Its open-source nature makes it highly customizable. With over 2,000 themes to choose from, PrestaShop is definitely one of the most versatile eCommerce software out there.
Just like WooCommerce, PrestaShop features many native integrations. However, in order to make the most of your eCommerce automation software, you can connect PrestaShop with your favorite marketing and advertising platforms through LeadsBridge, and unleash the true potential of your ad and lead generation campaigns.
Here are some of our integrations for PrestaShop:
Facebook Lead Ads + PrestaShop
PrestaShop + Facebook Conversions API
PrestaShop + Facebook Custom Audiences
Facebook Dynamic Ads + PrestaShop
Shopify
Shopify is a fully-integrated eCommerce platform that allows companies and brands to create entire online stores
with ready-made templates, fit to edit and customize based on their offer.
However, this software is everything but cheap: in order to be able to access Shopify pro's suite of automation tools, your business needs to be making over $1 million in annual revenue.
With LeadsBridge, you're able to integrate Shopify to your plethora of marketing and advertising tools, in order to gather data into one single platform and get full control over your ad campaigns and lead generation strategies.
An integration with Shopify is exactly what you're looking for? Then join our waiting list!
How to automate your eCommerce business
Now that we've gone over the basics, we will proceed to learn how to automate your eCommerce business. Let's get our hands dirty with some actual use case scenarios – broken down by business area – that will really help you understand and put into practice all the great features of an eCommerce automation workflow.
Marketing
1. Lead nurturing with automated email marketing
Research shows that 50% of qualified leads are not ready to make a purchase right away.
This means that, once they land on your website, many of your potential customers might visit your page several times, going back and forth from you and your competition, trying to find that one piece of information that is going to convince them to go one way or the other.
So, what can you do? You can rely on eCommerce automation to try and help this process along. If you have their contact details and permission to get in touch, you can send automated emails to your "indecisive" potential customers trying to nurture their interest in you with valuable content.
Be mindful to only send them top-quality content – could be discount codes, promos, informational posts – based on their customer behavior. If you don't, you risk spamming them with content they're not interested in, which will only result in them clicking "Unsubscribe" instead of "Buy now".
2. Schedule automatic social media posts
Social media has become an essential asset for most brands. In fact, research shows that 54% of social browsers use social media to research products, which is why automation is essential for eCommerce businesses to have a strong social media presence.
However, handling social media in an effective way can be a significant time-consuming effort.
And this is where automation comes in handy! In fact, there are many tools that allow you to automate your social media activity. You can create content in bulk and then schedule it to be posted on a platform and a time of your choice.
Customer experience
3. Identify and reward your most loyal customers
Did you know that it costs five times as much to acquire a new customer than to keep an existing one? Customer retention is vital for any business, including eCommerce, yet many companies still fail to realize this.
An eCommerce automation software can help you build good customer relationships and reward customer loyalty.
For example, you can set up automated emails with free shipping coupons, discount codes or a free gift for all orders that exceed a certain amount spent. Then segment those customers into a specific list, track their lifetime spend and reward them accordingly.
4. Sync your customers to an email list
Running email marketing campaigns is crucial for your eCommerce business. Automated workflows of emails that target specific customers' behaviors can really help you increase sales.
For example, if a prospect shows interest in a specific product, you can add them to an automated, targeted email list and make sure they receive relevant content and offers specifically related to that product. This will help you increase the conversion rate from prospect to customer.
And while most eCommerce tools have native integrations with MailChimp, LeadsBridge offers integrations to all the main email marketing platforms.
By integrating your eCommerce software with your email marketing platform and your CRM through LeadsBridge's integrations, you can keep your customers' data securely synced across all your channels in real time.
WooCommerce + ActiveCampaign
5. Gather reviews after purchase & address negative ones
Reviews from customers can literally make or break your business.
And the simplest way you can know if your products are satisfying your customers' expectations is by asking them. Their feedback is essential for you to understand what you can improve and how.
With eCommerce automation you can schedule automated emails to be sent out a certain amount of time after a customer has purchased a product, asking for an honest review.
With LeadsBridge, you can easily connect the most popular survey platforms with your favorite email marketing tool and CRM for immediate and seamless data syncing.
Also, whenever you receive a review with two or less stars, you can set up an automation that automatically:
sends an alert or creates a task for the Customer Service team, who will then address it;
or generates a support ticket in your help-desk software to make it easier to quickly reach out and address the problem.
Either way, LeadsBridge can integrate your eCommerce software with most business process management platforms.
Inventory
6. Low-stock inventory reminders
What's worse? If you don't know the exact amount of inventories in your storage, you will also put up with the unbearable inventory carrying cost. The worst feeling ever for a potential customer is to finally make a decision about purchasing an item and only later find out that it has gone out of stock.
To avoid customers' frustration and missing out on possible income, you can rely on eCommerce automation software to send you automated reminders once a product is low in stock (based on thresholds set by you) and automatically generate order emails to send to your supplier.
If you're a Shopify user, you can rely on an app called Low Stock Alert.
Order management
7. Send abandoned cart emails
eCommerce brands lose $18 billion in sales revenue each year due to cart abandonment. In terms of impact, this is quite a severe blow to eCommerce businesses.
69% of online carts get abandoned by potential customers and one way eCommerce businesses can tackle this phenomenon is by sending automated emails with a reminder to complete the purchase to all potential customers who put items in the cart but never proceed to checkout.
The results of this activity are tangible: 45% of cart abandonment emails get opened, 21% of these are clicked on, and 50% of users who click make a purchase.
If you'd like to know more about this, go ahead at take a look at this article from our blog.
8. Label printing and tracking number notifications
Making sure that packages get shipped out and delivered promptly and correctly is a huge part of an eCommerce's activity, mostly because failed deliveries can result in a huge expense in the long run, not to mention customers' dissatisfaction.
With an eCommerce process automation you can streamline this side of the business and make sure it gets performed faster and more efficiently. You can automatically:
Create and print shipping labels;
Accurately mark orders as dispatched;
Generate and send tracking numbers.
9. Send re-order reminders
Always in the name of good customer retention – if you sell food, health or beauty products – your customers might find it useful to receive an automated alert right when they're almost out of goods, reminding them it's time to re-order before they run out.
You could even consider adding a discount code or an offer to get them to buy from you again.
10. Back in stock notifications
Sometimes – no matter how well you prepare – popular items just run out of stock, fast! Which is also a good thing. However, with eCommerce automation you can set up a waiting list for back in stock orders where customers can sign up and receive prompt notifications when their favorite items are finally available once again.
How LeadsBridge can help eCommerce businesses streamline their automation processes
LeadsBridge can help your eCommerce business automate and streamline repetitive activities and processes with 380+ integrations that connect your favorite marketing and advertising platforms to your CRM or email marketing software.
By syncing lead data and custom audiences across all your most critical channels in real time, you get an immediate and seamless idea of which of your ad campaigns and marketing efforts are working best, and which ones need refining.
With LeadsBridge, you don't have to rely on manual downloads and uploads of long CSV files from your marketing ad advertising platforms into your CRM or email marketing software. Data gets synced automatically, in real time, while always remaining GDPR and CCPA compliant.
Specifically, there's one feature that we think might be interesting for you: It's called Source Filter, and it allows you to sync from a source into a destination of your choice only a specific field data – could be the order's destination, or any other variable that you decide to set up into your eCommerce software.
For example, if you want to receive a notification on Slack every time a customer makes a purchase with a shipping address located in a specific city – because you want to check if it's worth to target that city with your ad campaigns – you can set up a bridge between WooCommerce and Slack and use Source Filter to sync only the customers who ship to, let's say, Paris.
Final thoughts
As you can see, there are many different aspects to eCommerce automation, and while it is in fact a complex matter, it sure makes your life as a merchant way easier. By learning how to automate your eCommerce business – streamlining time-consuming tasks and eliminating the room for error – you can finally gain time to focus on the high-value aspects of your business.
Think about it this way: An eCommerce automation software focuses on doing things right, while you focus on doing the right things.
When you automate tasks and processes, you can reduce human error – and you can spend time doing the right things to drive growth.
Looking for a specific integration? You can find all of our integrations for eCommerce here.