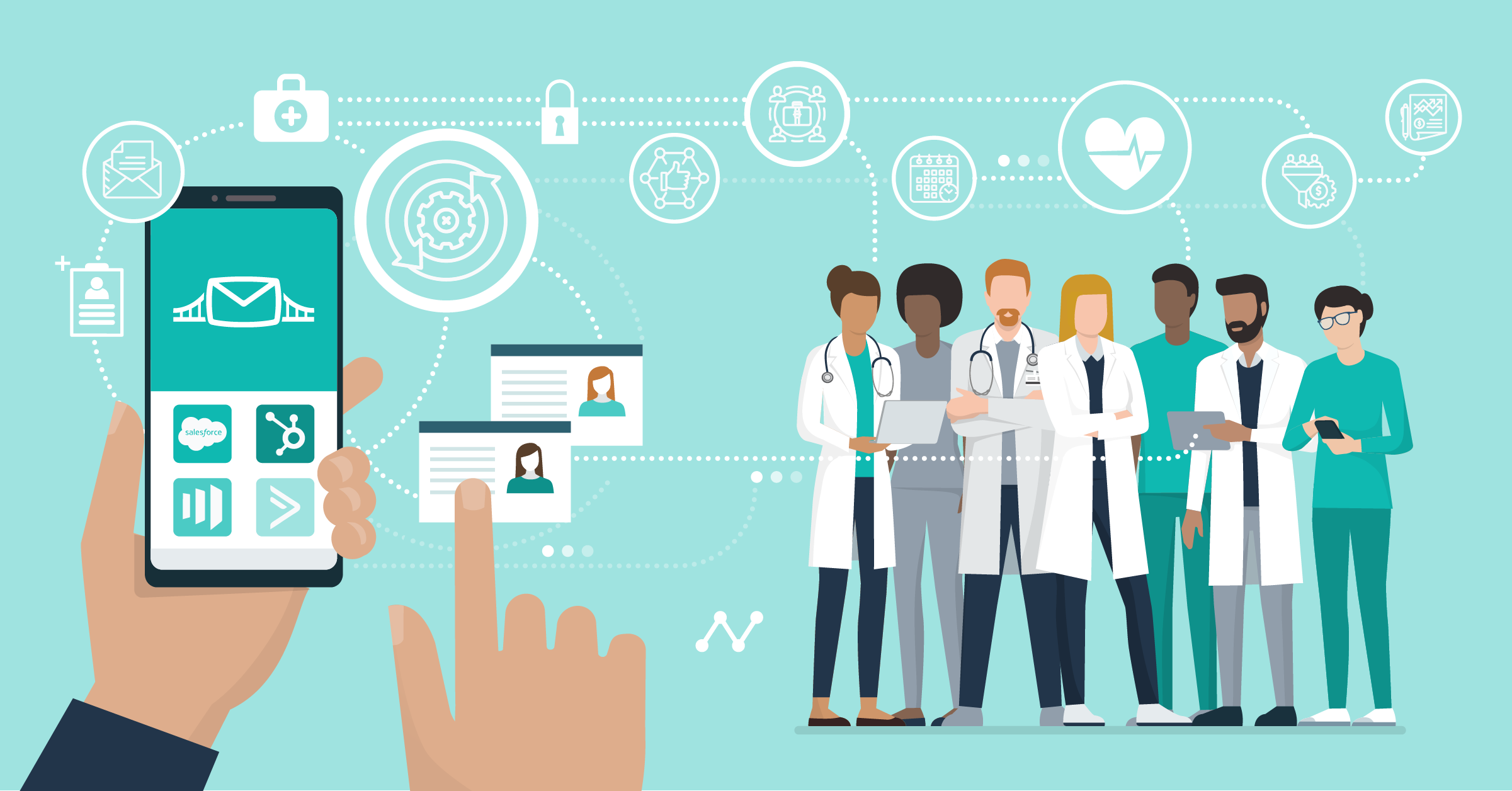 Effective marketing is crucial in the healthcare industry. It allows healthcare providers to engage with patients, increase brand awareness, and ultimately drive revenue. However, traditional marketing tactics are not as effective as they once were. Instead, healthcare providers are turning to marketing automation to streamline their marketing efforts and improve their bottom line.
In this blog post, we'll explore what healthcare marketing automation is, how it works, its benefits, and provide a healthcare marketing automation checklist. Additionally, we'll take a closer look at some of the top healthcare marketing automation platforms on the market, and show you how you can optimize your healthcare marketing automation strategy with LeadsBridge integrations.
What is marketing automation in healthcare?
Healthcare marketing automation refers to the use of software platforms and tools to automate and streamline repetitive marketing tasks and workflows in the healthcare industry, such as lead generation, email marketing, audience targeting, and conversion tracking.
Through automation, healthcare providers can save time, boost efficiency, and personalize patient interactions. Marketing automation healthcare software can be programmed to send relevant content to patients at specific intervals, track website visitor engagement, and even respond to inquiries automatically. For these things to be executed you need a healthcare app or software developed by healthcare app developers.
How does marketing automation for healthcare work?
Healthcare marketing automation platforms typically use a combination of data collection, segmentation, and workflows to automate marketing tasks.
First, they collect data from various sources, such as website visitors, social media followers, and email subscribers. Then, they segment this data based on specific criteria, such as demographics, behavior, interests, and preferences. Finally, they use workflows to deliver targeted messages to each segment, based on their stage in the buyer's journey.
Benefits of healthcare marketing automation
The benefits of automating healthcare marketing are many, including:
Increased efficiency: By automating repetitive tasks, healthcare organizations can save time and resources and allocate them to other areas of the business.
Better targeting: Automation enables precise segmentation and targeting, which leads to more personalized and relevant messages that resonate with specific audiences.
Improved lead generation: Automation streamlines lead generation processes, such as lead scoring and nurturing, which helps identify and prioritize high-quality leads.
Enhanced patient experience: Personalized and timely messages improve the patient experience, which leads to greater satisfaction, loyalty, and referrals.
The ultimate healthcare marketing automation checklist
Here are some of the tasks that can be automated and streamlined thanks to healthcare marketing automation.
Email marketing
Healthcare providers can automate email campaigns for patient communication, appointment reminders, follow-ups, newsletters, and educational content. Automation can help maintain consistent communication and reduce the workload for staff. Research shows that over 80% of healthcare marketers reported that their email marketing efforts are successful in helping them retain customers.
Patient segmentation and targeting
Healthcare marketing automation tools can segment patients based on various criteria such as demographics, medical conditions, and engagement history. This allows for more targeted and personalized messaging.
Lead nurturing
Automation can be used to nurture potential patients who have shown interest in services or content, guiding them through the decision-making process and ultimately converting them into patients.
Social media management
Healthcare organizations can schedule and automate social media posts, monitor social media mentions, and engage with patients online.
Online advertising
According to research, digital ad spending in healthcare and pharma is expected to reach $11 billion by 2024. Join the trend and automate your pay-per-click (PPC) advertising campaigns to track their performance and maximize return on investment!
Offline conversions
Match your offline sales with your online ads to automatically track the effectiveness of your advertising campaigns. This will help you better understand which ads are actually generating revenue and which ones can be optimized for better results.
Content distribution
Distribute blog posts, articles, videos, and other content through automated channels, such as social media, email, and newsletters, to reach a wider audience.
Data analytics and reporting
Automation tools can collect and analyze data, providing valuable insights into marketing performance, patient behavior, and campaign effectiveness.
Website personalization
Automate the process of tailoring website content to individual users based on their browsing behavior, preferences, and medical history.
Appointment scheduling and reminders
According to research, 44% of millennials are likely to switch healthcare providers for better digital capabilities. In order to avoid losing them, you should allow patients to schedule appointments online, which can be integrated with a healthcare provider's scheduling system, reducing administrative tasks and improving patient access.
Reputation management
Automate the monitoring and response to patient reviews on platforms like Google, Yelp, and Healthgrades, helping to maintain a positive online reputation.
Compliance and regulations
Ensure that marketing materials and communications are compliant with healthcare regulations – such as HIPAA, GDPR, and APP – through automation and approval workflows.
Also, make sure you always obtain consent to contact from your patients in order to be able to collect and use their personal data.
Lead scoring
Use automated lead scoring systems to prioritize and categorize potential patients, making it easier to focus on the most promising prospects.
SMS and text messaging
Automate SMS and text messaging for appointment reminders, prescription refill notifications, and general patient communication.
CRM integration
Integrate marketing automation with customer relationship management (CRM) systems to have a comprehensive view of patient interactions and data.
Patient surveys and feedback
76% of patients trust online reviews and ratings when choosing a healthcare provider. Use automation to send patient satisfaction surveys, collect feedback, and identify areas for improvement.
Event promotion
Promote healthcare events, workshops, and seminars through automated marketing campaigns.
Referral programs
74% of patients consider reputation and credibility the most critical factors when choosing a healthcare provider. Automate referral tracking and rewards for patients who refer new patients to the healthcare organization.
Birthdays and holidays
Healthcare providers who invest in personalized marketing campaigns see an average 20% increase in patient engagement. Sending automated birthday and holiday e-cards is a fantastic way to add a personal touch to patient engagement through email or text messaging.
Healthcare marketing automation platforms
If you're looking for a healthcare marketing automation platform that will support you in automating marketing activities for your healthcare business, here is a list of the best ones.
HubSpot
HubSpot is a widely used marketing automation platform that offers a healthcare-specific solution tailored to the needs of medical practices and healthcare organizations. It includes features for email marketing, lead nurturing, patient engagement, and CRM.
See all our available integrations for HubSpot.
Marketo Engage
Marketo Engage, now part of Adobe Experience Cloud, is known for its advanced marketing automation capabilities. It offers healthcare organizations tools for lead management, email marketing, customer analytics, and personalization.
Check out all available integrations for Marketo Engage.
Salesforce
Salesforce offers a solution specifically designed for healthcare providers that integrates patient data, analytics, and marketing automation. It helps healthcare organizations engage with patients and improve care coordination.
Take a look at all our available integrations for Salesforce.
SharpSpring
SharpSpring is a marketing automation platform suitable for healthcare marketing. It offers email marketing, lead tracking, CRM, and marketing analytics tools.
Discover all our SharpSpring integrations here.
ActiveCampaign
ActiveCampaign offers marketing automation features and email marketing tailored to the needs of healthcare providers. It includes automation workflows, segmentation, and personalized content.
Explore all of our integrations for ActiveCampaign.
Constant Contact
Constant Contact is a user-friendly email marketing and automation platform that can be used by healthcare organizations to engage with patients and promote services.
Here you can find all the integrations we offer for Constant Contact.
Mailchimp
Mailchimp offers email marketing and automation tools for healthcare organizations, making it easy to create and send personalized healthcare-related content.
Check out all available integrations for Mailchimp.
Streamline your healthcare marketing automation with LeadsBridge
LeadsBridge is a powerful automation platform that connects several healthcare marketing automation tools with the rest of your marketing stack with automated, real-time integrations.
With LeadsBridge, healthcare providers can automate lead capture, integrate with third-party tools, and streamline their marketing efforts across multiple channels.
Not only that! LeadsBridge integrations allow you to:
Put an end to slow, manual, and generic lead syncs, and take immediate action on new leads coming in.
Target your ideal audience and reduce your ad spend by engaging with the leads who are most likely to convert.
Measure the real impact of your online campaigns with sales happening offline.
Take a look at all our healthcare industry specific integrations.
Conclusion
Marketing automation has become a must-have strategy for healthcare organizations that want to improve their marketing efficiency, effectiveness, and ROI. By automating marketing tasks, healthcare providers can personalize patient interactions, increase efficiency, boost revenue, and enhance the patient experience.
With the help of the healthcare marketing automation platforms listed above and LeadsBridge integrations, healthcare marketers can take advantage of advanced features such as lead scoring, email marketing, and AI-powered analytics, streamline their marketing strategies, and connect with patients more effectively than ever before.
So, whether you're a startup, a small physician's office, or a large healthcare system, take advantage of these tools today and start automating your marketing efforts.