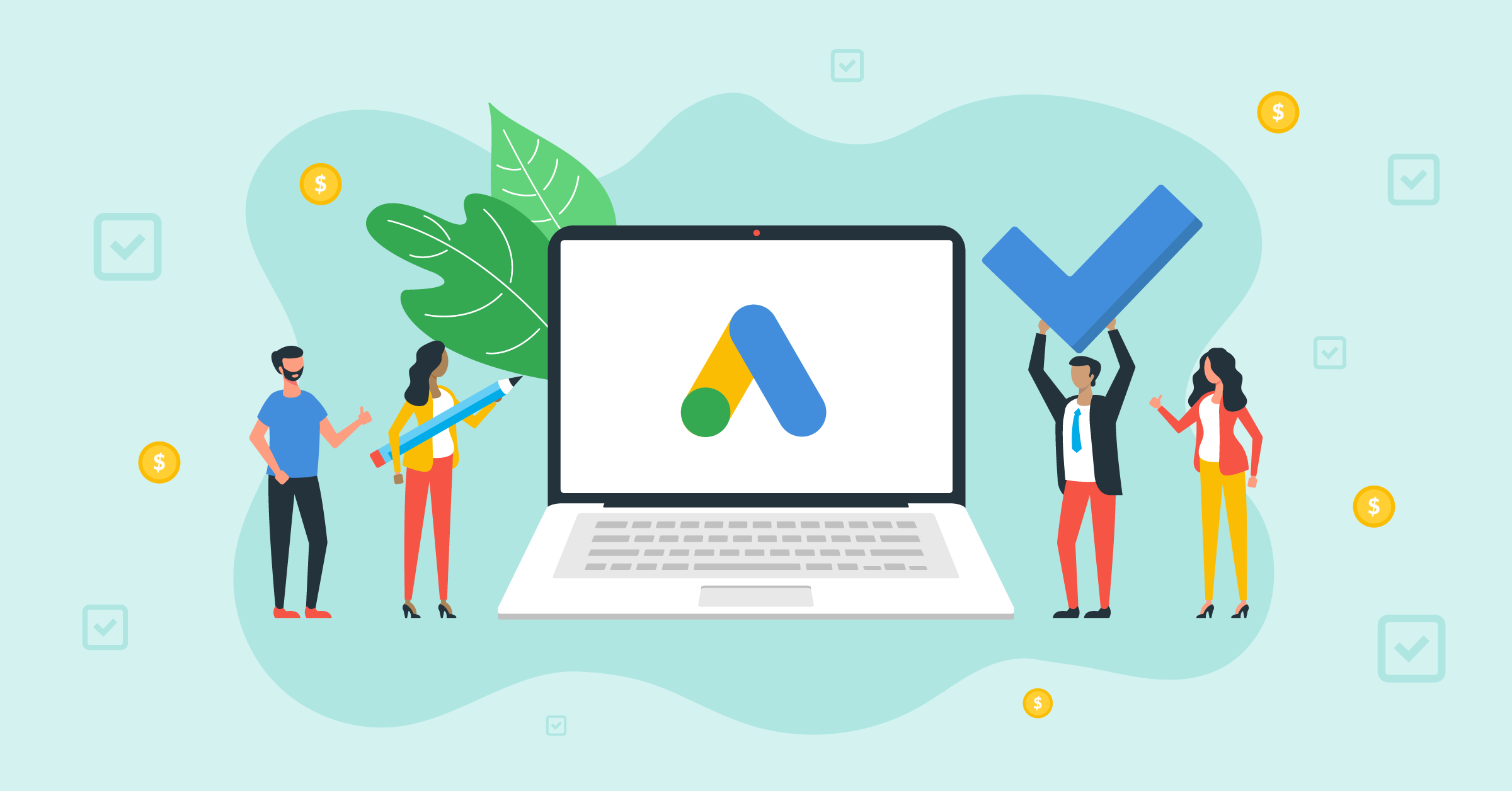 Where to invest your marketing budget is always a challenging question. However, by looking at the statistics, you can decide which one of the digital advertising platforms is your best bet.
Google Ads boasts some outstanding metrics with over 270 million unique visitors. It also shows over 4.8 billion daily interactions on average.
By setting up your Google Ads checklist, you can reach your target audiences and new customers expansively whenever they use Google properties to search, browse, and watch.
In this article, we'll discuss all things Google Ads– from where to begin, the benefits of Google Ads, and its best practices. Also, we'll talk about Google Ads integrations that help you reach more customers with an online ad, such as:
What is Google Ads?
Google Ads was launched about two years ago to become the largest and most popular PPC advertising platform today. This tool was a rebranded version of the Google Adwords advertising platform that was introduced back in October 2000.
Source: BroadBand Search
Google lets you use Google Ads as a paid online advertising platform to grow your business and drive sales. How? It works with the help of Google's search engine and some additional marketing-specific features.
When users type in a keyword, the query results on a search engine results page (SERP) are shown. Here, the search results can contain a paid advertisement that targets that specific keyword.
Benefits of Google Ads for your business in 2022
To make your marketing a success, you need the help of the most effective tools combined with the best advertising platforms.
Source: Faisal Digital
Here's an overview of the main benefits of Google Ads and why it is the best choice for running paid advertising campaigns.
Increasing brand exposure
Keeping your brand top of mind with your existing and target audiences is a decisive goal when it comes to advertising.
Mass reach and high conversions
With over 8.5 billion searches every day, Google is an outstanding device to reach your target audience- no matter where they are. Additionally, Google says that you can make $8 for every $1 you spend on Google Ads. This shows the high conversions and profitability of running Google Ads- given that you optimize your campaigns from start to end.
Addressing people's interests and pain points
What people are looking for is one of the insights every marketer needs to optimize their campaigns. Intent guides your way to reaching specific people with your ads. Google presents its users with highly accurate search results. This way, over 91.9 percent of the people who search on Google click on the first result mostly because they trust Google to show them highly relevant results.
Providing full control over your campaigns
Google Ads offers you complete control over how you spend your money, to whom your ads are shown to, how to start and end your campaign, and more- all in no time!
This search engine allows you to both capture leads and run retargeting campaigns. Combining granulated performance reports and specialized tools such as Google custom audience, you can create detailed workflows across your leads' lifecycle.
Among the top benefits of Google Ads is its alignment with Google's search engine optimization. With the right SaaS SEO strategy and marketing tools, you can start running Google Ads and increase the chances of showing up first in the search results.
Offering result-oriented advertising and metrics
As a marketer who's always looking for better results you may also ask, why is Google ads right for you? Because Google Ads is a result oriented tool. It allows you to benefit from metrics collected and accessible across Google properties. So your Google Ads optimization and measuring your marketing efforts become precise and straightforward. You will have access to basic information like clicks, impressions, keywords' budget, etc.
Using Google Analytics integrations through an official Google partner like Leadsbridge, you can track real-time customer behavior on your website and automate detailed reporting. Check out these top Google Ads integrations:
Watch our webinar to explore the potential of the Google Ads suite for better ad results and higher conversions.
How does Google Ads work?
Before starting to set up your Google Ads checklist, you need to understand how this advertising tool works. The Google Ads platform is designed to boost online sales and maximize ROI. Each advertising tool provided by this gigantic search engine helps to get more sales, increase website traffic, achieve a better customer reach, and even get people to visit physical stores.
How does Google do that?
Google uses a sophisticated pay-per-click (PPC) model. To put it simply, you can choose a specific keyword on Google according to your target audience, strategy, and products or services you offer. Then, you can place bids on these keywords: "maximum bids" will win.
Source: Ian Greenen
All in all, Google offers a highly user-friendly experience to its ordinary users and advertisers. While it has several marketing tools and features, you can create your first ad in less than 15 minutes. You don't even have to worry about getting everything right (except for the registration information). Google Ads also lets you pause your campaign and make modifications at any point in your Google advertising journey.
Google Ads checklist
Your Google Ads checklist should include several elements that you need to set up in order to run successful campaigns.
Establishing budgets and goals
Your campaigns' goal literally defines the budget cap. In fact, the goal is the highest price you would like to pay per conversion (sale, lead or anything else). The goal also determines who your audiences are, where your ad can show and which keywords trigger your ad.
However, you'll decide the highest price you're willing to pay when a potential customer clicks your ad (maximum cost-per-click or CPC bid).
To avoid overspending, keep one goal per Google Ads campaign. Besides higher prices, having two or more goals can make your campaigns hard to optimize in terms of performance.
If you have more goals you want to achieve, then add another campaign within the same Google Ads account and direct your campaign's efforts towards the new goal.
Drawing your Google Ads structure
As a crucial element in your Google Ads checklist, your Google Ads campaign structure reflects your goals and the path to reach them.
Source: WordStream
When drawing the Google Ads structure, the keywords and ads mark the core of your campaign, but they must be segmented by setting up ad groups (Google Ads) and campaigns for precise targeting and optimization.
Choose the right keywords to connect with the audience. To segment your keyword lists, you need to follow a few steps:
1. Making an extensive keyword list
Add all the relevant keywords under each ad group, including their variants, such as plurals and different match types. Using a trusted keyword tool like Semrush, Google Trends API for in-depth analysis, and the Keyword Tool within Google Ads can make the process helpful and easy.
2. Setting up ad groups (Google Ads optimized)
It would help if you created a balance between ad copy and keywords for increasing relevance in your advertising. The best ad groups can accommodate the ad copy that perfectly suits the keywords and make optimizing the Google Ads campaign possible from start to finish. Avoid general keywords as much as possible to leave room for specialized campaigns.
3. Using different match types
Broad match keywords are a killer for precise audience targeting. It is best to avoid broad-match keywords as much as possible in your ads account to prevent triggering irrelevant search queries altogether. Why? Because these types of keywords reduce your Quality Score and increase your cost-per-click.
Listing negative keywords
Make a list of what to include or exclude in your lists. This way, people who have those certain keywords in their search query won't see your ad, and you can focus on clicks coming from actual potential customers.
Your ad copy should communicate your message with feeling and meaning to your customer. But this is more than just creating a compelling text ad, headline, and format. You need to write a relevant ad copy for each of your ad groups. This practice gives you a better reach and control when Google triggers your keywords. Try out different copy samples by running A/B tests in order to find what works best.
Here are more tips on how to write high quality SEO content.
Optimizing the campaign settings
Before you launch your campaigns, double-check your settings (locations, campaign type, language targeting, etc). Adjust them according to your strategy before running your campaigns. Once getting your hands on some performance reports, you can optimize them further according to what works effectively for a certain campaign.
These are not elemental factors but can contribute to running successful campaigns when included in your Google Ads checklist.
Google Ad extensions give your ad a better footing in the search engine by boosting the odds of people clicking your ad. Ad extensions also improve your campaigns' Quality Score, lead generation abilities, and channeling leads down your sales funnel.
Check out this complete guide to Google lead generation through Google Ads lead form extensions.
You can also use these high-performing integrations to capture leads and access their data for creating instant follow-ups:
Including conversion tracking
Tracking performance and conversion is a necessary element when running any type of ad campaign. In PPC, tracking your advertising results becomes even easier. The majority of this data is automatically drawn into your Google Ads account dashboard. Nevertheless, you need to set up your own conversion tracking tool like Voluum or use the right integrations, such as:
Join the waiting list to discover all the possible integrations for Google Offline Conversions Tracking.
For more information, read this article to learn how to use Google Offline Conversion Tracking to measure offline conversions from your Google Ads.
Your complete guide to creating Google Ads accounts
Must-haves for your first Google Ads campaign
You'll need to set up a few things before creating your campaign. Here is a quick recap:
First, you'll need an email address and a business website.
If you don't have a website, you can use Google's Smart campaigns, which is essentially the default Google Ads experience for new marketers.
Understanding the basic tools and principles
As a marketer, you will need to establish your marketing strategy and how you want to go about lead management and nurturing those leads once generated.
An effective strategy usually includes a range of marketing tools and integrations in addition to internal Google features. Google recommends using integrations provided by its official partners to automate task configurations throughout the marketing stack.
Researching the types of Google Ads
Google presents offers campaign types to match with your campaign to increase relevance and audience targeting precision, including:
Search campaign
Display campaign
Shopping campaign
Video campaign
App campaign
Learn all you need to know about lead management in our comprehensive guide.
Creating Google Ads account through LeadsBridge
When creating your first Google Ads account, you can use two methods: create it through Google, or through a premier partner like LeadsBridge. As far as Ads account creation is concerned, any of these methods work.
But when it comes to maintaining your campaigns, creating seamless data bridges across your marketing stack and increasing your overall ROI, even Google agrees that your best bet is to do it through LeadsBridge.
Here is your step by step guide to Google Ads account creation via LeadsBridge:
1. Sign in to your LeadsBridge account. If you haven't signed up yet, you can get started here for Free.
2. Find "Google Ads Accounts" and click on it. Select "Create new ads account".
3. Fill in your personal info and click "Create".
4. After successfully creating a new Google Ads account, click on the "Activate Account" button. To proceed to the next step, you will need to add your billing information.
5. You will receive a "Hello and welcome to Google Ads!" pop-up. Click "Continue".
6. Once activated, you will need to create the bridge. You'll be redirected to "LeadsBridge app selector." Here, add in your source and destination and details for accounts and forms. Then, click "Continue".
8. Your bridge is set up. At this point, all your data management processes are done automatically and in real-time. It means that every time you need to access your data, all you need to do is just a simple Google Ads account sign in.
Besides creating a Google Ads account directly, LeadsBridge allows you to leverage the best of the Google suite. Additionally, all LeadsBridge users who create a new Google Ads account can claim a $500 advertising credit.
Discover more about how to create your Google account through LeadsBridge and claim your advertising credit.
How to create Google Ads campaigns through Google
When creating a Google Ads account, this tool provides two modes:
Smart Mode
In Smart Mode, you'll also need to create your first Google Ads campaign.
1. Sign in to an existing Google Account or create a new one.
Fill in your Google email address and password, then Sign in.
Or, select Create an account: follow the instructions to create and confirm your new Google Account.
2. Create your first campaign
Here, you'll need to set up the following:
Campaign goal
Your business's name and website
Structuring your Ad (by incorporating headlines, descriptions, etc)
Keywords
Location
Budget
3. Ultimately, set up your billing information
a. Add billing country, time zone, and currency.
b. Use your promotional code if you have any and click "Apply".
c. At this point, you are led to an existing payment profile, or you must create a new one. Also, you need to switch "Account type" defaults to "Individual" (from "organizations) if appropriate.
d. Add payment info: credit or debit card, PayPal, or bank account and click Submit.
e.Your campaign is created.
Expert Mode
With Expert Mode, you can create your ad account with or without a campaign.
Sign in to an existing Google Account or create a new one.
Go to the "New campaign" page, find Switch to Expert Mode and select it.
Here, you may choose to create your account through an existing campaign or without one:
With a campaign
1. Set up the:
campaign goal
campaign type
campaign settings and features (based on the campaign type)
Ad group and Ad
billing, including payment method
2. Then, click Submit to create your campaign.
Without a campaign
Find and select Create an account without a campaign.
Add your business information (billing country, time zone, and currency).
Click Submit.
How long does it take for Google Ads to work?
Google takes about a day to approve your ad, after which they are ready to be displayed to your audience.
Google Ads best practices for creating and optimizing your campaigns
Creating your Google Ads campaign is just the first step, then it is time to maintain them. However, optimizing your advertising and implementing the Google ads strategies is an ongoing process.
How to optimize your Google Ads campaign
Decide which keywords to pause
So you've created a new campaign with a set of keywords that are highly relevant and target specific audiences. Here, you'll need to pull your campaign's keyword data from your account and determine which ones draw conversions. Then, using the same contrast, you can find the keywords that don't work, therefore eliminating those with high costs and no conversions.
Additionally, Google Ads allows you to pay on a cost per click (CPC) mechanism. This way, you won't pay unless someone actually clicks on your ad.
This is where the Google Quality Score comes into play to determine your ads' ranking. Use your keyword data to pause keywords with a low Quality Score and a low click-through rate. By doing so, you can increase the chances that your ads are shown to more people.
Read this article and find out how you can increase your Google Ads quality score and decrease your ad costs.
Removing keywords is not the only way you can optimize your Google Ad campaigns' performance. You can create a keyword list with thousands of keywords and use variations (extend the reach of a particular keyword).
Your ad copy plays a vital role in improving your Click-Through-Rates, Conversion Rates, Quality Scores, and ultimately lowering your conversion cost.
Your copy is the front line of your PPC account that's visible to the audience. So finding out the best ad copy for a particular campaign is crucial. Run a few A/B tests and use those insights to optimize your campaign.
Taking advantage of automated bid strategies
Google Ads features different bid strategies within your account. Using automated bid strategies helps you save time when optimizing your keyword bids through Google's algorithm. This way, you don't have to use your keyword bids, and tiresome and inaccurate manual bidding processes.
Monitor your search queries and keywords
When setting up a keyword list, you must make sure that your ad isn't displayed for irrelevant search queries. If it does so, you will spend your money on campaigns that do not get results.
So, you need to screen your keyword lists as much as possible using your search query report. In practice, you will need to identify irrelevant search queries and label them as negative keywords (not be used).
Branded keywords are highly relevant keywords hence presenting a higher Quality Score.
The Quality Score runs through all your account's keywords and increases the ranking of your non-branded keywords as well. And as a general Google Ads rule, the higher your ads' ranking and the lower their cost per click. So advertising your brand name in your keywords is a must-have is one of the best practices.
Benefiting from Remarketing Lists for Search Ads (RLSA)
The remarketing lists for search ads (RLSA) help get your visitors to come back to your site. This is the practice of targeting individuals already familiar with your brand. So being more direct about your keywords, ad copy, and overall approach with these sets of audiences are highly recommended.
You can also target your CRM segmented lists by integrating your marketing tools with Google Customer Match through LeadsBridge. Using these integrations, LeadsBridge offers you an automation solution to identify and extract CRM-based conversions, format the data, and more. Here are some of these useful integrations:
Creating high-converting landing pages
After channeling relevant visitors to your site through your ads, your landing page plays an important role in encouraging them to convert. Google suggests creating a PPC-specific landing page with a focus on collecting the details of your potential buyer.
Your landing page should include most of these components: a relevant headline, sub-headlines, a short contact form with a CTA, relevant info about your offering with unique selling points (USP's), testimonials, etc. Something like this:
Run A/B testing and optimize each small section accordingly.
Adding yourself to "Google My Business" listing
By linking to the Google My Business listing to your Google Ads, you can increase your searchability for free. This tool promotes your Google Maps listing and is used for both adding credibility to your brand and helping your customers to find your physical store.
Google delivers impeccable trackability for even the smallest details. If you put enough effort into optimizing your campaigns, it is impossible to go wrong with this incredible advertising platform.
How to check my Google Ads performance?
After creating your campaign and optimizing it according to the best practices, you will need to measure your ad performance.
Google suggests doing this by using different data and reports available in Google Ads. Using this information, you will be able to analyze and modify your campaigns. This includes Ad Impressions, Ad Clicks, Cost Per Click, Click-Through Rate, and Conversions.
To explore your performance on a deeper level, you can use more advanced reports to track the effects of Google Ads on your business. We are speaking about countless metrics on the keyword, advert, ad group, and campaign levels, which are impossible to be handled manually.
The conversion tracking integrations are among the most powerful tools you can use to see your offline and online conversions through Google Ads.
You can use Google ads integrations, such as the Google Customer Match extension and Google lead form extensions, to help track and measure your campaigns. In addition to automating extension performance, these integrations let you access real-time data that you can use to measure your campaign.
Besides creating ads that target your existing customers and potential buyers, these extensions collect information from the leads. For instance, syncing lead data from Google lead form or CRM segmented customer lists.
To get the best out of this data, you'll need to employ the right integrations to move data between your analytical tool, CRM, or other marketing tools, and Google lead form or Google Customer Match.
While not included in our freemium plan, these Google Customer Match integrations offer highly efficient automation solutions for otherwise unproductive tasks:
Learn how to integrate Google lead form through LeadsBridge.
How much does Google Ads cost?
As we established already, Google Ads works on a Pay Per Click module. But that doesn't explain how much you will pay for your Google Ad campaigns. Here are some factors about advertising with Google cost:
Signing up for an account is free.
You'll only pay when your customers take action.
The costs vary from ad to ad.
On average, the cost for these ads is somewhere between $1 and $2 on the search network. While the medium CPC on the Display Network is below $1. However, the keywords costs can rise up to $50 or more per click, which is usually the case for the more competitive phrases and keywords.
Discover all you need to know about advertising with Google cost and ad prices on other advertising platforms.
Examples of Google Ads
Google Ads optimization makes your campaign more effective in driving high-quality leads and increased profit. Check out these two winning examples of Google Ads.
1. LeadsBridge
LeadsBridge uses a concise copy and direct CTAs on the benefits and sitelinks that make it easy to get started and test their products for free.
It is tailored to specific audiences using specific keywords for creating a highly effective ad.‍
2. Mailchimp
Mailchimp has added four different sitelink extensions on their Google Ads to give a clear idea to their audience about pricing plans, GDPR compliance for European customers, key features, and free tools.
This gives people the opportunity to learn about their products and be able to evaluate them quickly- leading to high-intent clicks.
Automate your Google Ads through LeadsBridge integrations
By understanding how to create Google Ad Accounts step by step and Google Ads best practices, you know your way around Google advertising. However, it is essential to use these strategies in combination with the right tools and all the possible Google integrations to automate all your workflows.
You can use automation to scale your campaigns and Google Ads optimization, simplify management across markets, and test and enter new markets.
As a Premier Google Partner, LeadsBridge makes the process of reaching new customers and retargeting old ones straightforward and highly efficient.
Sign in here to create your Google Ads account and leverage the full power of Google Suite tools.