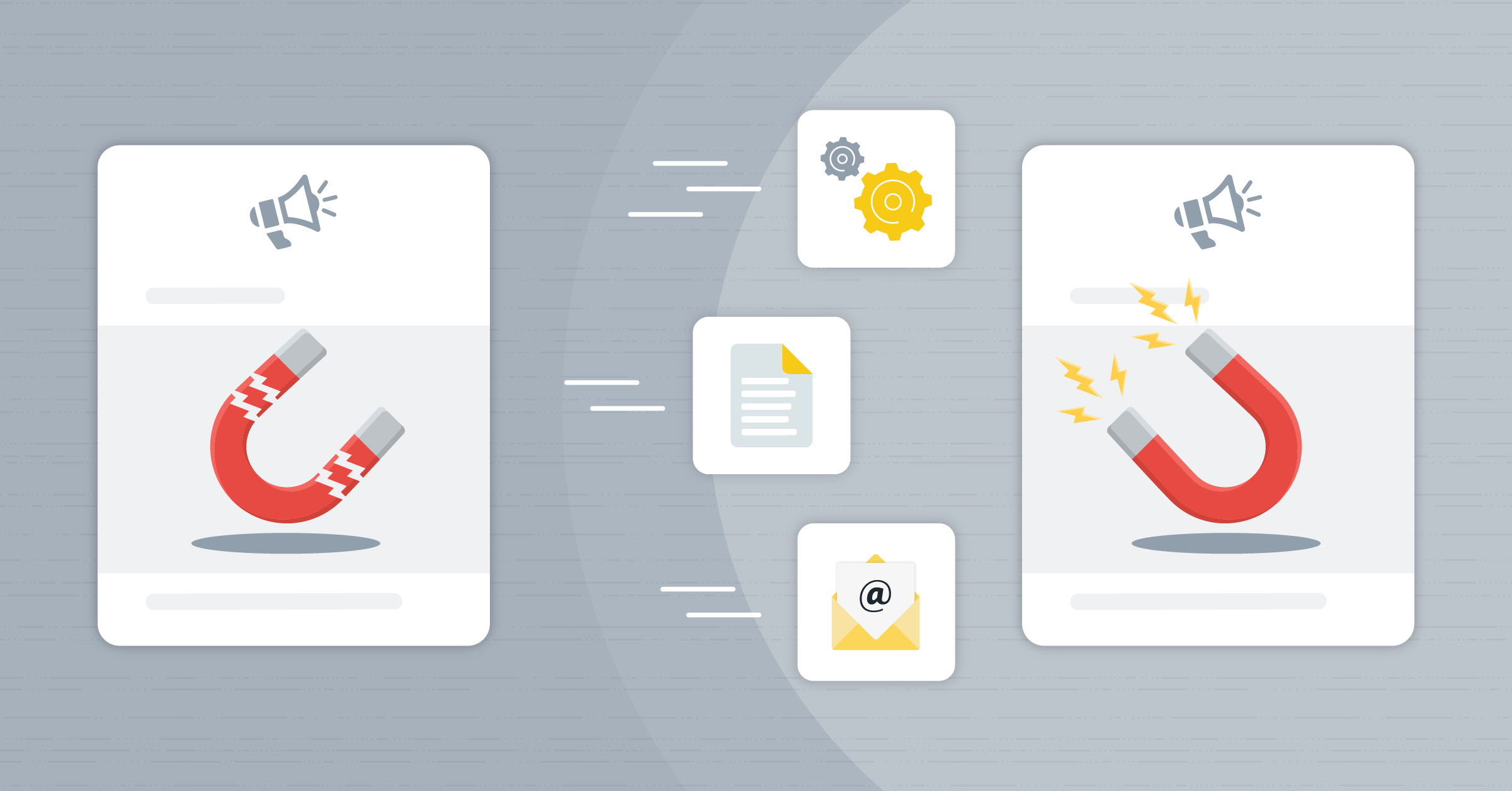 Lead generation is a multifaceted process that requires consistent strategising, evaluation and refining in order to be effective. Acquiring the data of a pool of users may seem to be a success initially, but this information can paint an underwhelming picture when the quality of these leads are taken into account.
Keeping that in mind, how can marketers implement strategies that yield the most desirable results? A smart place to begin is to recognize the most common pitfalls that businesses encounter.
Throughout this article, we will take a closer look at seven major lead generation mistakes and how you can better avoid them.
The most common lead generation mistakes
1. Ignoring the needs of your target audience
One of the first lead generation strategy mistakes that your business can fall victim to is placing too much focus on your selling points, and alienating the needs of your target audience.
Even with the greatest lead generation tactics in place, your ideal user is unlikely to convert if they feel that you are not capable of addressing their pain point and offering something to overcome this.
By taking the time to gain an understanding of your target audience, what issues they face and how your business can help them remedy these obstacles, you will have the ability to make this a focus point within your strategies.
2. Not targeting the entire buyer journey
Not every user that lands on your website will be in the same stage of the buying journey – they will need to be shown different material that is aligned with their stage in order to naturally push them a step closer to conversion.
Some visitors will be ready to purchase, and benefit from being shown a demo. However, a proportion of your leads will not be at that stage yet, and would get more value from downloading content regarding your product or service.
3. Not excluding audiences
Failing to exclude audiences within sections of your strategies is one of the main lead generation mistakes that can negatively impact your conversion rate, as well as customer perception of your business.
Excluding specific advertising allows you to refine your audience targeting and present yourself to segments that are most aligned with a certain campaign ad, and therefore more likely to convert.
By not excluding unsuitable audiences, you can waste ad revenue and incite irritation amongst the entirety of your ideal customers. Should they come across an ad that offers a discount on your product/service that has not been also presented to them, they may decide to abandon their interaction with you altogether.
You can retarget your existing audiences within your CRM by connecting it with the main advertising platforms used within your campaign.
4. Not maximizing the full potential of automation
Automation is designed to help streamline your operations, complement your marketing and improve your efficiency. Therefore, not maximizing the full capabilities of this is one of the most typical lead generation strategy mistakes and can be a detriment to your conversion rate.
By using a free solution such as LeadsBridge, you can enhance your omni-channel lead generation strategy and build your very own interconnected, automated marketing ecosystem.
LeadsBridge offers over 380 integrations, focusing on bridging gaps between top advertising platforms – Google, Facebook, LinkedIn, and TikTok – and main marketing platforms – CRM, email marketing software, autoresponder, and much more.
This way, you can easily connect your preferred software with your advertising platforms, seamlessly synchronizing data for your marketing workflows. With the LeadsBridge Freemium plan, you will have the ability to sync a maximum of 50 leads for free.
Discover more about our Freemium plan here.
We are official partners with Facebook, Google, LinkedIn and TikTok. This means you can easily connect tools such as LinkedIn Lead Gen Forms, Google Lead Form Ads, TikTok Lead Generation and Facebook Lead Ads, access updated insights and rely on direct partner support, all whilst boosting your lead generation automation potential.
Discover how you can stay on top of your data with LeadsBridge's Lead Sync feature.
5. Failing to make data-driven decisions
The data related to your leads and existing customers provides valuable insight into what steps you should be taking next to enhance your lead generation. Failing to analyze this data can lead to a needless loss of opportunity in transforming a marketing qualified lead to a sales qualified lead.
Landing pages
It is advisable to dedicate time to evaluate the results of your primary landing pages used within your campaigns. When monitoring the data associated with these in Google Analytics and how a user behaves whilst navigating these, you may come to find out that certain pages are regularly visited but fail to convert.
This may be because the content included in this page focuses too much on your selling points and not enough on the immediate needs of your audience. Ensuring that you include elements that prompt a reader to continue to the next stage can help to keep your conversion rate in a positive position.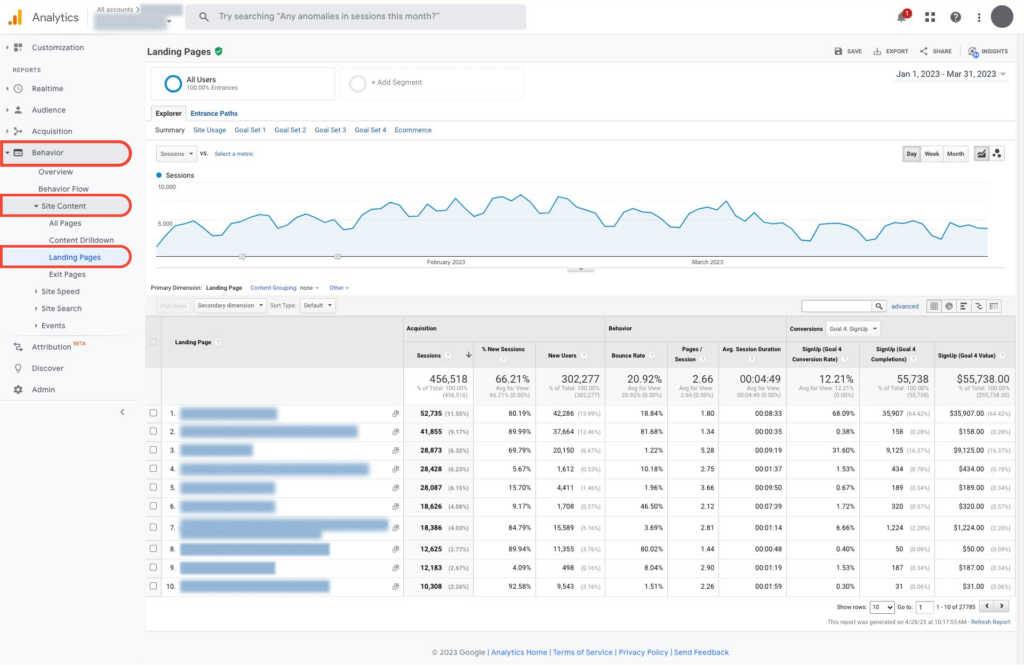 Exit pages
Knowing the last page viewed before the abandonment of a session helps to decipher how well you are engaging your audience and what needs to be optimized in order to keep the exit rate low.
To remedy this, you can add webinars and blog articles relevant to your target audience's needs to inspire progression. This way, even if they are not ready to submit a contact form, they can take an alternative route to prepare for this stage instead of simply leaving.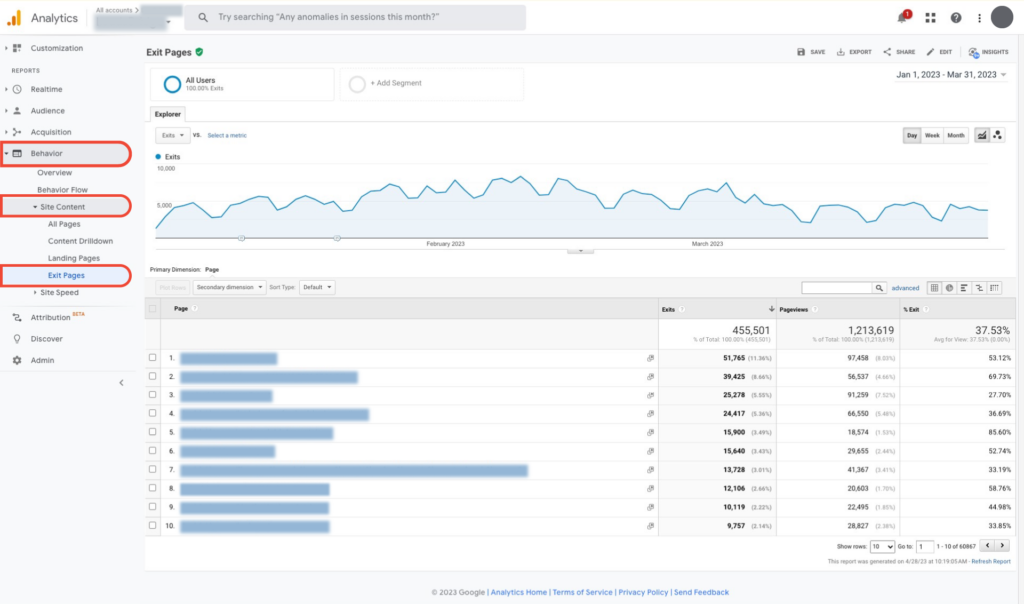 6. Overlooking the importance of GDPR and TCPA requirements
One of the greatest lead generation mistakes that a business can make is overlooking the importance of regulatory compliance with GDPR and TCPA requirements.
The TCPA law is designed to protect consumers from unsolicited telemarketing communications and require businesses to obtain prior expressed written consent from a consumer before contact is initiated.
GDPR, introduced within the European Union, governs the usage, processing and storage of every EU citizen's personal data. GDPR compliance must be adhered to by any organization with customers from the EU, even if the organization itself does not have a presence within the European Union.
Therefore, it is imperative that you prioritize the acquisition of this consent and remain compliant within your lead generation in order to protect your business from litigation. TrustedFrom Certify can help you to achieve this.
TrustedForm Certify provides independent authentication certificates for every lead you generate, enabling you to provide proof of prospect's consent and documentation of precisely when and where this consent was obtained.
7. Not using lead generation forms in paid ads
Lead generation forms are a valuable tool for collecting customer data. However, failing to feature these in your paid ads is an example of bad lead generation practices, as you are eliminating the possibility of acquiring a wealth of lead data from those who click on your advertising.
By leveraging the capabilities of LinkedIn Lead Gen Forms, Facebook Lead Ads, Google Lead Form Ads and TikTok Lead Generation within your paid advertising, you can acquire data from the vast audiences present on each channel without even having to redirect users to a landing page. This method of lead generation is also cost efficient.
Final thoughts
Any experienced marketer can recognize the importance of quality over quantity when attempting to expand a database of prospective customers. Although an influx of leads can offer fleeting gratification, the time spent refining your strategies to target qualified potential buyers offers the best return.
Acknowledging the lead generation mistakes made by other businesses and implementing practices that counteract these actions can save you time and money, whilst simultaneously boosting your clientele and increasing the likelihood of conversion.
Discover the full potential of LeadsBridge's Lead Sync feature.