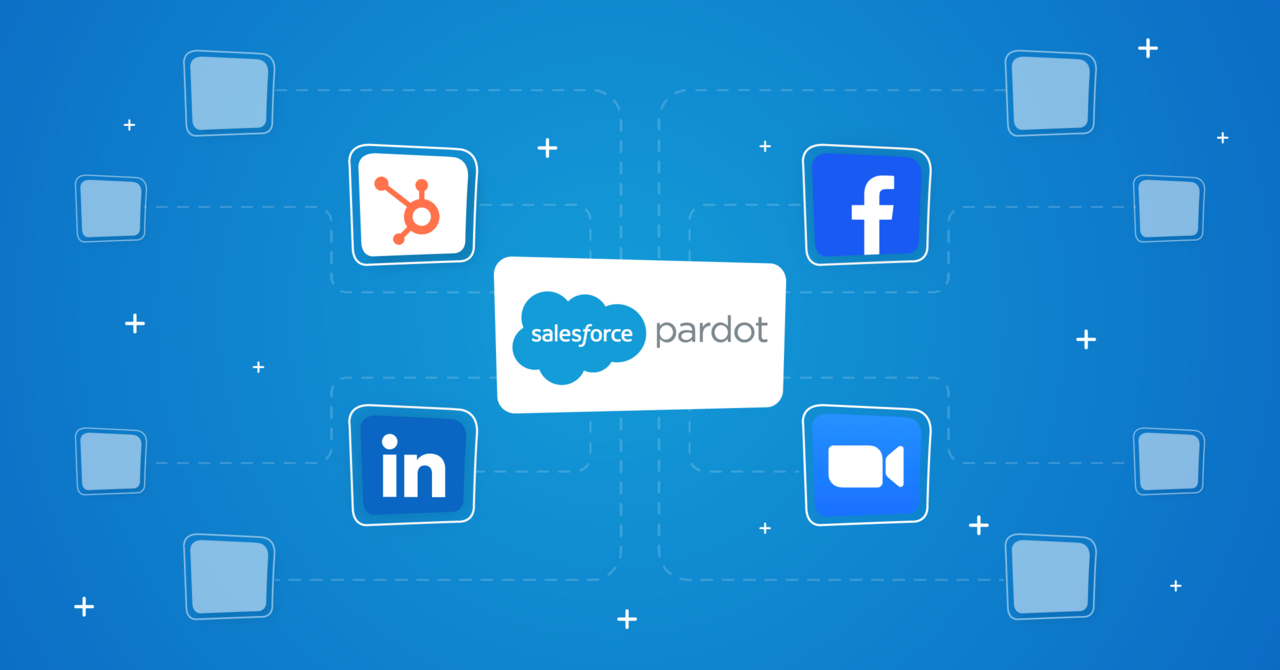 Every year, companies are striving to find new and innovative ways to lower costs and increase revenue. With the turning of the calendar, Q1 affords businesses opportunities to jumpstart the new business cycle by finding creative solutions for stale problems.
Oftentimes, this is a chance for companies to look inward to identify deficiencies and mitigate their impact through automation. One of the key automation tools all businesses use is Salesforce's Pardot. While Pardot has become as common to businesses as email, are you getting the most out of your Pardot experience?
With the help of LeadsBridge, unlock the endless opportunities via the use of Pardot integrations and streamline your business efforts for 2023.
What is Pardot?
Pardot –or Marketing Cloud Account Engagement (Salesforce rebranded and renamed Pardot in May 2022)– is a specific B2B marketing automation tool designed to better align the marketing and sales departments, increase conversion efficiency, generate more leads, and further cultivate fruitful customer relationships.
In an ever-expanding digital world, companies operating at scale have turned to Pardot since 2007 to cut back on time-consuming tasks and increase synergy across all departments. While Pardot offers value across many features (lead qualification, prospect scoring), companies are primarily using it for email marketing automation.
Pardot allows you to tailor and personalize large scale email campaigns with customer segmentation and engagement insights. These insights help you better understand your targeted audience's journey and optimize the alignment between the marketing and sales funnels. The automated email campaigns can be tracked by key metrics to ensure marketing dollars are never being wasted on underperforming campaign strategies.
The email automation feature is the engine of Pardot, but what makes it one of the most powerful business tools on the market is its ability to integrate with a number of apps to optimally streamline all of your workflows.
Pardot integrations take all of the features of Pardot and maximize their capabilities by connecting and organizing all of your customer acquisition efforts. These integrations keep advertising aligned with marketing, marketing aligned with sales, and sales aligned with every lead that enters the fold.
This is where LeadsBridge steps in.
LeadsBridge integrations with Pardot
LeadsBridge offers over 380 unique integrations to help you get the most out of Pardot. While there is not enough time to address each of them individually, let's run through a few of the most powerful and popular Pardot integrations.
Facebook Pardot integrations
Is Facebook advertising important? Well, as of October 2022, Facebook reported that 2.08 billion people can be reached through advertisements on their website. A number that grew on average last year by 15 million quarter-over-quarter. There are roughly 7.9 billion people on the planet, meaning that 26% of the world's population can be reached via Facebook ads.
So yes, Facebook advertising is imperative to any business's growth and is increasingly affordable. According to HubSpot, Facebook offers the highest potential ROI of any social media advertising campaign and with the available Pardot integrations, capitalizing on this massive B2C market is more efficient and profitable than ever before.
1. Facebook Lead Ads
Powered by LeadsBridge, you can now streamline your Facebook lead ads campaign with Pardot and simultaneously align all departments. The Facebook lead ads Pardot integration allows leads to come straight to Pardot and directly into a marketing campaign. Or if the leads fit into certain predetermined parameters, they go straight to your sales team as an MQL. These connections are processed in real-time and can greatly increase your company's speed to lead and conversion rate.
2. Facebook Custom Audiences
For the leads that are not MQL's, LeadsBridge's Custom Audience integration has you covered. With the Pardot Facebook Custom Audience integration, leads can be included in a retargeting campaign, or can be excluded at any stage of the funnel while always maintaining GDPR and TCPA compliance.
Furthermore, LeadsBridge can also help you create a lookalike audience, which allows you to target users that have similar characteristics to your existing customers and followers. This integration allows you to continuously build a target audience and identify key buyer characteristics that you may have not been privy to before.
3. Facebook Conversions API
If you desire a more advanced integration, LeadsBridge's Facebook Conversions API is one of the most advanced on the market.
The Facebook Conversions API is a Meta-approved app for API management and maintenance, that is designed to help businesses maintain data privacy, while delivering personalized advertising experiences to customers and audiences. The entire process is done without having to rely on browser-based tools like cookies.
Coupled with Pardot, this API can allow you to securely send more comprehensive consumer data to Facebook to enable the algorithm to work better, and increase the correlation between advertising and the result.
Facebook Pardot integrations allow you to capitalize on the biggest B2C market in the world, while promoting optimal synergy throughout your business. However, the B2B LinkedIn market should also be integrated with Pardot.
LinkedIn Pardot integrations
LinkedIn advertising is more expensive than Facebook, but because LinkedIn is the most trusted social media website –currently at 875 million members and counting– it must be included in your B2B marketing campaign strategies and driven through Pardot.
1. LinkedIn Lead Generation Forms
The LeadsBridge LinkedIn Lead Generation Forms integration is a tool to help marketers add a pre-filled form in their ads. These forms are populated with users' info from their LinkedIn profiles and replace the manual filling of forms with a single-click function.
LinkedIn Lead Generation Forms lower the lead's barriers to CRM entry and in a few clicks, the potential lead can be uploaded into Pardot, and in real-time, distributed to Sales as an MQL. But why stop there?
2. LinkedIn Matched Audiences
LinkedIn Matched Audiences integration allows you to build audiences, upload a list of companies or contacts you want to target or retarget, integrate contacts from a third-party system, and create lookalike audiences.
Similar to the Facebook Custom Audiences integration, Matched Audiences allows you to reach your audience with maximum efficiency by narrowing your marketing efforts on the audiences who are likely to convert.
3. LinkedIn Offline Conversions API
The LinkedIn Offline Conversions API allows advertisers to understand campaign effectiveness using offline performance data, like in-person transactions or product demos. This conversion tracking practice allows marketers to better understand their LinkedIn marketing campaign effectiveness, increase the accuracy of future campaigns, and optimize ad spend.
With Pardot, this information can be streamlined, organized, and distributed throughout your company in real-time to increase lead conversions and ensure continued lead nurturing.
While Facebook and LinkedIn are the two most popular Pardot integrations, LeadsBridge also offers beneficial integrations through HubSpot and Zoom.
HubSpot Pardot integration
The HubSpot Pardot integration only applies to big companies that want to keep two email campaigns running at the same time.
Marketing uses HubSpot for broad email campaigns, while the sales department will use Pardot for specific customers or MQL's. Integrating the two will allow your business to service both CRM's simultaneously and prevent any leads or potential customers from slipping through the cracks.
Zoom Pardot Integration
The Zoom Pardot integration is useful for webinars to keep track of who registered and attended. This information can be sent to Pardot and organized for immediate follow-ups or future campaigns.
Final thoughts
Pardot is marketing automation that better aligns the marketing and sales departments, increases conversion efficiency, generates more leads, and further cultivates customer relationships.
By pairing the benefits of Pardot with the custom LeadsBridge integrations, you can maximize your marketing reach, streamline all of your campaigns, and synergize your entire company.
Unlock all of the possible Pardot integration benefits with the help of LeadsBridge and make a splash in 2023.