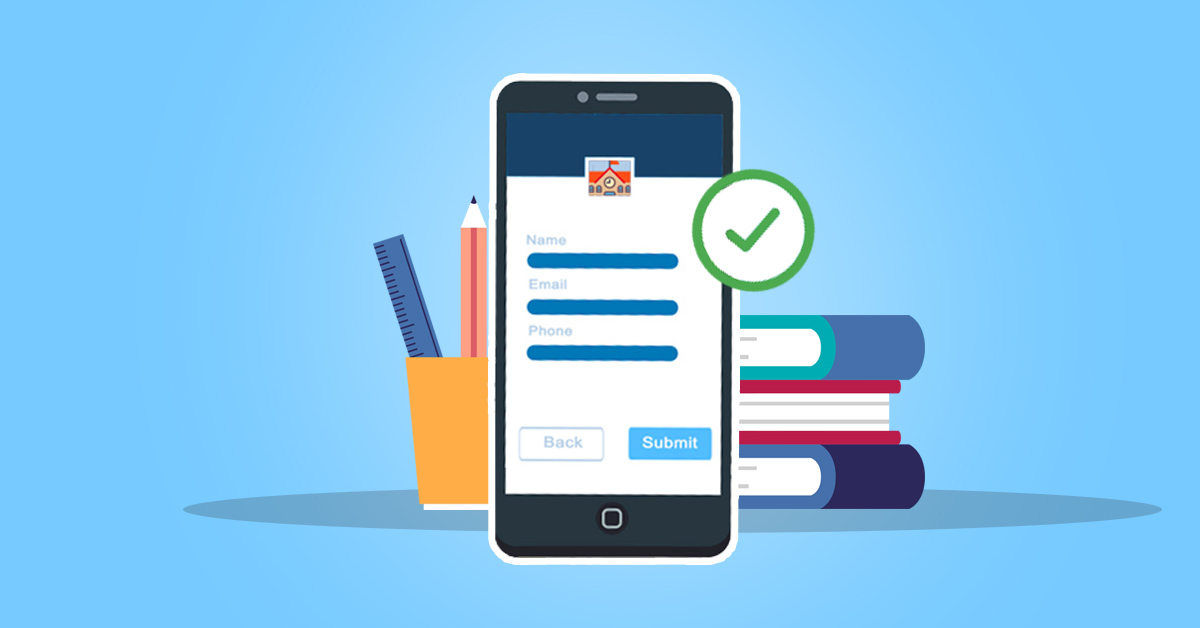 As competition in the higher education sector increases year by year, one challenge of private universities and educational institutions today is recruiting new undergraduates to join their courses.
Students today have access to a broad portfolio of options to pursue their dream education, and at the same time, they feel an increasing pressure to identify and select the right study course to have a solid competitive advantage in today's fast-changing job market.
Private education is on a race to meet those needs: a study on the state of higher education by Daniel Levy, Distinguished Professor at the State University of New York, showed that across 192 countries private colleges and universities enroll around 56.7 million students, which represents 33% of students in higher education worldwide.
In the process of forming their opinion about a specific educational institution, students nowadays increasingly consult social media, particularly to assess whether or not they would fit in the social environment of a certain college. More specifically, the 2018 report "Mythbusting enrollment marketing" showed that among the main social media platforms used, 59% of teens prefer Instagram, followed by YouTube (49%), Facebook (39%) and Snapchat (35%).
Campuses and educational institutions are aware of this shift in consumer behavior and they are spending millions of dollars on digital advertising and social media to persuade students to join their educational programs.
In order to reach prospective students and generate student leads, they are implementing marketing campaigns across several channels. According to research by the Chronicle of Higher Education, 68% of institutions are using mainly Facebook ads, banner ads (47%) and retargeting ads (46%).
Source: Mythbusting enrollment marketing
The challenge for educational institutions and private colleges is to develop the right marketing strategy with the right mix of online ads to generate a large pool of high-quality student leads. "And also create a good chance for students to involve in the learning process with an easy GPA calculator and other innovations."
In this article we examine 4 ways in which private schools and universities can collect high-quality student leads with lead generation ads.
1. Facebook and Instagram Lead Ads
It's important to highlight that mobile traffic today accounts for approximately 50% of web traffic worldwide. The study platform Studyportals has analyzed the device used to access their website over the past five years and noticed the strong growth of mobile over a laptop: on their platform Mastersportal.com and Bachelorsportal.com respectively 52% and 56% of students browsed study courses via mobile.
We also know that Facebook and Instagram are two of the preferred platforms for students to form their opinion about a college, and it is predicted that 54.2% of US social network users will be mobile-only in 2021.
That is why lead generation ads on Facebook and Instagram are very effective to generate student leads. In fact, with lead generation ads the form fields are already filled with the user personal information and they can subscribe without leaving the app.
Source: Higher Education Marketing
Facebook Lead Ads can aim at different goals and come in different formats. The CTA can encourage students to download something, subscribe to a newsletter, visit a landing page, get in touch via Messenger and so on.
If you want to learn more in detail on how to set up a Facebook Lead Ads campaign you can read our extensive step-by-step guide.
Instagram Lead Ads is also very effective to generate student leads having over a billion users of which 30% are students between 18 and 24 years old. Instagram offers the same ad formats like Facebook, such as video ads, carousel slideshows and also Instagram stories ad options, giving higher education institutions many opportunities to generate new student leads.
To learn more about how to market your study programs with Instagram Lead Ads you can read our guide here.
Source: University of Rhode Island
It's important to stress that after students click on the ads and register for a campus visit, a lead magnet download or to receive more information, the email communication on behalf of the school has to be immediate. Generally, 76% of people expect to receive a welcome email immediately after subscribing to a list, and companies that respond promptly to leads are 7 times more likely to convert those leads into sales. Students are no different.
Schools can integrate their Email software with their Facebook account through tools like Lead Ads Sync, which sync every new lead automatically and in real-time to the Email software and enable marketing and admission teams to optimize their communication with the applicants.
It's also worth mentioning that colleges can leverage lead generation strategy also on Google and YouTube, with Google Lead Form Ads and YouTube Trueview Action Forms Ads, which are also ad solutions that help generate leads from mobile navigation.
2. Retargeting
The second way to collect student leads is to run retargeting campaigns. Retargeting is known to be particularly effective since the audience exposed to the ad is already familiar with an educational institute and possibly has already interacted with it.
Colleges and private universities can target prospective students based on an interest they expressed, either by browsing the website, submitting a form or visiting a landing page. Research from 2019 by Ruffalo Noel Levitz, an organization focused on higher education
enrollment, showed that as much as 76% of students start their inquiry about a college by filling out a form on a school's website to get more information.
Source: dogswhotalk.com
This behavior can be leveraged by companies by retargeting those student leads on social media platforms once they leave the website. Data shows that behavioral ads have higher conversion rates of 6,8% compared to 2,8% of non-behavioral ads and that the audience is generally twice as likely to buy the advertised product. Although for higher education marketing the decision making process is long, retargeting ads are still effective: in research from NRCCUA and Chegg's with teens, 27% of respondents appreciated that the college was trying to reach out to them and 23% confirmed the ad encouraged them to learn more about the college.
3. Lookalike Audiences
Facebook Lookalike Audiences are a valuable Facebook's targeting options to acquire student leads with interests and demographics similar to your current students.
Each educational institution has a detailed database with their best students' profiles. By uploading a specific segment from its database of students on Facebook, the social media platform can identify the common qualities of the people in it, and deliver an ad to a similar audience.
This option is particularly efficient to reach a more qualitative audience. The smaller the audience the higher will be the similarity to your source audience of student leads. However, the bigger the audience, the greater the potential reach.
A key component of this strategy is that the source audience of students that the university pushes on Facebook to create the Lookalike Audience includes the best student leads profiles. On top of that, the source audience should be regularly and automatically updated to be relevant and effective, which is usually done throughthird-party software.
4. SMS support
Texting is maybe unexpectedly a great tool for prospecting leads, and it should be considered a fundamental part of a school's marketing strategy. According to the Ruffalo Noel Levitz 2019 report, 67% of juniors and 51% of sophomores are willing to receive general information about academic programs through SMS messages. Other market research shows that students like to subscribe to SMS text services to be notified about application deadline reminders (79%), upcoming events on campus (71%), event registration reminders (66%) and other services such as scholarships availability or college apps available.
Source: Mythbusting enrollment marketing
In this regard, universities and colleges can create specific Lead Ads campaigns with the goal to collect students' phone numbers by offering text messages about campus events, application deadlines and so on. This strategy can be combined with retargeting by showing the campaign to students who have recently visited an application page, a scholarship page or simply the campus homepage.
5. Bonus tip: Involve parents.
One key element of a successful marketing campaign to attract student leads is to include in the evaluation process the final decision maker, meaning the parents or the family member who will support financially the costs of the study program.
In fact, research shows that 6 out of 10 students confirm that their parents are involved at some level with the decision making process.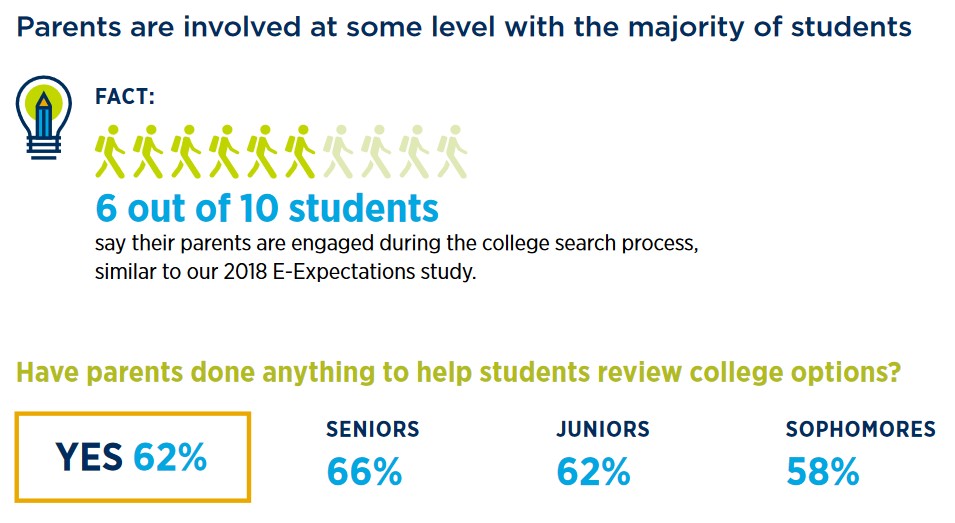 Source: 2019 E-Expectations Trend Report
Private schools should actively include in their marketing strategy an opportunity for the students' parents or financial supporters to become part of the process, either by requesting more information, visiting a landing page or by scheduling a meeting with the admission counselor.
This can be done via email marketing throughout the admission process, or it can be triggered via lead generation ads too.
Private schools that include parents in the process will help students feel safer and supported about their decision, and possibly speed up their decision-making process leading up to more of them joining the courses.
Conclusion and Main Takeaways
Private schools and universities will keep facing strong competition to attract and recruit new students every year to join their courses. However, investing in the right marketing strategy has proven to be effective in influencing the decision-making process of students and their parents.
Among the advertising options available, lead generation ads are particularly incisive. Due to their mobile-friendly format and to the popularity of the platforms, Facebook and Instagram Lead Ads are a great tool for schools to generate student leads.
Schools can also leverage lead generation ads to retarget prospective students based on an interest they expressed, or to acquire student leads who lookalike their target group.
On top of that, leveraging the fact that students appreciate texting for certain steps of the process, universities can create specific Lead Ads campaigns with the goal to collect students' phone numbers to help them remember application deadlines and campus events.
Finally, private schools should remember to also include the students parents in their marketing campaigns, as they play an important role in the final decision.