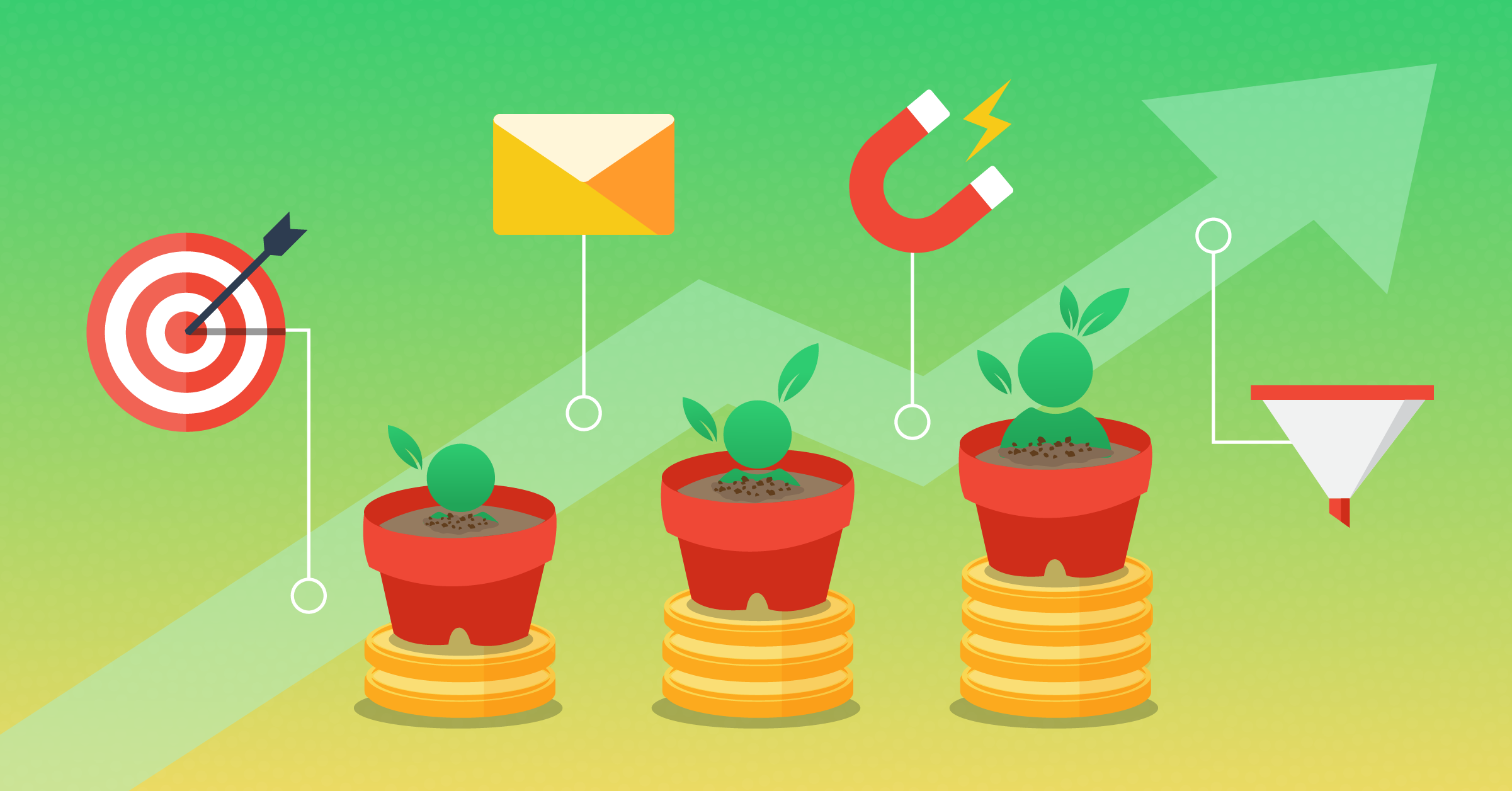 If you're a marketing professional and you're looking for a way to automatically strengthen your relationships with customers, you're in the right place. Nurturing leads through marketing automation is the most effective strategy to help you maintain and grow relationships with potential customers.
LeadsBridge integrates with a number of different lead nurturing software, such as Pipedrive, HubSpot, SendinBlue, Keap, Bitrix24, GetResponse, and much more. Take a look at our most popular marketing automation integrations.
In this article, we will go over the best paid and free lead nurturing software, how to nurture leads with these software, and some of the most effective lead nurturing examples to help you gain your audience's trust and increase sales. Let's get started!
What is lead nurturing?
As Salesforce explains, lead nurturing is "the process of developing and maintaining relationships with customers at every stage of their journey, usually through marketing and communications messaging."
The need for lead nurturing comes from the fact that not every prospect is ready to make a purchase right away. Actually, 80% of new leads never convert into sales, due to the lack of lead nurturing. Nurturing leads is especially important because it allows companies to generate 50% more sales-ready leads at a 33% lower cost. Moreover, nurtured leads tend to make 47% larger purchases than leads that aren't nurtured.
So, once prospects are in the funnel, nurturing them with helpful, relevant content helps move them along the funnel naturally, until they're ready to make a purchase and become customers. Nurturing leads at every stage of the buying cycle helps ensure that no revenue opportunity is missed.
What is lead nurturing software?
Lead nurturing software are tools that help you monitor, manage, and nurture relationships with leads, ensuring they don't get lost on their way to the bottom of the funnel. Lead nurturing software let you easily build and automate lead nurturing workflows and strategies.
Marketing and sales teams use lead nurturing software to:
Distribute relevant content to engage leads.
Create email drip campaigns tailored to each phase of the buyer journey.
Improve customer experience by adjusting the content based on the characteristics and preferences of the leads.
Assign a value to the leads based on how ready they are to make a purchase, which allows teams to prioritize their efforts.
Segment the leads and organize them in groups based on their traits or behavior to deliver the appropriate content at the right time.
What's the difference between lead generation and lead nurturing?
We can consider lead generation and lead nurturing as two integral parts of the overall sales activity, where one comes before the other.
Lead generation comes first and it's the process of generating excitement around specific products and services in order to bring new potential customers into the sales pipeline.
Then comes lead nurturing, which is the process of interacting with leads by sharing relevant content with the purpose of understanding what they are looking for, to ultimately increase the likelihood of them turning into customers.
How to nurture leads for higher conversion
Nurturing leads can be done in many ways. Here is a list of the most popular and most effective ones.
Send personalized emails
The fastest and safest way to reach out to leads is still through their inbox. However, simply sending emails is not enough. To be effective, emails need to be personalized. Research shows that something as simple as addressing the recipient by their name can increase open rates and CTR up to 35%.
Moreover, 10% of recipients are annoyed by too little or no personalization, and when an email isn't personalized, 52% of customers say they'll go elsewhere.
There are many ways to personalize emails. When a visitor completes an action – like filling out a form, downloading a piece of content, clicking on a link, visiting certain pages on your website, or demonstrating a high level of engagement – you can send specific triggered emails, according to the kind of action taken.
By personalizing emails triggered by user behavior, you can deliver timely, relevant messages to improve customer experience and engagement.
Build targeted content
When it comes to lead nurturing, there is no such thing as "one size fits all". The whole point of nurturing leads is to serve them relevant, targeted content, to help them with their specific needs.
Start by understanding the profile of the buyer from your ideal customer. Then, create an assortment of targeted content specifically drafted to nurture each of your personas based on their traits, interests, goals, objectives, and marketing triggers.
The aim of this content is to help prospects progress through the buyer's journey by addressing common questions and concerns. You can use a mix of social media, blog posts, whitepapers, ebooks, interactive simulators, or calculators, to nurture your prospects into customers.
Score leads
Not all leads are the same. Some are more ready to buy than others. For this reason, scoring leads by ranking them on a numerical rating scale is vital to provide the sales team with better-qualified leads that they can prioritize to maximize productivity.
Get in touch with leads in a timely manner
When nurturing leads, time is gold. The optimal response time for following up on a lead is very short, five minutes or less. Research shows that you are 100 times more likely to connect with a prospect when you reach out within five minutes compared to an hour. Furthermore, you are 21 times more likely to convert a lead into an opportunity when responding in five minutes or less as opposed to an hour.
In this regard, LeadsBridge can help you. Thanks to our automated integrations, you can send the leads gathered from your advertising platforms straight to your lead nurturing software automatically and in real time, and start working on your newly acquired prospects right away.
Take a look at some of our most popular integrations for marketing automation and lead nurturing.
Lead nurturing email examples
The whole point of a lead nurturing campaign is to engage, inspire, and convert. Here are a few lead nurturing examples, divided by industry, that will help you engage and inspire your prospects through email, until they're ready to convert.
Ecommerce: Framebridge
Nurturing leads with relevant content that they'll find useful is key to getting them to make a purchase. Framebridge does something that works like a charm: education. By sharing a guide and teaching the reader a helpful skill, they are providing additional value to their products.
Also, note the use of a single clear Call To Action: "Educate Me." According to WordStream, using just one CTA in an email increases clicks by 371% and sales by 1,617%.
Travel: jetBlue
Not only is this email exceptionally funny and full of great puns, but it also shows JetBlue's commitment to engaging and building a relationship with their customers. The copy is particularly well written: referencing the world of dating and relationships is the perfect wink to the reader, who feels involved and can do nothing but appreciate the wittiness of the messaging.
Food & Beverage: Thrive Market
According to the Picture Superiority Effect, when someone reads something, they'll remember only 10% of that content three days later. However, when the content is paired with a relevant image, they will remember 65% of that three days later.
Thrive Market puts this theory to the test by showcasing their products in a very attractive way. Large, vivid, colorful, vibrant images of healthy and organic food that isn't just food, but reflects an entire lifestyle. They also offer a promo code and encourage the reader to start shopping.
Product Marketing: Sprout Social
Sprout Social leverages their new feature to reach out to their leads and convince them to become customers. They educate the audience about this new feature, let them know that their trial is expiring, and provide helpful resources that will help them make an informed decision.
By giving your readers a glimpse of your new products and services, they will get a sense of everything they're missing out on and be inspired to learn more. So, make sure to include relevant links and information to help them continue their research.
Services: Handy
The combination of simple copy, clear buttons, information that focuses on the benefits of their service, and a nice photo make this email from Handy feel uncluttered and very effective. The photo of smiling customers is an especially smart choice, for two reasons:
It portrays the effects their product has on those who buy it: relaxation, happiness, and lightheartedness.
Research shows that human photos generate 95% higher conversion compared to object photos.
Best paid & free lead nurturing software
Now, let's go over the top lead nurturing software – both paid and free – to try in 2023.
HubSpot
HubSpot Marketing and Sales Hub is the perfect marketing software combo for lead nurturing campaigns. With marketing automation, you can create targeted content and personalized emails based on the behavior of your leads. With sales automation, your Sales team can schedule customized emails to reach the right prospects at the right time. This is a great all-in-one solution with robust features that also integrates with HubSpot CRM.
Here are our most popular integrations for HubSpot:
Explore all available integrations for HubSpot.
Keap
Keap is a great lead nurturing solution that helps you group leads as soon as they fill out a form and send them perfectly-timed messages based on their actions. It offers lead capturing, nurturing, pipeline management, invoicing, and payment processes in one platform, plus highly-rated customer service.
Here are our top integrations with Keap:
See all available integrations for Keap.
Pipedrive
Pipedrive is a smart lead management and CRM platform that helps small businesses worldwide grow their revenue and scale their business. It offers a variety of sales features, powerful automations, and over 300 integrations, with no coding required.
Here are our most popular integrations with Pipedrive:
Take a look at all available integrations for Pipedrive.
Sendinblue
Sendinblue empowers businesses to build and grow relationships with their leads and customers through marketing automation, email campaigns, transactional emails, SMS messages, chat, CRM, Facebook ads and retargeting ads. It combines a robust suite of services within a single, user-friendly solution.
Here are our top integrations for Sendinblue:
Discover all available integrations for Sendinblue.
Bitrix24
Bitrix24 is a highly secure, complete intranet solution for small and medium-sized businesses created for efficient teamworking, social networking, and knowledge management. It supports multichannel customer service via email, telephone, website live chat, Facebook, Instagram, Viber, WhatsApp, Skype, Slack and other mobile messengers.
Here are our most popular integrations for Bitrix24:
Explore all available Bitrix24 integrations by LeadsBridge.
GetResponse
GetResponse is a great lead nurturing software that provides a complete suite of simple yet powerful solutions, scaled and customized for small and large companies. It allows you to create emails and landing pages with predesigned templates, and optimize your campaigns with a multitude of built-in integrations.
Here are our top integrations for GetResponse:
Take a look at all available integrations for GetResponse.
Final thoughts
Nurturing leads is crucial to driving conversions and sales. Therefore, having a powerful lead nurturing software in place and an effective lead nurturing strategy to rely on is essential in order to grow your business. The lead nurturing software listed above can certainly help you get started.
Moreover, LeadsBridge allows you to optimize your nurturing campaigns even further, thanks to real-time, automated integrations. With LeadsBridge, you can start nurturing your prospects as soon as they enter the funnel, getting a huge headstart over the competition.