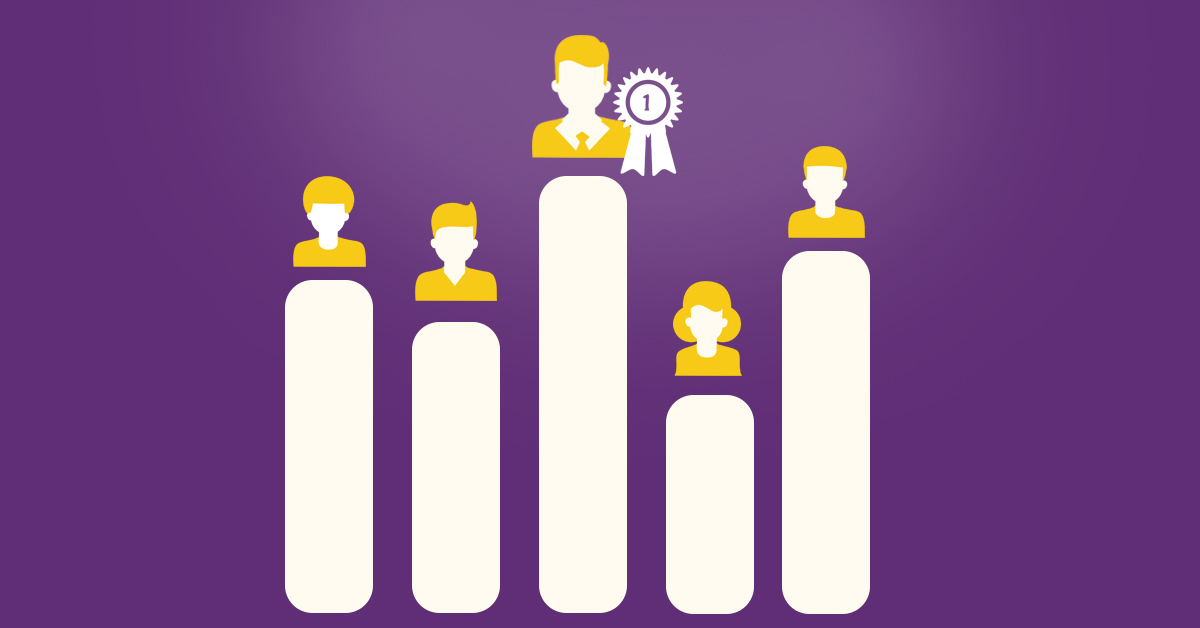 A large number of businesses have a tendency to make a single crucial mistake over and over again: They focus all their efforts on generating leads and sometimes drop the ball when it comes to lead nurturing.
This may happen for a number of different reasons. They might just be forgetting to follow up. It's possible that they're choosing to pursue the wrong leads, or even that they're focusing on pursuing potential leads that turn out to not be in their target audience.
Lead scoring can help with all of this, allowing you to better focus your resources on leads that are most likely to convert.
In this post, we're going to discuss how to create an effective strategy with lead scoring best practices so you can generate not only more leads, but more conversions, too.
What Is Lead Scoring?
Lead scoring is the process of assigning numeric values to different traits that your customers have, using a points-based system to assess the potential value of a lead. Leads can gain or lose points based on different traits.
We all know that some types of customers are more high value than others, and that some are also more likely to convert than others. This allows your sales team to focus their resources in the right place, as they're able to better identify hot or high-value leads.
How This Works
Say you have a graphic design agency. You know that referral leads that come from other clients are most likely to convert, so each lead that comes from a referral gets five points. Customers who find you through an organic Twitter link, however, are actually less likely to hire you; they lose two points off their overall score.
You could start to add up the points like this:
5 points for referral traffic
5 points for being a business with 300k+ in annual revenue
3 points for not having their own in-house designer
-2 for inquiring about occasional projects instead of retainer work in initial email
10 points for working in a B2B industry, which is a prime niche for your agency
Why Is Lead Scoring Important?
When you have a CRM brimming with leads, it's easy to feel full of hope and potential. In the majority of cases, however, many leads that come in won't convert.
Many members of your sales team likely have gotten pretty good at spotting who will be most likely to convert and who won't. There are certain traits that just make leads dream clients or almost completely incompatible with your brand, products, or services.
Since all businesses that are actively marketing will eventually receive plenty of leads, especially with PPC campaigns, it's crucial for your sales team to have a reliable and standardized approach to assess which leads should get more of your attention and even what offers to present them. This can help you convert high-quality leads faster, increasing profitability. It's a crucial part of conversion funnel optimization.
Lead scoring also has a few peripheral benefits worth mentioning, too. While creating your scoring system, you may realize that some of your marketing campaigns are targeting the wrong audience segments, almost setting yourself up for failure. You may have also given your sales team misguided advice on which leads to pursue. This can help you focus across multiple departments, boosting your odds of gaining more quality leads faster.
How to Create a Lead Scoring Strategy
Creating a lead scoring strategy is a research-intensive process, but it's well-worth it. Let's take a look at the lead scoring best practices that will help you create an effective strategy.
1. Assess Your Existing Customers
The first step of creating a lead scoring model is to closely examine the customers that you already have.
First, we recommend segmenting your audiences. That graphic design agency company might have the following segments:
High-value retainer clients who spend 3k+ per month and retain several years on average
High-value, high-profile clients who spend 15k once but grant significant exposure
Mid-value retainer clients who spend 1k per month for one year on average
Low-value clients who want to work on an assignment-only basis; can be more difficult to work with
Each of these audiences will likely have some consistent qualities. The top value retainer clients, for example, will likely have a tendency to be larger-sized companies with big budgets and consistent needs. The high profile clients will have big brand name recognition.
Examples of different traits that you may look at when creating a lead scoring model (which includes traits for B2B and B2C brands) include:
Brand name recognition
Company size
Company revenue
Monthly ad spend revenue
Annual household income
Geography
Industry
Personal credit score
How they found you
Expected budget
Desired features
You can actually create lead forms on Facebook Lead Ads that helps you get some of this qualifying information upfront; you just need to know what information you're looking for first.
2. Choose a Lead Scoring Model
Lead scoring models will help you assign point values based on different user traits. Each individual model you create can help support a particular attribute of your target audience.
Different lead scoring models include:
Demographics. Think about groups like parents, people who hold professional jobs, remote workers. You can also factor in age, household income, gender, and location, but keep in mind that many users won't be willing to offer personal information about income or even age on a landing page.
Online behaviour. How did these users find you? Which offers did they download, and which landing pages or lead magnets did they convert on? This can tell you a great deal about them, especially if you're writing niche, targeted offers and landing pages. And if they contacted you directly after viewing a pricing page, that may earn them extra points.
Company information. Company size, industry, and even traits like whether they're eco-friendly or big into "modern" company cultures can help you find your target audience.
Email engagement. Email lead scoring is often overlooked but can be an exceptionally valuable tool. How engaged are people? How quickly do they respond to follow-ups, and what questions are they asking?
Social engagement. How closely does a lead follow you on social media? How many accounts do they follow, if any, and how often do they interact? These can be vital clues.
3. Consider Using a Lead Scoring Tool
You can conduct lead scoring manually, but we do want to acknowledge that this can take a significant chunk of time as you need to assess each lead individually.
Lead scoring tools can be a lifesaver for this reason. They can automate the process of lead scoring, giving you accurate and actionable data.
Breadcrumbs.io is an excellent example of a lead scoring tool that's small-business-friendly while still having the capabilities to help enterprise-grade clients, too. They'll help you find a lead scoring model with a quick set up process and detailed analytics so you can continually improve your lead nurturing and lead scoring efforts.
4. Train Your Sales Team How to Use This
This last step is simple: Once your lead scoring system is set up, teach your sales team how to use it.
Remind them while they should never automatically count anyone out or be dismissive, this is a valuable tool that can help them identify which leads they can pursue more intently.
Teach them how to use the system to gauge for easier-to-convert or higher-value leads, including by using lead scoring across multiple different platforms. Now, as soon as a fresh batch of leads shows up after a promotion or through a PPC lead sync data drop, they'll be ready to respond appropriately.
Final Thoughts: Lead Scoring Best Practices & Tips
With a strong and thorough lead scoring system in place, you can identify quality leads faster so your sales team can convert them faster, too.
In order to get the most out of lead scoring, we recommend taking note of the following best practices:
Have all new lead information go straight to your sales team. This is easy with email lead scoring, but make sure that you're using tools to sync up lead generation on platforms like Facebook, too.
Ask for qualifying information on lead forms. Even social platforms allow you to create lead generation forms that ask custom questions; take advantage of that, because having the right information from the get-go can make a huge difference.
Adapt your lead scoring strategies as your business evolves. Over time, changes in the market, consumer behaviour, and your own products or services may mean that your target audience segments change. Adapt your models accordingly.
You want to have all your potential leads sent straight to your sales team ASAP. See how to do this with LeadsBridge's automatic sync for Facebook Ads.