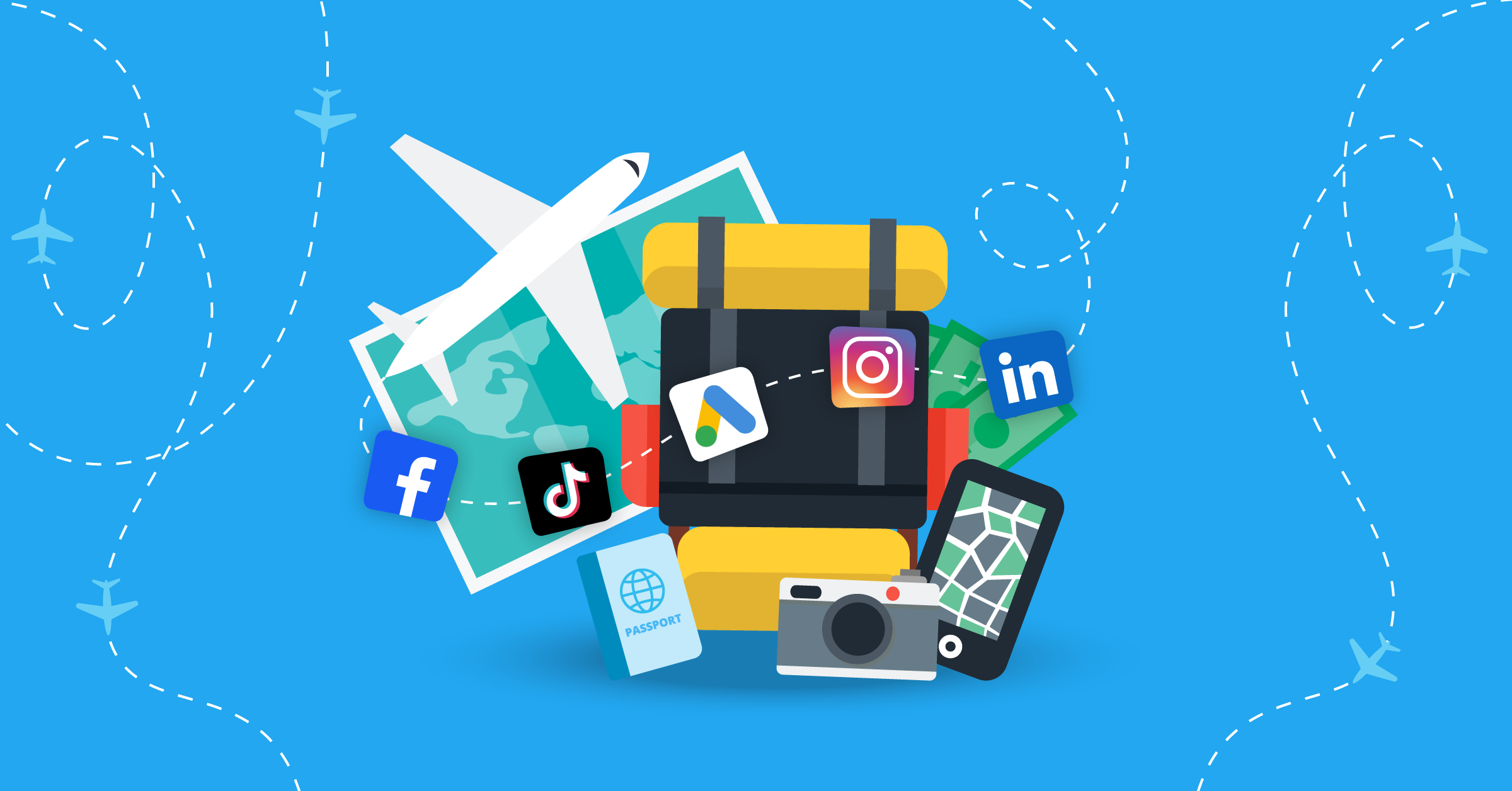 The travel industry was one of the worst affected during the pandemic. In fact, international tourist numbers were down 67% in July to September 2021 compared to 2019 figures. As the world opens up again, travel brands are tasked with reconnecting with travelers and rebuilding trust in an authentic way that aligns with their changing wants and needs.
In this article, we'll discuss travel marketing along with result driving tips to strategize, achieve maximum exposure, and increase your revenue. Additionally, this article introduces tools for automating your travel business through all stages of lead acquisition, retargeting, and tracking, such as:
What is travel marketing?
The term travel marketing (or tourism marketing) is used to describe the marketing strategies used by brands in the travel industry, including hotels, resorts, destinations, and travel agencies. It's essentially the act of running campaigns on a variety of different platforms to attract potential travelers and turn them into paying visitors or guests.
The entire approach to travel industry marketing strategies has changed over the past two years. Since travel restrictions and health and safety concerns limited how much people could travel, brands are finding that traveler priorities have changed, and they are therefore having to switch up the strategies they use.
6 powerful marketing tips for travel agents in 2022
These travel industry marketing strategies tap into changing consumer needs, allowing brands to ramp up their travel lead generation efforts now that travel is very much on the cards again. Here's how to generate leads for your travel business.
1. Meet travelers where they're hanging out
During the pandemic, people used platforms like TikTok and Instagram as an escape from the monotony of endless lockdowns. Travel videos and visuals became very popular, with TikTok surpassing two billion downloads in April 2020–just after the pandemic began.
Despite the number of downloads, it's still a relatively new addition to the social media marketing scene. There's still room for travel brands to get in there early and gain a competitive edge while using it to capture potential leads on a platform they're using on a daily basis. LeadsBridge's TikTok lead generation integrations make it easy to find and convert leads, while the upcoming custom audiences feature means you can hyper-focus ads to the right people.
TikTok Lead Generation integration with Google Sheets
TikTok Lead Generation integration with Salesforce®
TikTok Lead Generation integration with Email Notification
Additionally, you can join our waiting list to be the first to hear about our new features for TikTok Custom Audiences.
Trip Hacks DC has more than 11,000 followers on TikTok, thanks to its engaging tourism marketing videos about Washington DC.
2. Personalized customer experiences via SMS
34% of people read their text messages within five minutes of receipt and SMS generates a 45% response rate. This is a powerful way to connect with consumers without having to compete for attention in their email inboxes or busy social feeds–and consumers welcome it too. 91% of people say they would opt-in to receive SMS messages from their favorite brands.
One of the best marketing tips for travel agents is to send proactive messages based on a customer's position in the sales cycle, their travel interests, their current or past bookings, and their behavior on your site or app. For example, if someone has a booking at your hotel in Las Vegas, send them personalized discounts for activities in Vegas or a guide to eating in the city to keep them engaged and ensure your brand stays front of mind.
LeadsBridge has a range of powerful SMS integrations that make it easy to connect and sync your leads with your chosen SMS marketing platform.
Facebook Lead Ads integration with ClickSend SMS
Facebook Lead Ads integration with SMS Notification
Facebook Lead Ads integration with SendPulse SMS
Facebook Lead Ads integration with BulkSMS
Rhodes Rides sends personalized text messages to its contacts to help them book relevant trips and speed up the sales process.
3. Virtual reality experiences
Virtual travel experiences boomed during the pandemic and became one of the most prominent travel industry marketing strategies. While people were stuck at home, they soothed their itchy feet by taking virtual tours of far-flung museums and taking digital "walks" through tropical jungles. This is a great way to introduce potential travelers to your brand and provide engaging experiences online that build trust and community. On top of this, you're nurturing travelers who aren't yet ready to book a flight or travel.
Hotels and resorts can take this one step further and provide 360-degree tours of their locations, rooms, and amenities. With travelers far more apprehensive now than they were pre-pandemic, it's important to give them peace of mind before they travel, and giving them an almost real-life look into what to expect can ease potential worries.
The NH Hotel Group publishes detailed 360-degree videos of its hotels for travelers to check out before they book.
4. Retarget people who have shown interest
Travel is a big purchase, and people are unlikely to make a decision the first time they land on your site. Use Facebook remarketing to target consumers who have visited specific pages on your site or who have shown an interest in a specific hotel room, date, or activity.
LeadsBridge has a number of integrations for retargeting on Facebook, including the powerful Facebook Custom Audiences feature that lets you create groups of people to target on Facebook based on their defined interests or past browsing behavior.
For automating your workflow, check out these Facebook Custom Audiences integrations through LeadsBridge:
Act-on integration with Facebook Custom Audiences
ActiveCampaign integration with Facebook Custom Audiences
Adobe Campaign integration with Facebook Custom Audiences
And here are some of our popular integrations for Facebook Conversions API you can use to run winning Facebook campaigns:
Mailchimp integration with Facebook Conversions API
Zoho CRM integration with Facebook Conversions API
HubSpot integration with Facebook Conversions API
Levon Travel Bureau targets people who have already shown an interest in traveling to Armenia.
5. Implement Facebook Messenger bots
Travelers who are actively in buy mode want in-the-moment support and as little friction as possible. If they come across an issue they can't get answered straight away, there's a good chance they'll go elsewhere. This is where Facebook Messenger bots come into play. They essentially act as an automated sales associate who can answer queries, suggest relevant products, and tackle objections.
Using an AI chatbot in this way encourages travelers to take action via clicks through a self-service feature that lets customers get solutions to their problems exactly when they need them.
Expedia's Facebook Messenger bot helps travelers find the perfect trip for them through an automated Q&A.
6. Partner with micro-influencers
According to research, 49% of consumers rely on influencer recommendations to make purchasing decisions and influencer marketing campaigns generate on average $5.78 for every dollar spent. But influencer marketing often refers to partnering with social media accounts that have a huge following. However, as travelers now crave more authentic experiences, it's worth joining forces with smaller, more niche accounts.
Micro-influencers make up a large chunk of the influencer community at 47.3%, and 77% of marketers say that this type of influencer tops their list of ideal partners. Cherry-pick smaller influencer accounts (between 5,000-20,000 followers) with an engaged following, like the Malliouhana hotel did here when it partnered with Passport to Friday:
How marketing automation can implement the best travel marketing strategies
Powerful tools and advanced marketing software make it easier than ever to capture customer data and use it to serve personalized experiences.
LeadsBridge integrations such as Facebook Custom Audiences, LinkedIn Matched Audiences, and Google Customer Match help travel brands laser-focus their efforts and reach people based on their unique interests and browsing behavior, while CRM integrations with platforms like Zoho CRM, Sugar CRM, and Freshsales help sync up data to use across advertising campaigns.
Use these integrations for Free to add automation to your Facebook Lead Ads:
Facebook Lead Ads integrations with Zoho CRM
Facebook Lead Ads integration with SugarCRM
Facebook Lead Ads integration with FreshSales
We recommend you to try these popular integrations with Facebook Custom Audiences for creating automated campaigns. While not included in our freemium plan, these integrations allow to grow faster and improve your overall Facebook advertising performance:
Mailchimp integration with Facebook Custom Audiences
HubSpot integration with LinkedIn Matched Audiences
Google Sheets integration with Google Custom Match
Following these marketing tips for travel agents and implementing strategies will help travel brands grow their following, build trust, and drive sales. Automating your marketing efforts with LeadsBridge's integrations will help small businesses save time while still reaching their marketing goals. Our new freemium plan (free forever!) lets you move contacts across platforms to create slick marketing campaigns on multiple different channels.
Get started with LeadsBridge for free today to integrate your travel tools and automate your lead generation.