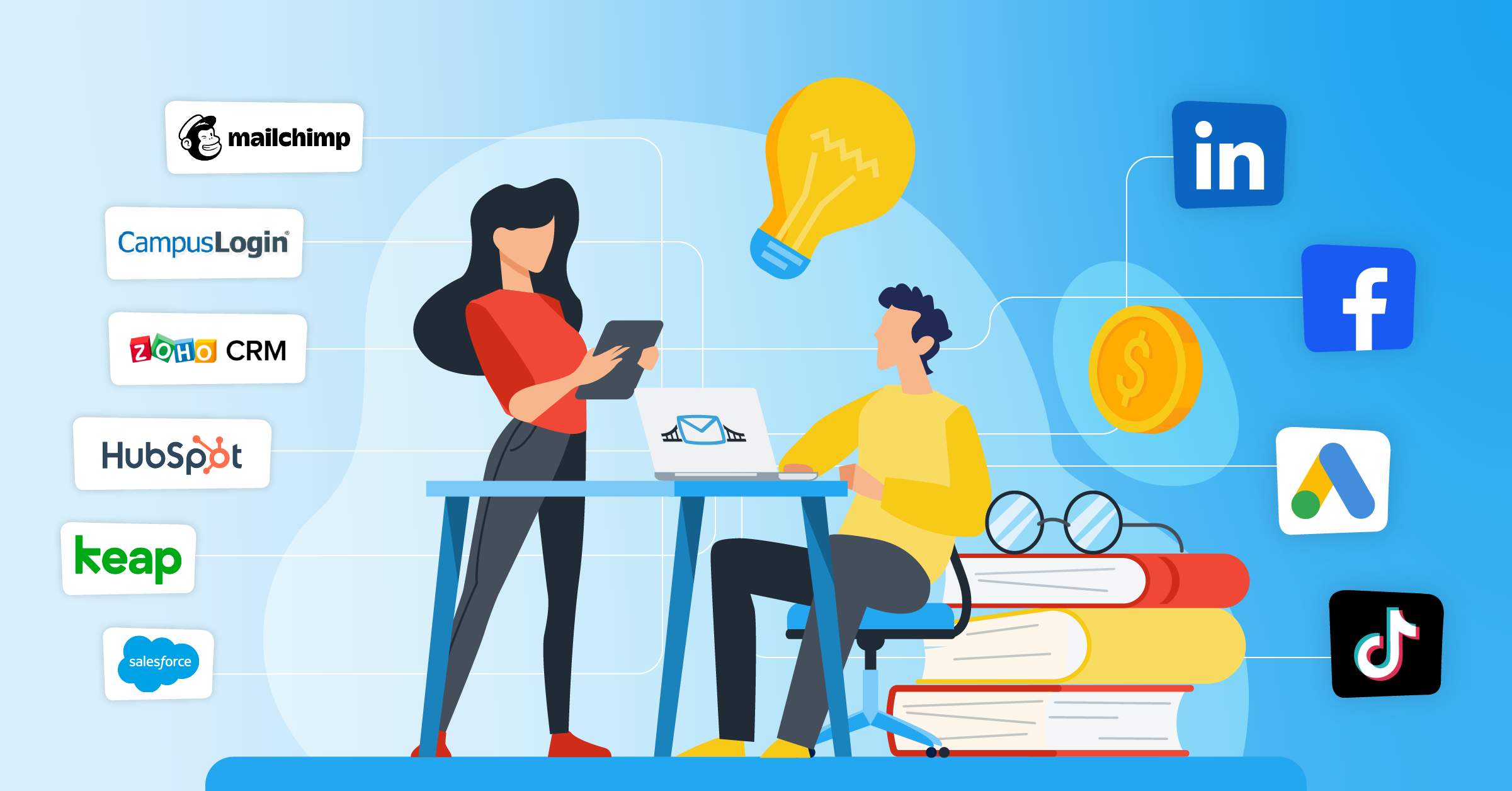 Higher education institutions have traditionally relied on the power of reputation, which can be a mistake in the long run–especially since digital marketing and social media play such a huge role in student decisions today. In fact, 83% of students rely on social channels when choosing their college.
Creating strategies to be visible on different channels is a must-do for colleges and universities, but how do you know where to start?
Here are some key marketing activities you can do to attract and retain the right students, along with automation integrations that let you streamline your higher education marketing.
Why you need a marketing strategy for higher education
It's important for any business to have a marketing strategy today. If you're not making an effort to show up on at least a handful of channels, there's a good chance your institution will get overlooked in favor of one that is putting itself out there.
If you need more convincing, here's why a marketing strategy is a must-have in the higher education industry:
Attract the right kind of students: Reach and engage the kind of students who will thrive at your institution by connecting with them on their favorite platforms
Increase awareness of your institution: Get your institution's name out there by showing up regularly in front of the right people
Build credibility and trust: Consistency leads to credibility, and creating informative content that entertains and educates will help you generate trust around your brand
Gain a competitive edge: It's cutthroat out there in the higher education world. Stand out from your competitors by strategically promoting your unique selling points and connecting with potential students
Understand what your students need: The more you put yourself out there, the more data you'll have about what kind of content students and potential students want to see from you
5 College marketing strategies to implement today
Customer Relationship Management tools (CRM tools) offer an easy way to collect student information, store student journeys, and generate data that can be used to communicate with both new and existing students.
As well as organizing and managing contact information, CRM tools can provide easy segmentation and automation so you can stay connected and deliver a personalized marketing strategy to attract students.
CRM tools to get started:
Zoho CRM for Education: Zoho is a customizable CRM that can be adjusted to suit the needs of a higher education institution. Integrate it with LeadsBridge to sync spreadsheets, share email leads, and create tags you can later use to target Facebook Ads.
Salesforce® Education CRM: As well as collecting and organizing student details, Salesforce's CRM can automate student support and offer real-time engagement through triggered emails. The LeadsBridge integration can connect your CRM with Google Sheets, Gmail, Facebook, and more.
CampusLogin: A specialist school login system that provides detailed student analytics and helps you manage leads. Integrate it with LeadsBridge to sync up contacts from Facebook, Gmail, and other sources.
HubSpot for Educators: An all-in-one solution that helps you target students throughout the admissions process. The LeadsBridge integration pairs with over 380 other tools so you can make the most of the data you have.
2. Build a social media directory
Social media is a great place to find and connect with potential students. Choose which platforms you want to focus on (will it be Facebook, Instagram, LinkedIn, Twitter, TikTok, or YouTube?) and map out the kind of content you want to share on each platform.
As you build out your social strategy, you can start to build a directory of potential students at the same time. This will give you a relevant list of warm leads who have engaged with your content in some way.
How to use social media as a marketing strategy
Leverage the information you collect from your CRM and website analytics and use it to target potential students on social media. Use LeadsBridge integrations like Facebook Lead Ads and LinkedIn Matched Audience to create hyper-targeted audience segments and lookalike audiences you can serve ads to.
3. Communicate with email marketing
Email marketing gives you direct access to potential students via their inboxes. There, you can nurture them, provide relevant information, and offer incentives to raise awareness of your institution.
How to use email marketing
Create email campaigns and sequences that answer student pain points, tackle questions and hesitations they might have, and reassure them that your institution is the best choice for them.
Use the powerful segmentation capabilities in most email marketing providers to group together like-minded students and share highly-relevant deals and content.
Wisconsin's alumni newsletter is dubbed The Flamingle and answers common student questions about the institution's courses and campus.
Email marketing tools to get you started
Keap: Collect leads with branded pop-ups, create segmented sequences, and automate your email marketing campaigns. LeadsBridge's integration with Keap makes it easy to connect your email marketing efforts to other lead generation sources.
GetResponse: Create landing pages and collect email subscribers who you can then nurture with automated email sequences and campaigns. The LeadsBridge integration syncs up contacts from your CRM to deliver ads on other social media platforms.
4. Incorporate short-form videos
The rise of short video formats like TikTok and Instagram Reels proves that people today prefer short, snappy videos. 61% of Gen Z use TikTok on a monthly basis, making it one of the best platforms for gaining visibility among a younger audience.
How to incorporate short-form video
Create educational and entertaining videos that highlight the USPs of your higher education institution. You can showcase campus tours, offer study tips, and share relatable content to increase engagement and increase awareness of your college.
Then, turn viewers into leads with the LeadsBridge TikTok integration. LeadsBridge automatically connects your CRM platform with the TikTok Lead Generation feature so you can seamlessly track and nurture leads.
Baylor University posts short snippets of videos from around campus, as well as fun student facts on its popular TikTok account.
5. Increase brand awareness with advertising
Sometimes you have to pay to play. Get in front of potential students on Google and social media by creating paid campaigns that target people who have already visited your site. Alternatively, you can create custom audiences to reach people who match the profiles of your existing students.
How to use advertising
Create ads for people who are at different stages of the decision-making process. Think about the information they might need and integrate your ad campaigns with your CRM to ensure you're reaching the right people.
4 Key higher education marketing trends for 2023
Personalize the experience: Use data from your CRM to serve relevant ads, emails, and content to the right people at the right time.
Provide flexible learning options: Give students the chance to learn in their preferred way and make sure you highlight this benefit in your marketing efforts.
Diversity, equity, and inclusion: These are important topics for future students and they'll want to know what you are doing to address these areas.
Student stories: Let your current students (a.k.a. your best marketers) do the talking.
How to automate your marketing strategy with LeadsBridge
Online marketing in higher education can be time-consuming. Instead of trying to do it all manually (which, let's face it, is incredibly tedious), you can connect up your marketing platforms for seamless data sharing.
Use LeadsBridge to integrate your favorite tools and streamline every part of your marketing strategy, from collecting and storing student information, sending emails, and segmenting your target audience, to running ads and generating fresh leads.
Effective marketing strategies for higher education with robust integrations
The rise of social media and engaging advertising strategies has made it easier than ever to do successful marketing for higher education, but it can be time-consuming and costly to manually create campaigns on each platform.
Plan your marketing strategy using these tips and streamline the entire process with LeadsBridge's extensive selection of powerful higher education integrations.