Studies show that 54% of customers find personalized ads to be more engaging and that ads tailored to a client's needs can increase ROI up to 8 times and lift sales of at least 10%. That is the power of an effective target audience.
In this article, you will learn about different target audience examples and the best platform and tools to use in targeting them.
What is a target audience?
A target audience is a defined group of potential customers for your products and services. You can define your target audience through behavioral and demographic features, age, gender, income, education, or location. The target audience can also be a large market or a niche market. The target audiences defer from one business to another.
Target audience examples
 There are many target audience examples such as cold audiences, warm audiences, and customers. Here you will learn how to group them into the right audience structure on Facebook, Instagram, and LinkedIn.
1.  Cold audiences
Cold audiences are people who have never heard of your business. They are people who are searching for information on Google. They have the problems your product or service can solve, but they knew nothing about your business. Reaching out to this group of people helps you to build a lasting business relationship with them that can convert to sales in the future.  The most effective way to reach cold audiences is through advertisements on either Facebook or Google. They are two of the best customer acquisition channels most businesses use.
Objectives of targeting cold audiences are:
Build brand awareness

Build a fruitful business relationship that can turn them into leads and customers

Monitor their actions on your website to learn more about them
How to target cold audiences
Targeting cold audiences is not an easy task because they hardly know your business. An effective way to target cold audiences is by building a relationship with them before you ask them to carry out any action. To target cold audiences, it is important you use the right platform. Here, you can use Facebook ads or Google ads.
Facebook Ads
Facebook provides the best tools for targeting cold, warm, or hot audiences. Here, you can use the Lookalike Audiences to target a cold audience.
Facebook Lookalike Audience is a feature on Facebook that makes it easy for you to target cold audiences who have similar characteristics to your leads and customers. This helps you to reach people with similar interests and demographics to your ideal customers, thus making it easy for you to get more clients.
Facebook Lookalike Audience works by uploading the source audience (i.e. customers' list, website visitors, or Facebook page fans, etc.) unto Facebook. Then the Facebook ads manager gives you the option to create Lookalike Audiences from the source audience uploaded. When you click on "create a lookalike audience" tab, Facebook helps you to find a similar audience with the same demographics and interests as the source audience.
Facebook Lookalike Audience helps you to:
a.         Enhance the results of your campaigns because your ads are seen by the audience who have similar characteristics with your existing audience.
b.         Control the percentage of the affinity of your audience. You may choose how similar your new audience will be to the original audience.
c.         Know the ads with the best affinity options, helping you to track user reactions.
d.         Optimize return on investment.
Below is an example of a Leadsbridge Facebook ad targeting cold audiences.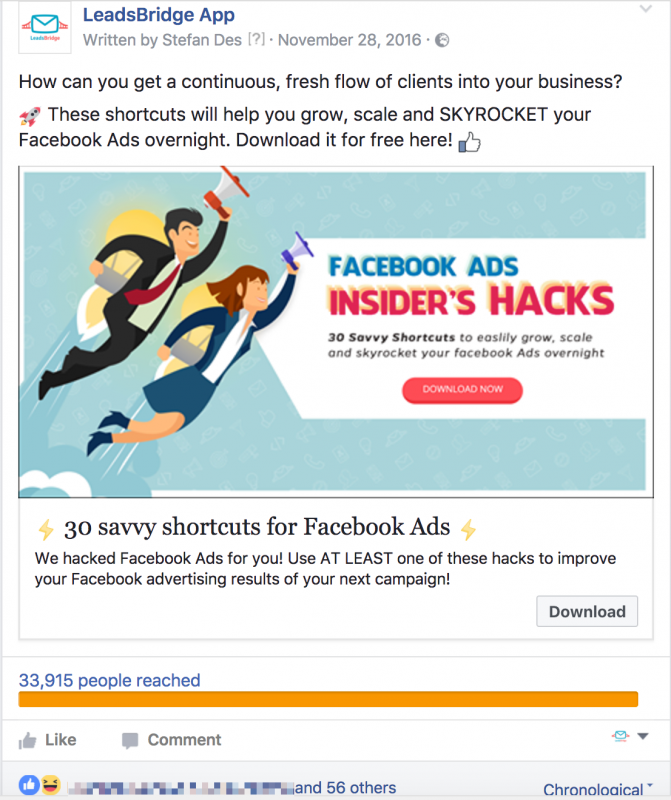 LinkedIn Matched Audiences
You can also target cold audiences who are in specific marketing industry with LinkedIn Matched Audiences.
LinkedIn Matched Audiences help you target people who are most likely to become qualified leads. It helps you to focus your marketing efforts on audiences that can likely convert into sales for your business. This is done through the account-based targeting. This involves building a customized audience of prospects you can target.
Below is a perfect example of Stripe targeting cold audiences with a step-by-step PCI compliance guide in exchange for lead information, such as name and email. Check it out below.
2.   Warm audiences
Warm audiences are people familiar with your business. They have been to your website and know what product or service you offer. They have interacted with your content on your website and/or liked, commented on your Facebook or Instagram posts. Therefore, warm audiences are your website visitors, people on your email list, subscribers on your app, and your in-store visitors. However, they have not shown interest in buying your product or service.
The objectives of targeting warm audiences are to nurture and convert warm leads into customers.
How to target warm audiences
To target warm audiences, there is a need to segment them into two groups. The first is the group of people who visited your website and the second is the group of people who are already leads.
Targeting website visitors
The best way to target your website visitors is through the Facebook Pixel. It is a snippet of code you install on your website to help you capture the activities of your website visitors and track micro conversions.
This information is useful for creating campaigns for them. For example, you can create a custom audience of people who have not been to your website in the last 90 days or target users who have seen your product page but have bought nothing.
Targeting your website visitors with specific ads helps to increase the number of leads and sales because your message is more aligned to their profile.
Although the pixel is a great tool, it has its shortcomings. It can change whenever you make changes to your website. This is where you need a developer to help you effect the changes whenever it occurs. However, you can scale this hurdle by using Leadsbridge's Facebook Pixel Enhancer to help you fire the right event at the right time without touching any code. With this tool, you can create better lookalike audiences, retarget customers, and upsell customers.
Facebook Pixel and GDPR
As you target warm audiences using the Facebook pixel, you need to be aware of GDPR (General Data Protection Regulation). It is a European law that says all businesses should protect the personal data and privacy of EU audience for transactions that take place within the EU member states.  This means you need to get the consent of website visitors before you can use, store, manage, or analyze their data. So GDPR affects the use of Facebook Pixel. You can get their consent by showing a message when the page loads for the first time, or ask for their consent when signing up for your offer.
When you also create a Custom Audience from your Facebook pixel data, you need to be GDPR compliant. To do this, you can use Leadsbridge's Facebook Custom Audience sync tool to help you sync your custom audiences to Facebook through Leadsbridge. Leadsbrige is compliant with both the GDPR and Privacy-shield.
Targeting people who are leads
Targeting people who are already on your lists is easier than targeting cold audiences. This is because they already know you and your product or service.
You can create custom audiences from people who are on your email lists, or app subscribers. This is done by downloading the email lists on your CRM or autoresponder and uploading it to Facebook to create a custom audience based on the details. Doing it manually is a lot of hassle. You can make mistakes and end up getting errors. It also takes time to match the data in the right fields. So, you should use the Leadsbridge's custom audiences sync tool, to quickly upload your email lists to Facebook. This helps you to get accurate data and also update your list automatically on Facebook. This means whenever anyone subscribes or unsubscribes, the tool automatically updates the information on Facebook.
A good example of targeting warm audiences from your website and leads on your CRM is this Leadsbridge Facebook ad shown below:
a.         Use LinkedIn Matched Audiences
LinkedIn Matched Audiences are a great tool for targeting people on your email list. You can promote your product and service to contacts on your CRM database and marketing automation platforms. This is done through the LinkedIn contact targeting option. According to LinkedIn, businesses who use this option gets a 37% increase in click-through rate. All you need do is to upload your email lists or connect to your contact management platform and use it to create a relevant campaign for warm audiences. This helps you to deliver relevant content and drive more conversions.
c.         Google Customer Match
The Google Customer Match is a tool created by Google Ads. It helps advertisers to create PPC Ads to target warm prospects on Gmail, Search network, Display network, and YouTube using their email addresses, phone, or physical address.
With Google Customer Match you can:
Move prospects down the sales funnel
Convert mid and low funnel prospects
Sell more to your existing customers
Target users across different devices.
All you need do is to upload the file containing your email lists into Google ads, then create a campaign to target your customers. To make this an easy and error-free process, you can automate the process using Leadsbridge's Custom Audience Sync tool. With this, you can swiftly upload your email lists automatically to Google ads. This helps to save time and effort.
3.  Customers
The third target audience example you can use for your business is your customers. Customers are easy to target because they have interacted with your business by making purchases. This does not mean you should abandon them. In fact, you can target them again and again with similar products or services.
The objective of using the customer target audience is to help you to upsell similar products or services and improve your customer lifetime value.
How to target customer audience
Facebook has the right tool for targeting customers. One of them is the
Customer Lifetime Value
(LTV). The Facebook Customer lifetime value custom audiences are defined by Facebook as the"
value associated with your customers based on how much and how often they spend with your business over the course of their relationship with you
".
The Customer Lifetime Value audiences work by uploading a customer list with spending figures for each customer. The Facebook smart algorithm then sends the data to look for a similar audience to your highest value customers. This helps you to correctly target the highest value customers and get better results.
A good example of targeting the customer audience is the Leadsbridge's Facebook ads below:
The Facebook Customer Lifetime Value audiences help you to:
a.         Know the net profit you can visualize from each customer's lifetime relationship with your company.
b.         Generate quality leads with high scores for your business
c.         Helps to increase conversion by targeting new subscribers with high Customer Lifetime Value with Facebook ads.
d.         Know your high-value customer age groups and search for a similar audience you can target with Facebook ads. This will help to increase return on investment.
e.         Reach people who can be frequent buyers that will come again and again to make purchases.
One way to get the best out of the Facebook Lifetime Value is to create an automatic audience with lifetime value. This is done by using the Leadsbridge's Custom Audience Sync tool. With this, you can automatically create an audience by syncing Facebook with your CRM. This helps you to calculate the Facebook Customer Lifetime Value of the customers on your list. Also, it helps to save time and effort since you are not uploading it manually.
Conclusion
Above are target audience examples you can use for your campaigns. Using the right audience for your campaign is very important. It helps to target the right people that will respond to your campaigns by taking necessary actions such as opt-in to your email list, download your freebie, or visit the product page on your website.
Cold audiences are difficult to target because they don't know your business. Target them using Facebook Lookalike Audience and LinkedIn Matched Audiences. Warm audiences are familiar with your business but have bought nothing from you. Target them using Facebook Custom Audience, Google Matched Audiences, and LinkedIn Matched Audiences. Customers are people who have interacted and done business with you. You can target this audience by using Facebook Lifetime Value Audiences to create a similar audience to your existing customers and target them with the right campaign.