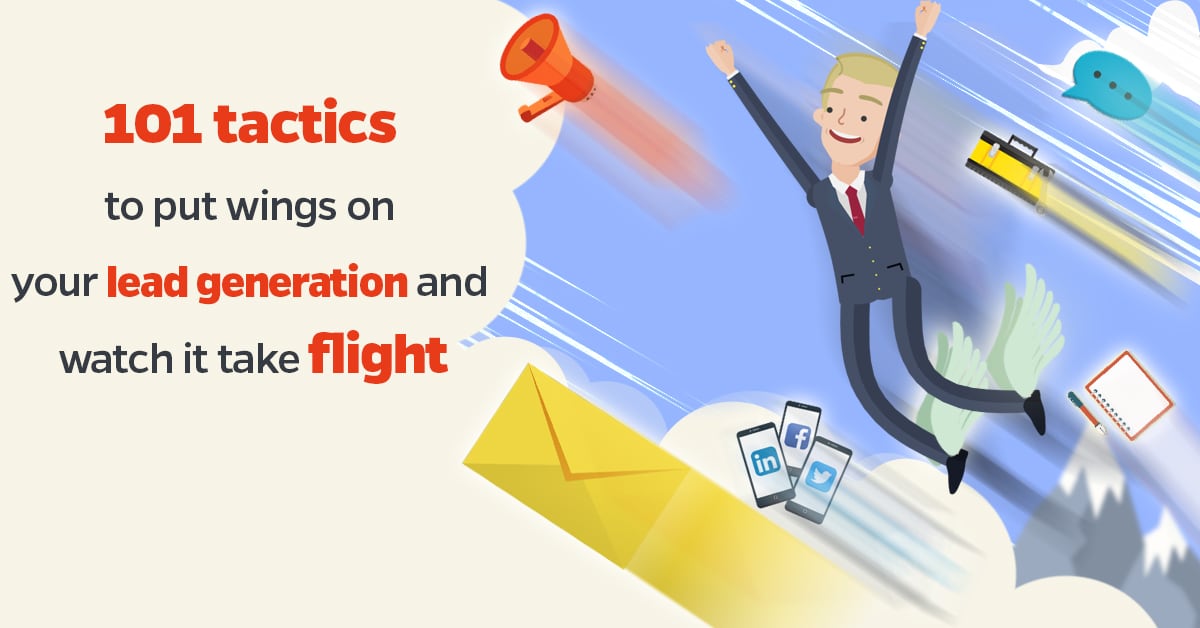 Lead Generation is one of the most important activities for your business. You probably know that by now.
It's what allows you to multiply your sources of prospective clients, increase sales and scale your business, but also receive feedback, optimize your offer and better communicate with your audience.
It's a wide process that involves many different aspects through many different phases of action, so it can feel overwhelming at times. That's why, if you got stuck with it, you are tired of not seeing positive results or you are simply looking for inspiration, we have put together a list of 101 hacks to boost your lead generation strategy and keep your business growing strong.
We organized the list into 9 macro-areas of strategy:
Website traffic
Advertising
Lead magnets
Social Media contests
Content Marketing
Indirect Marketing
Practical tools
Psychology
Engagement tactics
Let's start rolling.
Website traffic
One of the most valuable source at your disposal, to generate qualified leads, is your website traffic. Even if most of your website visitors are not yet ready to buy from you or even just to subscribe to your list, by making a few adjustments to your website you will see significant results. This is a list of hacks to boost your website traffic lead generation.
1) Slide-In Scroll Boxes
The slide-in scroll box is a polite tactic to grab the visitors attention and their mail address.
Usually it is placed in the bottom on the right side, in this way it can't escape user's attention.
2) CTA Split Test
How can you figure out which of strategies works the best on your landing page?
The split test on your call to action is the answer. It is vital for your marketing efforts to understand which of your CTA works the best. Sometimes the smallest change can end up with staggering results. You can split test the color, most people encourage red buttons, perhaps your website will convert better with a green button. The color that converts the best is the one that stands out! Another way to split-test is to add different locations of your call to action buttons.
3) CTA "safe copy"
Sometimes the user is on your landing page and just one step away from buying your product, but he might still be hesitating due to many different reasons. In these case, you can boost your trust by adding a safe language. One great example is the following: "You can be 100% confident that your information will not be shared." This safe language often boosts your signups due to increased confidence.
4) Security seals
Security is everything starting from the transaction itself till the final stage of your sales funnel. This is why adding trust symbols can go a long way for your conversions.
This could include a SSL certificate and trust seals such as Verisign. Blue Fountain Media experiment showed that adding the trust seals increased conversion and sales by 42%.
5) Animations
Add friendly animations to your website to really grab your visitors attention to your popups. It is always effective to use animation effects to draw attention to your opt-in forms and generate more email subscribers.
6) Landing Page simplification
An effective landing page is one where the visitor can easily focus on the call to action. Your main goal is to convert! For this reason it is important to avoid any form of distraction of the visitor. Review your page, determine how many CTAs you have and eliminate the ones with lower priority.
7) Removing the Navigation Menu on your Landing Page
In order to have a polish landing page it is important to remove the navigation menu. Why?
Because in this way the user can focus on your call to action.
When your goal is a conversion, having multiple distractions from your call to action will only reduce your chances to reach your target (i.e.: there are more things to click!)
8) Exit intent Popups
Do you know that around 70% of your abandoning visitors will come back to your website? (source) How can you try to catch the exit visitors from your website? Adding an exit-intent popup that collects their email could be an efficient idea that will increase the sign up rate up to 300%.
9) Full Screen CTAs
Catching the attention of your visitors often becomes a hard challenge. A good solution is to add a fullscreen call to action to your website.
10) Highly Visible Floating Bars
Why the floating bar is so powerful? Simply, it sticks to the top or the bottom of your visitor's screen and scrolls along with them. This important feature makes it very visible and effective at the same time.
11) Mobile Specific Campaigns and CTAs
The major part of the web traffic nowadays comes from mobile devices. Most Facebook users, utilizes the social media platform on their mobile devices. 1.15 billion it's the exact numbers of Facebook mobile daily active users according to Zephoria. Therefore, you have to make sure that your call to actions are optimized for the mobile environment.
12) Products reviews
To get more leads, it's important to give value to what you have to offer and show that other people want it and like it already. That's why having reviews from your client on your website's home page or on your landing pages is a great boost to be trusted by new leads.
13) Display testimonials
Another strategy is to use testimonials on your website advocating for the quality of your work, mention collaborations ("As seen on x,y,z") and so on. Using other people's reputation or good feedback can build up the visitor's trust in you 10x time faster.
14) Success Stories
You probably have many success stories in your business activity that you can show to your website visitors. Choose different success stories from different industries, and display percentages and real case-study results to positively impress your visitors.
Advertising
Advertising is one of the most efficient ways to boost your lead generation, especially for concerning mobile ads. With an ever growing number of active users, most social media platforms and search engines are a hell of a market to dig leads from. Because of the incredibly rich database of these platforms, today more than ever is possible to address specific target audiences with the right marketing message. That makes advertising an incredibly efficient tool to grow your list, so this is a list of advertising platforms for you to leverage:
15) Facebook ads + Landing pages 
Creating a Facebook ads to send people to your optimized landing page is a great combination to generate more leads. Facebook has a great database to customize your own target audience depending on gender, location, age, level of education and so on.
16) Facebook Lead ads
Facebook Lead Ads is a type of ads specifically designed for lead generation. It's a great option because when people click on your ads, they instantly visualize a registration form with their data pre-filled. According to our experience, it's also one of the cheapest Ads solutions available.
17) Instant articles + Pre-filled forms
A good way to leverage the creation of promotional content such as blog posts, is to use Instant Articles with integrated newsletter pre-filled forms. With this option, the users are called to act as are reading your content and therefore the most engaged, which increases the likelihood of subscription. In addition to that, their email address is already filled in and they can subscribe with just one click.
18) Messenger ads
Messenger ads are a great and very direct tool to reach your leads. Plus, they allow you expand your reach and get to the people who don't really use Facebook as a social network, yet they use it as a messaging platform to communicate directly with their friends.
19) Facebook ads to Messenger
Facebook Ads to Messenger represent a great opportunity for your business to improve the engagement with your leads. The strength of this tool lies in your ability to send your leads to a chatbot to reach different goals, such as retarget people who visited your pricing page without buying and maybe offer a discount.
20) LinkedIn Lead ads
Linkedin Lead Gen Forms are ads optimized for mobile navigation and they are already prefilled with the user's data. The only thing that the user has to do, is to hit the 'SUBSCRIBE' button without leaving the platform or losing any time.
21) Google Adwords + landing page
Google Adwords is a little bit more expensive than other ads platforms but you can use it in order to reach people with a specific need. If you find out that your audience is actively searching on google for solutions related to what your products and services offer, it's a great option to test out.
22) YouTube ads
YouTube ads are a great choice if you want to leverage videos to built your own community and engage your audience to get more leads. There are many different options for generating leads, such as promoted videos, links, etc.
23) Text Message Advertising
Text Message advertising is a particularly effective way to market your products because it's a very direct channel of communication and the users already know your brand. In fact, since it is a permission-based activity, your customers have to opt-in to your messaging service to receive them. It's very practical to let know your leads about special offers they can take advantage of.
24) Remarketing/retargeting
Most of your website visitors leave your website before buying from you or subscribing to your list. However, this doesn't mean they are not interested in your offer. It might be that they have some doubts about it or simply don't have time to buy in that moment. By installing the Facebook Pixel on your website, you can create an audience to retarget them on Facebook after they visited your website. You could also leverage your CRM or email software by coordinating your Facebook ads with your email campaigns in order to double the engagement of your audience boost your lead gen efforts.
25) Gmail ads
Gmail ads are very effective if you consider that the platform has a reach of approximately 1 billion monthly active users that log in to check their emails multiple times per day. Plus, you can take advantage of Google's platform options to target your niche audience.
26) Quora ads
Quora it's a platform where marketers and entrepreneurs often go to sort out their doubts in the last phase of their purchase process. Using ads on it might be a good idea to try to influence their decision over your product or service.
27) Instagram ads
Instagram is an amazing advertising platform to tell your brand story through creative and immersive ads that are more likely to stimulate your leads action.
28) Twitter ads
Twitter is a great opportunity for many small-medium businesses to be found, and also to generate more business sales.
Lead Magnets
Lead Magnet are free resources that you create with a relatively small effort and you give away in order to generate new leads. The main goal of a lead magnet is to give away some kind of value to your new leads in order to start a relationship with them through your email marketing. There are different types of lead magnets that you can create. Few examples are:
29) Templates
A template is a pre-designed model to produce a more effective, nice-looking and professional output. They are a great tool because they are usually easy to customize for the users, without through the technical stuff. Few examples of templates are email, cv or infographic templates.
30) Whitepapers
A white paper is a lead magnet that in a short and easy-to-read way tries to solve a problem of the industry or at least addresses a common question among your audience. The format may vary. It could be a "How to" guide, or a "Best of" or "Expert tips and tricks" and so on. Since most people have little time to read long form content, this list of practical and actionable key points usually converts very well.
31) Toolboxes
A toolbox is simply a list of resources to increase a prospect's ability to level his business up or simplify his day to day work-life. For example, it could be a collection of free online tools, softwares or subscription services that he might need.
32) Mindmaps
A mind map is a simple way to visually organize information and to help someone to better understand a process so that they can go through it by themselves. It is like a flowchart, where people are guided step by step to a procedure that will get them from point A to point B.
33) Cheat sheets
Cheat sheets are usually a one page document with a set of notes to use for quick reference. They are particularly useful when your lead needs a guideline to refer to specific terms, instructions or procedures to follow.
34) Ebooks
Ebooks are a classic lead magnet and they usually share some insights on the line of "how to overcome a certain struggle and find success afterwards", but also they could be a simple collection of valuable information. You can create free e-books starting from your popular blog posts, transcribing your webinars or writing them from scratch. If your audience loves the topic, and you make it easy-to-read , it's an instant lead generator success.
35) "How-To" Checklists
A checklist is a list of actionable points that your audience can follow to grow their business. For example if you are talking to an online marketer you might want to offer a checklist about how to write successful blog posts, how to grow an email list or what are the key steps to generate leads by doing webinars.
36) Blog post checklists
Most of your website visitors don't have the time to read all of your blog posts, even if they are super useful. For them, you can create a one page checklist, that summarizes the blog post into actionable keypoints. It's easy for you to create it and it's easy for the reader to consume it.
37) Early bird discounts
Some people in your list appreciate "early bird discounts" and saving money. That's why it's a good lead magnet to make them subscribe to your waiting list or make a purchase before the price of one of your service goes up.
38) Free trials
A free trial is a great incentive to address the people who are really interested in your product, and give them the opportunity to get better insights about it and evaluate purchasing it. Make sure that your trial is simple enough for the user so that they might have a good initial user experience, otherwise is gonna come back at you like a boomerang. Even if eventually they choose not to become paid members, you can still communicate with them through the email they provided.
39) Demos
It can sound like an old fashioned marketing advice, but today to create demo or test for your target audience is very effective. What could be the better way to let people know about your product and at the same time try it for free? Through this method it will be possible to attract potential clients that are interested in our brand but at the same time we can use the word of mouth, of viral mouth, generated from the feedback collected after the demo or test of our service/product.
Social media contests
Social media contests have been increasingly used by marketers as a tool to raise brand awareness, engage with their audience and generate new leads. In fact, they create an opportunity for the users to get something they desire, in exchange of their data or some kind of social engagement. This is a list of social media contests that you can test, depending on your business:
40) Quizzes
Quizzes are an entertaining and funny way to generate leads because they indirectly ask the users to share something about their personality or personal preferences. Since they are eager to get to know the result of the quiz, they are very likely to give you their data. Ask at least 5 questions so that the audience is engaged enough. You could even go for more questions (eg. 30) and get less in numbers but more qualified leads.
41) Sweepstakes
A sweepstakes is like a lottery where a randomly picked winner is awarded with a certain prize, simply for participating in it. It is mainly used a source to generate new leads.
42) Discount coupons
Discount coupons are given away as an incentive for people to enter your marketing funnel by making a purchase. The ideal audience for this kind of social marketing are the people who already visited your website purchasing page but did not finalized the purchase.
43) Photo contests
Photo contest are initiatives where the users are required to submit personal photos (maybe showing your product or brand logo) which can then be voted on. The winning photo is usually selected through specific criteria that outlined in the beginning of it.
44) Hashtag photo contests
Same idea of the photo contest, but this time with a specific hashtag that you want to promote. You might choose to use this option before launching a new product or business idea. You'll choose the winner by going through the hashtag at the end of the contest and see who got the best interaction.
45) Video contests
It works in the same way of the photo contest, but with video. It can be more effective, as video are generally a more engaging kind of content.
46) Trivia contests
A funny and entertaining kind of contest is a trivia contest, which consists of asking trivia questions to your audience onr Instagram or Facebook, for example. Whoever answer the answer correctly wins a small prize. It is particularly effective considering the competitive nature of people and their desire to win something.
Content Marketing
Content Marketing is a strategy that, if implemented correctly, has a big impact over your lead generation strategy. In fact, it costs 62% less than traditional marketing and it generates approximately 3 times as many leads.
It consists of constantly sharing valuable content with your audience BEFORE even asking them to subscribe to your list or buy your products and services, and the reason why it's so impactful is because it allows you to educate your audience around what you do, what you offer and how it can add value to their life.
Plus, it's one of the ways to build authority and trust, which are two of the major key drivers to generating new leads. Let's see what kind of content you can create for your audience in this regard:
47) Blog posts
Writing consistently informative and qualitative blog post on your company's blog is one of the most effective strategy to build authority and trust with your readers. Once they become familiar with your work and they value the knowledge you have to offer, it's gonna be easier for them to  become a lead.
48) Videos
Since we are now operating in the attention economy, it becomes crucial to understand how to engage with your audience. Video marketing is one of the most effective content format to engage with an online audience, so make sure to include it in your content marketing strategy. If you share them on Facebook, square video with big headlines on top are usually preferred over 16:9 video formats.
49) Webinars
Doing live webinars can be an incredible asset for your business because they are a demonstration of authority and an opportunity of direct communication with your audience. A webinar can be informative, educative and promotional, and if it's about a relevant topic within your niche market can be a very effective way to generate highly qualified leads.
50) Live Q&As
Live Q&A's events are live events based on the questions your users might have about your products, offers or pricing plans. This format of content is extremely engaging and valuable for your audience as a space to clarify some doubts or questions left unanswered about your offers. A q&a can be done through a "Live" event on Facebook or Instagram, Snapchat or any webinar software.
51) Podcasting
Podcast have become an increasingly popular way to create content and to deliver value to your listeners. In its simplicity, a podcast can go a long way in transforming coldly interested listeners into faithful followers. It's definitely a great option to nurture your leads and generate more of them.
52) Host guest blog post
Hosting guest blog posts on your websites by collaborating with other experts in your niche market is a good strategy to increase your social proof and authority in the eyes of your audience.
53) Infographics
As people's attention become scarcer and scarcer, a simple and visually pleasant way to generally capture it is by creating beautiful infographics containing data-analysis to help your audience get a better understanding around a certain topic or trend.
54) SlideShare presentations
SlideShare presentation are one of the many ways to share your knowledge. They are simple and intuitive for the users to digest them, and they often contain all the key insights in short, useful checklists.
55) University
Another way to generate new leads is to offer educational content about topics of interest for your audience. You could create a whole area on your website (an University for example), where people can log in by leaving their data to learn more about a certain topic. It might be free or involve a small fee. This is a strategy to both building authority but also generating new leads.
Indirect marketing
Indirect marketing is a new, more subtle form of marketing. It consists of different activities such answering questions on social networks or participating in communities threads, with the final goal of contributing with valuable insights around a certain topic to attract visitors and new leads to your business. Where to do some indirect marketing?
56) Quora answers
Quora is a community where you get to answer the most burning questions about your industry.
By optimizing your Quora profile you can use the social media to consistently generate thousands of new website visitors, simply by writing useful answers and linking to your landing pages from your Bio.
57) Reddit
Reddit is a vibrant and very active community where you can generate new leads or share your content in its very targeted subreddit (subtopics). There are rules to follow though, since Redditors have no tolerance policy towards spammy marketing messages. In other world, you either learn the rules and use it as a valuable stream of targeted traffic or you forget about it.
58) Medium
As one of the most trending social media platforms, Medium is slowly but steadily gaining its spotlight as a place for marketers to share their content. The power of the platform lies in its minimalist design and in the quality of the content. Sharing articles on Medium helps you gain good visibility as a gateway to increase your lead generation sources.
59)Communities and forums
Besides the most known social media platforms, there are many other forums and communities that are very valuable places to engage with other users. Find the ones of your niche market and do the same as for the others: attract visitors and leads to your websites by constantly sharing valuable insights.
60) Your YouTube channel
YouTube is a great entertaining platform but it's also the 2nd largest search engine in the world. One way you can create value on it, is by creating videos and video playlists about useful topics. This will draw users attention to your own channel, so if you set it up with a warm Welcome video, a nice cover image and a couple of links to your landing pages, you can generate new leads from there too.
61) Comments
Commenting is the activity of leaving valuable comments to blog posts in relevant blogs of your niche market.  Again, is a way to spark interests in your knowledge and attract many visitors to your own website.
62) Guest blogging
Guest Blogging on other companies blogs has many perks. Besides giving you visibility and enhancing your authority, the goal of a guest post is to send people to your website through backlinks. However, apart from link building, you can also use the guest post to generate quality and targeted leads for your business. In your author bio, make sure you include your website URL and your social media networks. This way readers can follow you back to your website. Now, you can set up retargeting campaign on your website using Facebook pixel. By doing so, you'll be able to quickly retarget your audience as soon as they get to Facebook from your website. It will show them relevant ads when they are still hot, thus, helping you to increase your leads and sales.
63) Influencer marketing
Nowadays the power to influence the market is held by the people who created, through their work over time, a solid follower-base to which the communicate in an "intimate" way on a regular basis. If they say that something is valuable, their followers will trust them, and that's why it's such a powerful way to do marketing nowadays. Reaching out to influencers of your niche market to leverage their audience is one of the most efficient way to generate new leads for your business.
64) Tag influencer to start discussion
One way to increase your visibility and therefore attract more potential leads, is to tag influencer in either your blog posts or social media activity. The goal is to start a discussion around a certain topic that might be "hot" or controversial or simply relevant to the conversation your audience is having.
65) Cold emails
Cold email is considered by many people "too pushy" but..it works more than you'd think. First of all gather a bunch of names and email addresses of your target audience. You can get a lot of information from Linkedin profiles and specific Facebook groups to get the potential customers that you want to talk to. Then it's up to you to write a proper email.. that is warm enough to get them to read your offer.
66) Facebook groups
Create your own group on Facebook or join the already existing ones. As you join and engage in a new group see if there is an opportunity for another group to be formed. If you contribute consistently and you show authority and confidence in your knowledge, the people in the group will be inclined to dig deeper in what you do and might become new leads.
67) LinkedIn groups
Very similar to the Facebook groups, but even more relevant for B2B businesses. Pick groups relevant to your industry and share your knowledge/content to attract people on your website.
68) Twitter
Twitter is a social media that you can use in different ways such as sharing your content, drive engagement for promotional activities, networking or branding. Like all the other social media platform is one of the many channels to reach your targeted audience, in particularly through the usage of niche hashtags.
69) Instagram
Instagram is one of the hottest social media platform at the moment. Loved by its users, it has been leveraged by hundreds of brands to promote their business, up to the point that you can even find books about the best strategies to use. Even if your product is a software and you wouldn't know how to post a picture of it, you could still use it to share your team's values and culture for example, in order to increase transparency and trust with your leads.
Practical Tools
As we mentioned already, there are many aspects to lead generation. One of them is using the right softwares. Sometimes the reason why you are stuck in this process is because you simply lack the right tools. In fact, each lead generation tool is a component of a system of tools that must work together in an efficient and smooth way.
Too many times the tools you use do not integrate with each other, creating interruptions on your workflow or decreasing the quality of your overall process. If that is the case, you need to find new solutions. This is a list of tools that can help you out:
70) Google Sheets/Excel Files
Even if technology evolves constantly, sheets remain a great asset for most of the companies in the world. The convenience of excel files or google sheets is high as the organization they give to your work, and that's why many companies use them to sort out their leads. But – as simple as they are – using these tools might cause you to forget to (or take too much time to) store your leads to your CRM. DocumentLeads is a tool that allows you to sync your Google sheets, docs and shared files to your CRM or Email marketing software without you having to change your working habits.
71) Landing Page Builders
Landing page builders such as LeadPages or Unbounce are an incredible tool at your disposal to generate leads thanks to their simplicity that relies mainly on persuasive copywriting and compelling CTAs. But there are many cases when your Landing page builders does not integrate with your favorite CRM or Email Marketing software. That's an obstacle in your lead gen strategy because it doesn't allow to scale your business and use your tools to their full potential. In that case, a tool such as Landing Leads allows to integrate your Landing Page Builder with your CRM in real-time, avoiding annoying interruptions or a decrease in the quality of the leads you generate.
72) Disruptive Forms
It's not uncommon that when a visitor lands on one of your landing pages and starts to fill the opt in form then abandons it, for various reasons. Fortunately, thanks to new technologies such as Disruptive Forms by LeadsBridge you can have your forms automatically prefilled as soon as your visitor inserts his or her email address. This is possible to a technology that matches instantaneously over 1.5 billion public web data, allowing you to dramatically reduce the form abandonment and double the leads you collect.
This tool is a game-changer because it allows you to adopt an incredible technology on the website traffic you already have, without spending more money or changing anything in your funnel.
73) InboxLeads
Many good leads are hidden in the emails that you receive everyday from prospects, clients, leads, partners, suppliers and so on. Many of them get lost in the endless stream of daily inbox.
One way to stop losing all of this potential business opportunities is to use an email address that is synchronized to your CRM and that you put in BCC when you reply to the contact whose information you want to save. This way you don't have to worry about doing it later and forgetting about it.
74) Wistia
Wistia is a very professional video tool that also provides to its users detailed and insightful analytics about different watch metrics. It is also a practical tool to generate new leads because it requires a viewer's information (name and email address) previous giving access to the video content.
75) Canva
Canva is a friendly and practical image software to create visually beautiful images for your ads or content marketing. The power of this tools lies in the fact that it provides different up-to-date layouts that can really make a difference in your marketing efforts.
76) Webinar software
Organizing a webinar through your favourite webinar software (e.g. GoToWebinar) represents an incredibly solid way to build trust and a direct relationship with your audience. As a result, the leads coming from your webinars are 8x more engaged than classic leads. But you might have some problems syncing those leads to your CRM or Email Software for the lack of integrations, and that's a problem if you use webinars to grow your business. If that is your case, WebinarLeads helps you create that bridge, so that you can better communicate with your contacts before – and after – the webinar, and then just focusing on delivering good value.
77) Event Management software
Organizing live conference or a events is a solid opportunity for your business to build trust with the the attendees and generate new leads. Eventbrite is probably the most used event management software to organize live events, but there are many others such as EventZilla or Picatic. Unfortunately, these tools do not necessarily integrate with your other lead generation tools such as your Email marketing software, so you end up downloading csv files and uploading them manually to your CRM when keeping the attendees highly engaged should be your highest priority. A tool to get around this obstacle is EventLeads, which helps you creates the desired integration between these tools and allows you to sync your leads as they register. This will allow you to as well to send them a welcome email before the event and a follow up email after, maybe with a special offer on one of your products or services.
78) Calendars / Appointment Scheduler software
There are many calendars or appointment scheduler software (e.g. Calendly) that can help your business organize calls or demos with your potential client. When someone books a call with you, that's a clear demonstration of a strong interest in what you sell. Generating leads from your calls is incredibly valuable for your business, but it can happen that you forget about adding them to your pipelines if your calendar is full every day. A solution to this problem is leveraging MeetingLeads to sync your calendars and appointment scheduler software with your CRM so that you can just focusing on taking the most out of your demos.
79) DevLeads
DevLeads is a tool designed for technical marketers and developers to keep up with their work demand by using Webhooks integrated with your CRM or Email software. This is particularly useful when bureaucracy or technical issues are standing in the way of receiving/sending data from a source or destination.
80) Facebook Pixel
The Facebook Pixel is a plugin that you can install on your website to be able to track your website visitors behavior and then run advertising campaigns to convert them into prospects.
The pixels can also be used to evaluate the effectiveness of your ads once they are showed a second time to the targeted group.
81) Facebook Offline Conversions
Offline Conversions is a tool developed by Facebook that lets you track the offline conversions that happen as a result of a Facebook Ad, in order to understand which campaigns are generating more results. This tools is especially powerful for businesses who generate sales out of the Internet (eg. car dealers, real estate, consulting firms and so on). When a new client sign a contract, you add him as usual to your customers list into your CRM. If that person was exposed to one of your Ads, Facebook matches the data and tracks the conversion.
Engagement tactics
Engagement tactics are tactics used to boost engagement on your website and increase the likelihood that a visitor will convert into a lead.
82) Gamification
Gamification consists in adding gaming concepts to your strategy or content and creates an interactive experience. One example is the use of like points, awards, and wins/losses and creating competition for your users.Why is gamification so dramatically vital for your strategy? Using the game mind set makes people  engaging  with your strategy more easily and accomplish the objective that you set for them.
83) Add social buttons to your Email newsletter
Adding social button to your newsletter allows your readers the possibility to share their favorite piece of news on their favorite social. Making this easy and fast for your subscribers will boost the awareness around your brand.
84) Chatboxes
Making the user immediately comfortable on your website is a key factor to succeed in your strategy. A good solution is to add to your page a smart chat box that will allow the user to engage with you in any moment.
85) "Call Us" telephone number
A very effective engagement hack for your website is to display a "CALL US" button right on the top of it, with a clear telephone number your visitors can call for any sort of doubts or questions.
86) Referral programs
Having a discount or getting bonus is always cool. So why not creating a referral program for your users? Giving them some benefits for inviting a friend is a smart way to build your brand in your customer network.
87) Affiliate programs
Affiliate programs is definitely a great way to recruit partners for your brand. With the right incentives in your affiliate program, you can begin to gain extra advocates from across the world, making a huge eco for your product or service.
88) Beta testers
Are you launching a new product and you are still in doubt on some aspects? Opening your products in an early stage to a close group of people is a great way to collect some feedback and correct some bugs before opening it to a larger scale.
89) Networking events
Attending conferences and meeting can help you to network with influencers, who can become a useful resource to promote your product in the future. You can also think of speaking at conferences in order to add value to your brand. This kind of event can give you a huge exposure.
90) Streaming events
Are you doing something cool and you want to show it to your audience? Having a live streaming event can be a great idea to engage with your users under a new prospective. You can show some cool stuff of your everyday life or use it as buzz for a launch of a product.
91) Giveaway licenses to Influencers
The best way to get free promotion and additional leads is by giving away licenses to industry experts. Making them try your product can lead to positive review with backlinks and exposure within their social media network.
92) Webinar plugin
Displaying a small box on your website with the upcoming webinars events shows to the visitors a sense of liveliness and involvement around your work and it instantly gives them an opportunity to engage with you.
Psychology
Marketing psychology refers to all those techniques used by marketers to persuade their audience to make a certain decision. They are based on subconscious social dynamics and human behaviors and they can truly make a difference in your communication to attract more leads to your business. Some of these techniques are:
93) Exclusive contents
Exclusive content could be offered as access to some video series you created, to your mindmaps, productivity tips or anything that adds some extra value to whatever information you already shared with everyone. Many people will find this appealing in order to gain a competitive advantage over the other people who just have access to the free information.
94) Membership areas
Creating a private social group (es. on social media) or in a separate area of your website can be an effective lead generation strategy, since people's natural desire to be part of a community they admire.
95) Emoticons & gifs in your communication
Using Emojis helps you communicate with your leads much more effectively. In fact, emojis represents emotions and therefore are familiar and easy to understand for everybody. The less time it takes to understand the message, the more effective your marketing message will be, the more chances you have to seduce a lead.
96) Scarcity/Countdowns
The element of scarcity is one of the most powerful marketing techniques, for the simple reason that our brain is wired to make us survive. This means that it constantly looks for opportunities to expand the likelihood of survival in an increasingly competitive and scarce economy scenario. That opportunity can be a special course you offer or a webinar about a relevant topic to them. To make the subscription even more compelling, use a countdown to communicate the urgency of making a decision.
97) Social proof
People don't like to be associated with products or services that are not approved by others too. If you lack social approval they might think that something is wrong with your service, which decreases the chances they want to be associated with you in any way. That's why you should get social proof as soon as possible on your website and through your reputation around the web. It might be through clients reviews, displaying the brand of companies using your products or services, awards or achievements you gained and so on.
98) "Join "x" subscribers" CTA
A key factor that influences the decision of a visitor to subscribe to a newsletter is to see that many people are already receiving it. That's why you could use a headline like "Join e.g. 10.503 other entrepreneurs/marketer/whoever is your target audience that already receive insights about this". That gives to the visitors a feeling of joining an already socially strong and validated activity.
99) Money back guarantee policy
Offering a money back guarantee on your products is a psychology techniques used by many marketers to help the most doubtful visitors relieve some of their fears of a bad purchase and go through with it. It instills trust because is a clear sign that you stand behind your product.
100) Use sound on your pop-up chat
A little trick to capture your website visitors attention and get them to interact with you is to use a pop-up chat that makes a curious sound and asks them a question.
101) Persuasive copywriting
Persuasive copywriting is a way of writing that allows you to influence your readers behavior. There are many aspects to it, but a very common example is found in pop-ups form, where you ask your visitors a question, you give them two options of which one is positive and the other negative, but the negative is posed in a way that creates a conflict with their personal goals. (e.g. "Do you want more followers? Yes, please. / No, followers are not important to me.)
So this is it, guys. These 101 hacks should get you out of the mud and help you find some inspiration to boost your lead generation strategy and keep your business growing strong.
Also, if you need a generous ally for your lead generation strategy, don't forget to try our Lead Gen Automation Platform for free.
What do you think about these boosters? What is your favourite one?
Let us know by leaving a comment to this post! 🙂